Kirit's journey continues: soaking up culture in eastern Europe
Day Lewis CEO Kirit Patel and his team of pharmacists continue their charity drive to India through Germany, the Czech Republic, Poland, Hungary and Romania
Our first stop after Berlin was Dresden. The city was flattened by the Allies during the second world war, but you'd never know: the city is rich in art and culture and not very industrial at all. It's amazing how well the original buildings have been rebuilt.




The Czech Republic was the next country on our list; Prague was our destination. It's another spectacular city, with many beautiful buildings. From there we travelled to Poland, where we visited one of Unesco's World Heritage sites, the Wieliczka Salt Mines. There are 125 miles of tunnels in this amazing place, which features intricately engraved sculptures, large chapels and recreational rooms some 300ft below ground – it was truly breathtaking.




Equally breathtaking, but for markedly different reasons, was Auschwitz concentration camp. Its infamous gate – emblazoned with the message, "arbeit macht frei", work makes you free – was chilling to see (pictured below).




I nearly drove through a tram tunnel; moments after reversing out of the entrance, a tram ploughed straight through it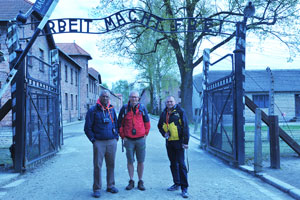 Four million Jewish people were killed at the camp, and you can see their shoes and bags in piles on the floor. I couldn't bear to photograph the camouflaged gas chambers where men, women and children were killed en masse. It was a moving experience and we didn't stay long.
The next stop was the Austrian capital, Vienna. Peter wanted to visit the city to see the large collection of works by Pieter Bruegel the Elder at Kunsthistorisches Museum. Vienna is filled with great culture; it's such a vibrant, musical place.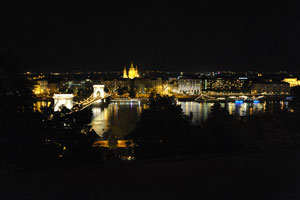 From Austria we went to Budapest in Hungary. Driving in Budapest was fun, but complicated a little by the fact tram lines criss-cross the roads. At one point I nearly drove through a tram tunnel; moments after reversing out of the entrance, a tram ploughed straight through it. My fellow passengers were in shock and I was given a third penalty point for my little misadventure. I found it amusing; the others clearly didn't. I wasn't banned from driving, but Peter insisted on sitting in the front with me to keep an eye on me. Budapest was great, and it looked incredible by night from atop a hill in Buda, the west side of the city (pictured right).
Sadly, we had to return to Vienna to drop Manvir off at the airport following a family bereavement. He plans to fly to Kiev in a few days to join up with us again.
After Budapest, we set off early for Bucharest: we had to drive more than 500 miles, some of it through snow at 4,000ft. I must confess my preconceptions about Romania were wide of the mark; it's a beautiful country rich in culture. Also, in one of the pharmacies we stopped at on the way to the border with Ukraine, we found a range of Boots No7 products – evidently Boots have started marketing their own brands in Romania!
We are currently staying overnight in a Romanian border town, but we intend to make another early start to dash for Kiev, where we will stay for a couple of days and pick up Manvir. We hope then to safely traverse the border with Ukraine. There were some killings in the area recently, which obviously worries us. However, due to visa issues, we have no choice but to cross here. What's more, Ukraine's acting president has ordered the relaunch of military operations in the east after a politician and another man was found dead, having been tortured.
To make things worse, at least 12 local guides died in an avalanche on Mount Everest a couple of weeks ago; we have to drive from Tibet to India at 14,000ft in a few weeks time. Wish us luck!
Pharmacists on tour: part one
Pharmacists on tour: part two
Pharmacists on tour: part four
Pharmacists on tour: part five
Pharmacists on tour: part six
Pharmacists on tour: part seven
Pharmacists on tour: part eight
Pharmacists on tour: part nine
Pharmacists on tour: part 10
Pharmacists on tour: part 11
Pharmacists on tour: part 12
Pharmacists on tour: part 13
Pharmacists on tour: part 14
Pharmacists on tour: part 15
Kirit Patel is chief executive of Day Lewis. Kirit; Peter Cattee, CEO at PCT Healthcare; Manvir Patel, managing director of Manichem; and Hiten Patel, managing director of PharmaPlus will be raising money for charity Pharmacist Support. To make donations and for more information, please click here. Follow them on Facebook and Twitter to hear more about their journey