'We are on treatment for depression and scared for the future'
An anonymous contractor is inspired by C+D's parliamentary event on pharmacy pressures to describe how tough life has become for her family business
I bought a thriving community pharmacy three years ago in north England with my pharmacist husband using savings, a family loan and a bank loan. Now we both work six days a week, earning way less than minimum wage, with administrative tasks to finish on Sunday. There is no time off as we can't afford a locum. We are working flat out with a skeleton staff. There are enormous pressures from this stressed working environment, resulting in safety concerns. It's intolerable.
It's been four years since our last family holiday. Our personal debts are increasing. The business is in huge difficulties – the bank has put our business under 'special measures'. We have nothing to offer to reassure it, because the new pharmacy contract means we receive the same funding following the cuts in 2016 for the next five years. Inflation will worsen the outlook further. Our sources of income are down £25,000 per year due to the loss of establishment payments and medicines use reviews with no replacement income. We feel completely trapped, demoralised and despairing. We have zero confidence in the future.
Our clinical commissioning group is in an area of high deprivation, with limited viability for private services. Our pharmacy is overlapped by four primary care networks, but they are not talking to our local pharmaceutical committee or even to each other. Our obstreperous local GPs don't like pharmacist interventions. They bully their patients about flu vaccinations with the threat of removal from their patient list if they go to pharmacies. And they go for whole weeks without issuing electronic prescription service (EPS) prescriptions, forcing patients to collect them from the surgery.
We didn't take on the pharmacy as a cash cow. We bought it just to get a decent income and an investment for the future. My husband is exceptional at doing his job as a pharmacist. He is proud of his role, and has found it satisfying and enjoyable over the 30 years of being qualified. We have never benefited from the alleged over-delivery of category M margin, having opened in 2017, but we have been continually underpaid to provide an NHS service. Reimbursement of medicines does not even cover the wholesale costs.
The reality is working flat out while facing the prospect of bankruptcy every day, instead of being able to spend more time together as a family with our son, who has Duchenne muscular dystrophy. We have no quality time, increasing debt, and instead of making lovely memories as a family, our son has parents who are stressed beyond measure, on treatment for depression and scared of the future. It's no way to live.
No amount of mindfulness, prioritising, delegating, or trying to find 'me time' is going to alter the appalling reality of the situation the Department of Health and Social Care (DH) – our only customer, effectively – is putting ours and many other family businesses into deliberately. Is it not concerned about the job losses? We provide eight local jobs. If 3,000 pharmacies close, with an average of five staff each, there would be approximately 15,000 job losses, caused by a deliberate government policy to close down businesses randomly, be they good ones or not so good.
The toll the situation in pharmacy is taking on owners and their families must be devastating. Only a cash injection and fair funding is going to improve our situation – hopefully before the bank foreclose on our debt or something else gives.
C+D takes pharmacy pressures to parliament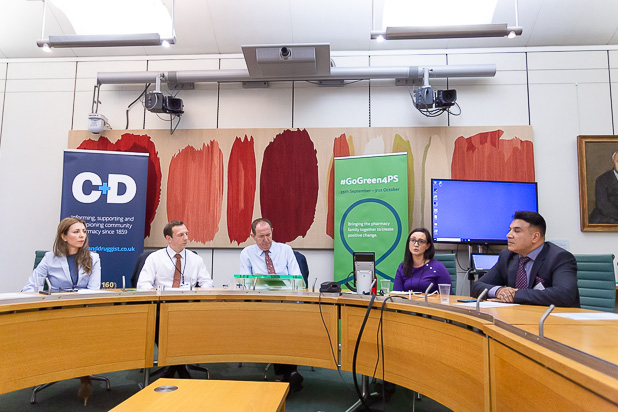 On Monday (September 9), C+D and the charity Pharmacist Support brought together MPs, pharmacy representatives and pharmacists to discuss the rise of stress and workplace pressures among pharmacy teams.
The parliamentary event took place in Portcullis House, Westminster, and was hosted by all-party pharmacy group chair Sir Kevin Barron MP.
You can read C+D editor James Waldron's address to the event – in which he highlighted disturbing data from C+D readers about the extent of pressures in pharmacies – as well as the key points from each speaker.
If you would like to share your experiences, please email [email protected]