'Staffing levels must be taken seriously, before it's too late'
Staffing levels in community pharmacies must be taken seriously or risk compromising patient safety and workforce mental health, Laura Buckley warns
The old adage 'too many cooks spoil the broth' isn't one that can necessarily be applied to community pharmacy. At least, I can't imagine it has ever been tested, since many of our pharmacies aren't staffed to meet the demands of the patients we care for. A more appropriate phrase might be 'not enough colleagues to keep it safe'.
A lack of definition for safe staffing levels means that our pharmacists and their teams are suffering. Considering that a core role in the profession is to minimise risk, it would seem reasonable to expect that the number of staff in pharmacies would be set to a safe level.
So why is it that we still find ourselves having to campaign for more support, fighting for every additional hour of colleague time and unable to cover all staff absences? Our regulators might not have a duty of care to us, but they are mandated to protect the public from harm. With the National Pharmacy Association (NPA) reporting staffing levels as an increasing contributor to patient safety incidents, the evidence is there to underline the seriousness of the issue.
The non-exhaustive list of tasks that our staff undertake is growing, with pharmacy teams sharing the burden of work between them. But when does the burden become too much, because there aren't enough members of the team to share it with? Excessive workloads directly impact on patient safety, and the fear of making mistakes becomes more prominent. Colleagues are spread thinly across tasks. Getting only the essentials complete to keep things ticking over is something I've been all too familiar with, and the lack of support then begins to affect staff morale.
And what of the consequences on pharmacists' mental health? Community pharmacists have a unique role that bridges the sizeable gap between business and healthcare. The excessive pressures to maximise profit seem to stretch the distance further between the two entities. The pressures become insurmountable, the inability to meet business targets paralleled with the struggle to provide safe healthcare creates stress, and the inescapable feeling of not doing enough sets in. Last week, Pharmacist Support reported widespread concern about staffing levels. Earlier this year, C+D released survey results demonstrating an increase in pharmacist stress levels.
Our teams are running around in circles. They are jumping through funding hoops, while polishing their skills to provide more services. They are pushing themselves beyond what should be reasonably expected of them in a bid to keep community pharmacy afloat. The saying goes that there's 'safety in numbers', but those of us at the forefront of healthcare are running short with threadbare staffing. The Pharmacists' Defence Association published a safer pharmacies charter in 2017 that outlines safe staffing as a key point, but pharmacies are still crying out for support.
The time has come for staffing levels to be taken seriously. In England, the funding cuts and reduction in category M reimbursement disincentivises contractors from providing adequate staffing. If staffed safely, pharmacy would be in a much better position to take on new roles and support the NHS with new urgent care services. If nothing is done to change the current situation, the profession can expect to haemorrhage talented pharmacists, the risk to our patients' safety will mount, and we will fail in our attempts to progress the profession for the sake of the NHS.
Laura Buckley is a community pharmacist based in north England
C+D takes pharmacy pressures to parliament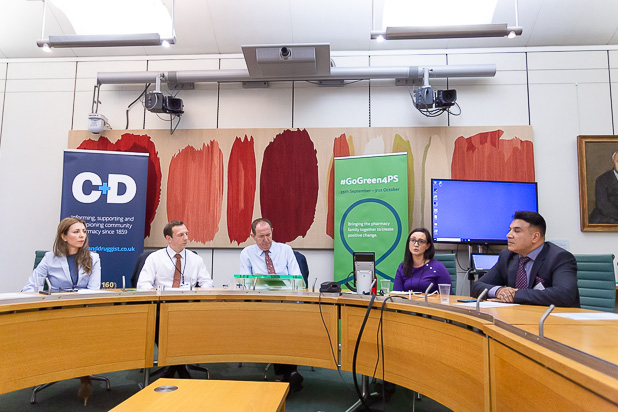 On September 9, C+D and the charity Pharmacist Support brought together MPs, pharmacy representatives and pharmacists to discuss the rise of stress and workplace pressures among pharmacy teams.
The parliamentary event took place in Portcullis House, Westminster, and was hosted by all-party pharmacy group chair Sir Kevin Barron MP.
You can read C+D editor James Waldron's address to the event – in which he highlighted disturbing data from C+D readers about the extent of pressures in pharmacies – as well as the key points from each speaker.
If you would like to share your experiences, please email [email protected]