'Could FMD help patients to learn about their medicines?'
The 2D barcodes on packaging required under EU law could empower patients to access the most recent medicines information online via their smartphones, says Accord's Tony Cordrey
In a world of mass data and high-speed information flows, access to information is ever-more available and people want to know answers now – not one day, one week, or six months later.
That data must be current and accurate to allow people to make informed decisions about what impacts them. No longer is information only for the limited few.
An example is the patient information leaflet (PIL), which empowers patients with clear comprehensible information about the administration, precautions and potential side effects of their medicine.
This information no longer needs to be a hard copy. As electronic data, it can be easily updated and enhanced for the visually impaired by increasing font sizes and/or voiced.
National guidelines and product licence updates mean that as an industry, manufacturers are constantly updating PILs to align with new developments. In some cases, it might mean that a PIL a patient has in their hand is not the most recent version.
Access to updated online versions of PILs is not new, but it is unlikely that patients would be motivated to search for them, even if they were aware that this was possible. However, the Falsified Medicines Directive (FMD), which came into force on February 9 to protect patients from counterfeit medicines, could give patients an easy way to check their medicines through the 2D matrix code.
As part of the new legislation, all manufacturers are obligated to add 2D matrix codes to packaging. As we know, these codes allow the pharmacist to scan the medication and verify that it is bona fide against a European database.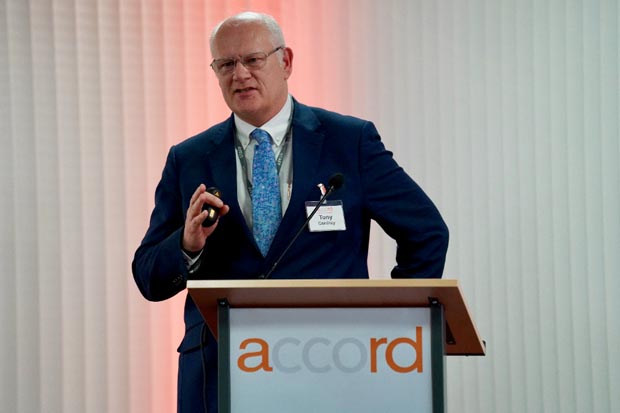 However, a recent visit from a local school to Accord's manufacturing site in Fawdon, Newcastle made us think differently about how that technology could be used in the future. If you show a young person a 2D matrix code, they immediately want to get out a mobile phone to scan and read it. They see a code as a conduit to more information.
This got us thinking: what if these codes allowed patients to scan their medication with their smart phones? Not only could they also check and verify their medicines are legitimate, but they could be taken directly to the online PIL, where they would have the most recent information. It should be noted that a counterfeit code is easily photocopied – so how good would it be to check the one on the packaging is the real thing?
PILs are sometimes criticised for being difficult to understand, but 2D codes could link to other interactive resources, such as administration videos and patient advocacy support resources, which could bring them to life. That's not to mention the benefits that could be gained on the pharmacovigilance side, with the potential for the facility for reporting side effects and improved adherence and the technology linked to reminders to take medication, or to get repeat prescriptions.
We could go further. If we can print 2D matrix codes on medicine packets, then we could envisage printing on blister packs or even onto the tablets themselves. It sounds futuristic, but it could be possible. It's occurring now in some markets and on some products, but we could do more. It's so scalable.
There have been discussions about these kinds of digital initiatives, but this 2D technology is the first time that we have something that brings the manufacturer, patient, pharmacy and authorities together to potentially empower patients in a way that we could only have dreamed of.
As with all pioneering technology, such as driverless cars, often the innovation must wait for the regulators to catch up. But we stand on the brink of many exciting possibilities.
Tony Cordrey (pictured) is vice-president of European strategic operations at Accord Healthcare