Two sides to the Bestway story
Co-op Pharmacy MD John Nuttall and Bestway CEO Zameer Choudrey give their perspectives on the pharmacy deal everyone has been talking about
The Co-operative Pharmacy's managing director John Nuttall and Bestway CEO Zameer Choudrey give their perspectives on the pharmacy deal everyone has been talking about 
John Nuttall The Co-operative veteran
Bestway's successful bid for the Co-operative Pharmacy may have come as a shock to some, but the pharmacy chain's managing director John Nuttall is confident the deal is a "good match". Speaking to C+D in an exclusive interview this month, he could not sound more positive. "We are looking forward to a bright future," Mr Nuttall enthuses.
The reasons for this are two-fold. First, he says the deal with the company, best known for its expertise in food wholesaling, is more logical than it may first appear. Mr Nuttall believes the Co-operative Pharmacy can learn from Bestway, which has grown from humble origins as a corner shop in Earl's Court. "They [Bestway] are a very successful business, entrepreneurial in their approach," he tells C+D.
Second, he feels Bestway has brought some much-needed stability to the chain. Prior to the announcement of the successful bidder back in July, he remembers a sense of unease among Co-operative pharmacists over job security. Mr Nuttall says the company spent "an awful lot of time" communicating with the staff about the process. "There was a lot of speculation, which wasn't very helpful," he recalls.
He is clearly relieved that it is back to business as usual for employees, who are no longer in the dark over their future and have "really delivered". The management also has a more secure future – Mr Nuttall intends to continue his career at the chain, which is looking to recruit more people to the central team.
However, there remain some uncertainties over the future. Due to the new ownership, the pharmacy management team will be moving from the Manchester office and the pharmacies will be rebranded next year. 
But Mr Nuttall is determined the chain will go from strength to strength under Bestway. "We will be looking at our portfolio from time to time as things change but, as an entity, we want to invest in it and grow," he stresses. "It is a matter of increasing the scale of the business."
With this approach, he hopes the chain can consign to history the "sad moment" when the pharmacies were sold. "Morale is strong," he says. "It's a great place to be and there is a buzz about the place."
Zameer Choudrey The new investor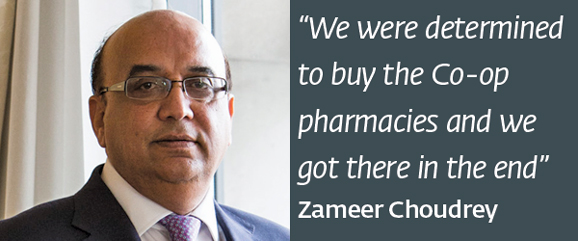 Since the deal was made in July, C+D has been looking forward to speaking to Bestway's chief executive Zameer Choudrey. Bestway may have seemed like an underdog in the bidding process, but it's clear that, on Mr Choudrey's part, it was a carefully considered strategic move. He was therefore prepared for the inevitable questions over how a company with no prior experience of pharmacy could take on the 771-strong chain.
"When we went into cement and banks, people were asking questions and this time was no different," he explains. "Of course there was scepticism in the market, but we had identified a healthcare sector we wanted to go into." This enthusiasm for investing in pharmacy went as far back as two years before the Co-operative deal. "We knew we wanted to buy this [the chain], we were determined and got there in the end," stresses Mr Choudrey. It therefore comes as little surprise when he says Bestway is keen to expand its empire. "It depends on the banks, but we hope to add more pharmacies to our chain," he tells C+D.
So why does Bestway feel so confident about making inroads into pharmacy? Mr Choudrey explains the company has a "whole range" of advisors to help it navigate an unfamiliar sector and can also draw on the expertise of the Co-operative Pharmacy management team. "We have taken on a very well-managed business," he says.
Mr Choudrey is also keen to emphasise Bestway's track record. "I'm not taking anything away from pharmacy professionals but, over the past 50 years, we have shown we can get our heads around technical issues," he stresses. His strategy is clear: the "first priority" of the business will be prescriptions, which will make up 80 per cent of its focus.
It's certainly a bold first move into the pharmacy market. Concluding the interview, Mr Choudrey leaves C+D in no doubt he is determined to transform Bestway from the underdog into the top cat.