American dream
As Alliance Boots gets set for full takeover by Walgreens, long-running US executive Richard Ashworth reveals his desires for the future of the UK business
As Alliance Boots gets set for full takeover by Walgreens, long-running US executive Richard Ashworth reveals his desires for the future of the UK business
Richard Ashworth's career at Walgreens was perhaps inevitable. "My dad worked for Walgreens, my uncle worked for Walgreens, my cousin worked for Walgreens and my aunt worked for Walgreens," he answers drily when C+D asks him why he first opted to work for the US pharmacy giant. "So I didn't really have a choice," he jokes.
Whatever the reasons for his career path, Mr Ashworth clearly feels it was the right one. He has since racked up more than 20 years at Walgreens and, at the time of the interview, has just completed a year-long stint in the UK as director of healthcare for Alliance Boots, which Walgreens is due to complete its buyout of in the first quarter of next year.
Never one to stay away from Walgreens for long, he is jetting back across the Atlantic to assume a role as president of retail and pharmacy operations – overseeing field operations in all 8,200 of its pharmacies across the US.
It seems a very short time for Mr Ashworth to have stayed in his role at Boots. But, as he explains, he was always planning to go back to America – the timing was simply "a little sooner" than expected.
He also firmly believes that his brief experience in the UK has taught him more about pharmacy on the other side of the Atlantic, which should prove critical at a time when Walgreens and Alliance Boots are getting ready to fully cement their relationship.
The grassroots
Mr Ashworth has literally worked his way up from the shop floor at Walgreens. He joined the ranks of the pharmacy chain at a young age, mopping floors in his local branch as a part-time shop boy while at high school. At first, he took the job just to earn some spending money and insists that, initially at least, there were no grand plans for an illustrious career in pharmacy.
That all changed once he saw the way the pharmacist interacted with patients. "He was the guy who everybody went to," explains Mr Ashworth. While some healthcare professionals can seem alien and even scary, says Mr Ashworth, pharmacists often come across as "a little bit more one of us" while still retaining an air of white-coat professionalism.
Although Mr Ashworth is now more suit-and-tie than white-coat, having since graduated as a pharmacist and climbed the ranks at Walgreens, he stresses that healthcare remains his reason for getting up in the morning. In fact, he often yearns for the patient interactions he used to have as a pharmacist.
"I miss it, I do," he admits. There are no immediate plans to return to a more clinical role, but Mr Ashworth has toyed with the idea of working as a pharmacist one or two days a week upon his retirement. "I don't know if my clinical skills would be up to par now I've been in management so long," he says. "But I reflect on it and I've got a very positive mindset about it."
Mr Ashworth still remembers the patients he cared for in one of his first roles as a pharmacist in Florida, and says there is something "very special" about sitting down with patients and giving them a renewed sense of confidence or fresh understanding. He remembers this knowledge being received with gratitude. "And then, you know, you get cookies," he grins.
"Both companies are special in their own right in their own country… over the short and the long term it feels like there's a lot of learning we can share with one another"
    Transatlantic gap
The scene of cookies in the dispensary could hardly be more American. It is perhaps symbolic of many the fears voiced over the buyout of Alliance Boots by Walgreens. So will it be just another takeover that signals an end to any UK heritage?
Mr Ashworth is clear that the company wants to avoid imposing the American way of working on Boots branches. "[Both companies] are special in their own right in their own country... Over the short and the long term, it feels like there's a lot of learning we can share with one another," he insists.
Something that has impressed him greatly during his time on this side of the Atlantic, he says, is the sheer extent to which UK pharmacists put their patients above all else – a sentiment that exists but is perhaps not quite as strong in US.
Then there are the more fundamental differences between the two markets, which he has experienced first hand. Mr Ashworth names the move to the UK along with his wife, who is – you guessed it – a pharmacist, and their two children as a "big step".
Even though the family has moved within the US eight times in 16 years, moving to the UK was the hardest transition, he says. "There was a learning curve there, for sure," he explains.
Mr Ashworth admits he had to work hard to get to grips with how the healthcare sector works in the UK and the various organisations such as CCGs, health and wellbeing boards and local councils. It's a sentiment that will evoke sympathy from anyone who pored over the new NHS structure when it came in 18 months ago.
All the same, he remembers feeling strangely at home upon first arriving at Alliance Boots. "What was interesting was that when I got here, this felt a lot like Walgreens," he says. This "comforting" sense of familiarity in approach between the two companies, he explains, is what has made the relationship between Alliance Boots and Walgreens so smooth.
"Walgreens will still be Walgreens and Boots will still be Boots, no doubt about that"
  The boardroom
The companies are clearly keen to implement this sharing ethos at a high level. Mr Ashworth himself is a case in point as a Walgreens executive drafted in to take on a senior position at Alliance Boots. With another former Walgreens executive, Suzanne Hansen, due to take over from Mr Ashworth as director of healthcare, is there a move towards replacing senior Alliance Boots staff with their colleagues from the US?
"I think we're going to see it both ways," Mr Ashworth stresses, pointing out that former Boots health and beauty director Alex Gourlay moved over to the Walgreens board last year.
It all seems incredibly harmonious. But surely a buyout between two such large companies can't be without its problems? There was tangible frustration from Alliance Boots and Walgreens chiefs this summer when they were forced to downgrade their profit forecasts.
This prompted an increase in the combined company's cost-savings target, which raised inevitable questions about whether it was cutting costs at the expense of quality.
What does he say in response to those who see the business as too bottom-line focused? "I don't agree with that," he fires back. "I think you have to have some bottom-line point of view – we do have to run a business. But we are patient-led first, and we won't change that here."
In fact, he points out, the "size and capability" of Boots puts it in a far better position than smaller businesses to offer a comprehensive range of services to patients, such as its new travel vaccines. This is where the multiple can really help "advance" the pharmacy sector, he says. "We're pushing the profession in the way that it should go," he insists.
It is impossible to say whether the buyout of Boots by Walgreens really is as seamless as Mr Ashworth says. But whatever the reality, Mr Ashworth seems genuine in his belief that the two different companies should keep their own distinctive personalities. "Walgreens will still be Walgreens and Boots will still be Boots, no doubt about that," he stresses.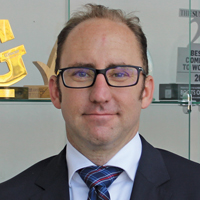 Richard's CV
1992
Started working for Walgreens
1995-1999
Studied pharmacy at Nova Southeastern University
2001-2005
Held a pharmacy supervisor position at Walgreens in the West Palm Beach Florida area, where he was responsible for managing 35 branches. During this time, he completed a Masters in Business Administration at the University of Phoenix
2005-2007
Took on a district manager role in the Minneapolis-St Paul area
2007-2009
Moved over to manage Walgreens Health Initiatives, an insurance subsidiary of Walgreens 2009-2010 Became market vice-president at Walgreens, which saw him take full operational control of 270 branches
2010-2011
Secured a role as vice-resident of pharmacy operations at Walgreens, overseeing all 8,000 pharmacy branches.
2011-2013
Became corporate operations vice-president for the US pharmacy chain
2014-present
Moved across the Atlantic to work at Alliance Boots, where he held the position of director of healthcare. He returned to Walgreens at the end of October and is now president of retail and pharmacy operations, overseeing all 8,200 branches