A clean slate
A major refit for Washington Pharmacy marked a fresh approach to business and won second place in C+D's Platinum Design Awards 2014
A major refit not only heralded a light and airy design for Washington Pharmacy but also marked a fresh approach to business – securing it second place in C+D's Platinum Design Awards 2014
Undergoing a refurbishment is a stressful business even for those with the coolest of heads. It's a sentiment that Jane Soltys, owner of Washington Pharmacy in Penarth, Wales, can testify to.
Stepping into the well-lit, cheerfully coloured and immaculately clean pharmacy, it's difficult to believe that, not so long ago, the pharmacy was half the size and stocked all manner of weird and wonderful items such as cuddly toys and handbags. It is even harder to believe that, even more recently, there were builders knocking through the wall to the neighbouring shop to create the light and airy space that exists today.
Today, the pharmacy is barely recognisable from the cramped, old-fashioned space Ms Soltys bought with her partner back in 2005. But undergoing the refit was no mean feat – especially when pharmacy had no option but to remain open, she admits. "It is quite stressful keeping the business running [while] having people suspended from ceilings or bashing through walls and making rather a lot of noise," she explains.
"It's quite stressful keeping the business running while having people suspended from ceilings or bashing through walls and making rather a lot of noise"
Jane Soltys, Owner, Washington Pharmacy
There were also the hurdles that no-one could have prepared for. During the course of the refit, traces of asbestos were discovered on some of the tiles – meaning the team had to contend with putting damp proofing throughout the property and producing an asbestos report.
To keep on top of the challenges, an organised approach was essential. Ms Soltys certainly filled that role. Having been involved with other refits, she was in a good position to know what to expect and made sure that the shopfitters stuck to a rigorous programme.
BAPTT Shopfitters, the company responsible for the refit, gave the team a detailed plan of the work that would be done each day. BAPTT sales director Matthew Jones believes that this "meticulous planning", both by staff at Washington Pharmacy and themselves, was crucial to achieving the polished result. "All aspects of the design criteria were considered and catered for, right down to the name badges and bags," he says.
This approach also ensured staff morale remained high. "As long as you keep people informed, then they're happy," Ms Soltys explains. She made sure her team felt involved in the refit – offering them the opportunity to give their opinion on colour schemes and "feeding them with cake on bad days". "You can't do it by yourself," she stresses.
Collaboration was particularly essential considering the impact on the team's future working environment. The look of the pharmacy wasn't the only thing to be transformed — its focus has changed, too. Ms Soltys used the refit as an opportunity to shift the emphasis away from general retail and firmly onto healthcare. "A lot of people think that pharmacies stock everything, and we probably did, too," she admits. "It was a good chance to rationalise [our offering]."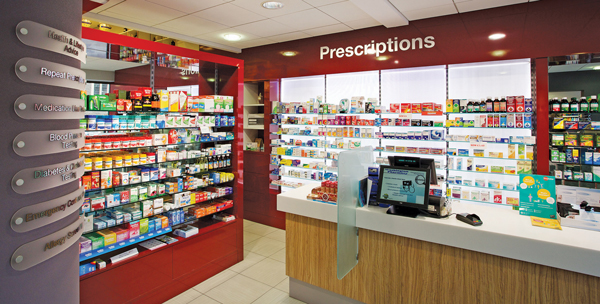 The design reflects this decision. Customers are now signposted towards the pharmacy's clinical services and fresh range of products using features such as a backlit wall for the pharmacy's P medicines. Staff have been trained to give advice on its new clinical products, such as the Vichy skincare range. "It's empowering different members of staff to fulfil their roles better," says Ms Soltys.
The team effort has clearly paid off. Although the new premises incurred a significant cost – expanding into the neighbouring shop space pushed up rent and rates by 70 per cent, while the refit itself cost £175,000 – it has boosted business in return. Over-the-counter sales have increased 26 per cent since the refit, while scripts are up 15 per cent and, of course, the pharmacy took second place – and £2,000 prize money – at this year's C+D Platinum Design Awards, in association with Ceuta Healthcare.
It is no wonder that the new premises are attracting compliments. The understanding that patients showed during the refit has now transformed into an enthusiasm for the end result. "I've had lots and lots of people coming in and saying how fantastic it is as a facility for Penarth," Ms Soltys says.