C+D debate: Prescription fraud checks
Charging patients for their prescriptions has always been controversial. But with pharmacists set to police free scripts from 2018, delegates at C+D's webinar say the system has gone too far
---
---
The attendees
Jennifer Richardson

Editor, C+D

James Waldron

News editor, C+D

Mimi Lau

Pharmacy services director, Numark
Sid Dajani

English Pharmacy Board member, RPS

Tania Francis

Partner, Hempsons

Nick Kaye

Board member, NPA, and independent contractor
The steadily rising prescription charge is one topic guaranteed to stir up debate between health professionals. To its critics, it's an outdated tax on the sick, while others defend it as a necessary evil for injecting much-needed cash into the NHS. 
But there was a clear consensus at C+D's webinar on the topic last week (March 23), where representatives from all corners of the pharmacy sector agreed on one thing: the system is outdated.
The all-round discontent was partly down to the latest hike in the charge – it has increased by 15p to £8.20 per item this week. But it was also fuelled by the government's controversial plans for the sector to electronically police free prescriptions by 2018. The proposals have attracted heavy criticism from the sector, which is yet to receive any information on their practical implications.
So it was no surprise that delegates at C+D's webinar, supported by Actavis, were clear that something had to change. The solution, however, was not quite as clear-cut.
---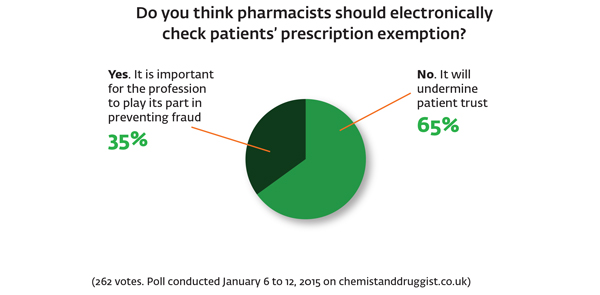 ---
Reluctant policemen
It was understandable that all delegates – from contractors to legal experts (see The panel, below) – were sceptical over plans for pharmacists to police prescriptions. The government has said the NHS could save £150 million by installing an IT system that enables pharmacists to check whether a patient is entitled to free prescriptions "at the click of a button". But, despite repeated requests from C+D, it has given no explanation of how it made these calculations and refused to give vital details – crucially, how much time it will take pharmacists to conduct the checks.
NPA board member and contractor Nick Kaye argued there were far more productive ways of pharmacists spending their time than checking patients' eligibility for free scripts. His busy health centre pharmacy in Newquay already dispenses 24,000 prescription items a month, and he told the webinar he was concerned about the time and cost implications of the proposed checks. "We should be worried about patient care, not about ticking a box and getting the exemption," he stressed.
Numark director of pharmacy services Mimi Lau agreed that fraud checks could cut into the time pharmacists spent on patient care. She emphasised that extra checks would put "huge" unnecessary pressures on the pharmacy team, and that many Numark members had expressed concerns over the government proposals. 
Royal Pharmaceutical Society (RPS) representative, English Pharmacy Board member Sid Dajani, also pointed out the potential ethical dilemmas. What would happen if a patient claimed they were exempt, but the government IT system
said otherwise, for example? And what if they were on life-saving medication?
Mr Dajani firmly believes pharmacists should put patient needs before the government line in this scenario. He was outraged that just 16 per cent of 153 readers who took part in a C+D poll, conducted on March 20 to 23, said they would definitely dispense free medication to a patient claiming to be exempt if their IT system told them otherwise. The issue was less clear-cut for many readers, with 52 per cent uncertain how they would act until they had more information about the personal repercussions.
"While pharmacists might be legally OK not to provide medication without a prescription charge, ethically I think it's morally indefensible," said Mr Dajani. "We're not tax collectors or policemen – the patient's welfare must come first."
Tania Francis, partner at health and social care legal firm Hempsons, was sceptical over whether the government had given any thought to the legal implications of its proposals. Although pharmacists already used their clinical judgment when treating patients who could not prove they were exempt, an IT system telling them in "black and white" that a patient must pay for treatment would make this even harder, she said.
"You're put in the position of having to make a clinical judgment about whether that patient is going to come to harm in the amount of time it takes them to borrow the money themselves – a very real situation – or you have to ignore the computer and dispense," she explained.
---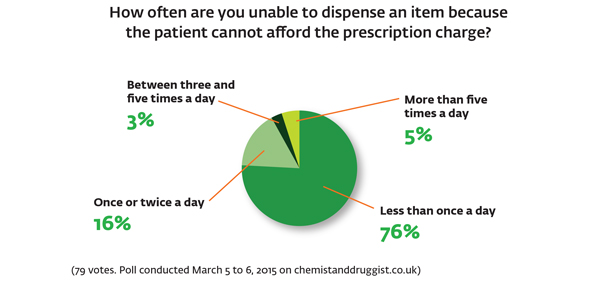 ---
A job for GPs?
Another vital question was why the government had selected pharmacists to carry out the checks. Ms Francis pointed out there had been no explanation of the decision. "No-one's given any reason why there's more fraud in pharmacy than there might be in dentistry, for example," she said. 
Ms Lau agreed that other healthcare professionals could have a role to play in combating fraud. Moving exemption checks into GP practices was the "obvious next step", she argued, where they could be woven into a "seamless" consultation experience. "It seems to make more sense and cut a lot of time, cost and administration at the GP level, where that relationship [with] patients is very strong," she said.
Ms Lau's suggestion would be one way to divert the tide of patients arriving at pharmacies, only to find they cannot afford their prescription. According to a C+D reader poll in March (see Reader views, overleaf), this is already a problem without a fraud check system – a quarter of pharmacists come across the scenario at least once a day. 
Mr Dajani rejected suggestions of transferring the burden of exemption checks to GPs. "I don't believe playing ping-pong with prescription charges at GP surgeries or at the pharmacy is going to make it [the situation] fairer," he told the webinar.
---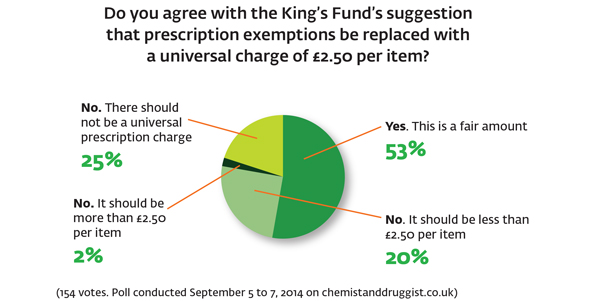 ---
Overhauling the system
Of course, the debate would be null and void if the prescription charges were scrapped altogether. So the conversation predictably returned to whether the entire system needed an overhaul.
For Mr Dajani, the answer was a clear yes: he slammed the current system as "unsustainable" for patients. Charging patients for GP appointments could be an alternative – a fee as low as £1 could reduce unnecessary visits and make patients take more responsibility for their health, he argued. "Some [patients] can afford their cigarettes, but not their prescriptions," he claimed.
But 17 per cent of 106 readers who took voted on a poll on C+D's website agreed with Mr Dajani, naming charging patients for GP appointments the best way for the NHS to recoup its costs.
Ms Francis was less convinced, questioning whether this approach would be any "less harmful" to patients than charging them for their medication. "Is this not just moving the barrier for those who can't afford to [pay] one step before [a pharmacy]?" she asked.
Ms Lau also believed the system needed to change. She branded the current charges "archaic" and "out of date". Ideally, she would like to see the sector lobby politicians to overturn the fee system. The promise would have clear support – C+D reader polls indicate many pharmacists would prefer a universal, lower charge. But Ms Lau was all too aware of the reality and admitted the prospects of success were slim in the uncertain political climate surrounding May's general election. 
---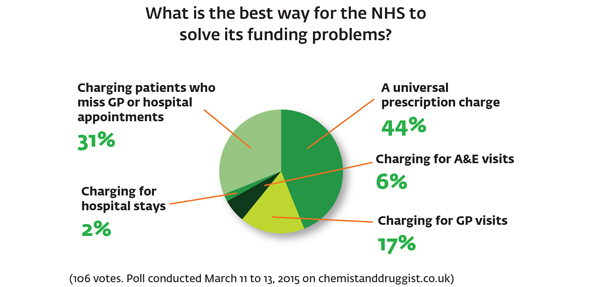 ---
Damage control
There are clearly a number of question marks over the plans for pharmacists to police prescriptions. But despite the very valid concerns, the government seems determined to press ahead with introducing checks. So if they are going to become a reality, is there anything that can be done to minimise their impact on pharmacists?
For Ms Francis, ensuring the efficacy of the software was a clear priority. She doubted any fraud-checking software that would have to glean information from such a disparate range of government databases would work without a hitch. This could mean pharmacists spent an inordinate amount of time on the checks. "The barriers [to implementing the system] are going to be practical just as much as they are ethical, moral [or] legal," she said. 
Ms Francis also believed it was crucial for the government to consult with pharmacists on their needs. Although it was "clear" that no-one had thought to consult the sector so far – a freedom of information request by C+D revealed no pharmacy bodies had been involved in the plans – she stressed pharmacists needed to be involved. "They're the ones who would know what the practicalities are," she pointed out.
Ms Lau also suggested that the sector sat down with the government to thrash out how to minimise the impact of the fraud checks. "We need to be around the table to try and influence and shape that," she said. "What can we do as pharmacists [and] organisations to make that process simple? [So it] doesn't take up too much of our pharmacy's time?" 
Mr Kaye was resigned to the fact that the responsibility of prescription checks would remain with community pharmacy because the sector's "slight corporate focus" meant it was "probably quite good at it". "If we're not going to win the battle of not having prescription charges, what's the fairest solution?" he asked the delegates. As C+D's webinar revealed, this is the £150 million question with no easy answer.
"Has the DH changed its minds? Are we going to have access?" she said.
NHS England head of immunisations Kenny Gibson said the decision on whether to commission pharmacists to deliver the vaccine to children would be affected by an evaluation of London's most recent flu campaign, due to be published on April 8.
"We need to look at that evaluation to see if community pharmacy can build capacity to support the roll-out of children's flu vaccinations," he told C+D.
Once the evaluation was published, the 32 clinical commissioning groups across London would take "another few weeks" to design a model that could vaccinate all eligible children, Mr Gibson said.
"Our preferred option would always be GP-registered vaccinations. But given that a growing percentage of children in London don't have a GP, we need to design something different and that's why we're considering pharmacy alongside other alternative providers," he said.
This problem was "not unique to London", and other large cities might consider a similar strategy, he added.
Your shout – the aftermath
Readers shared their thoughts on Sid Dajani's "shock" that only 16 per cent of readers would dispense medicines for free to a patient who claimed they were exempt if their IT system told them otherwise
"What planet is Sid Dajani on? The pharmacist would get a lot of aggro for dispensing free medicines as the prescription charge would come out of [their] business."
Gerry Diamond, pharmacist
 
"I don't see the problem. Dentists and opticians do this at each visit. If you get the service for free, you have to bring evidence with you or you don't get the appointment. People need to start appreciating what a service they have. I find it hard to believe most people can't afford a yearly prepayment of about £120 thereabouts. It's all about choices."
Caroline Jones, community pharmacist
 
"Sid should not be indignant about the results. Pharmacists did not train to be unpaid tax collectors, but that is the reality of the situation. If all scripts were free, then everyone wins."
A A, community pharmacist
 
"I am staggered that Sid Dajani is staggered. Does he think pharmacies will give out free prescriptions, then pay the charge themselves? I fully expect that if [the government's plans] go through we will be made liable for any failure to check. I am surprised as many as 16 per cent said they would [dispense a free medicine]. If it is established that pharmacists would not be liable then I am sure the percentage would be close to 100."
David Sarabowski, locum pharmacist
 
Comments posted at chemistanddruggist.co.uk