C+D debate: National flu service
Our panel assesses how England's pharmacy service can be a success, following its launch last month
---

---
The attendees
Jennifer Richardson

Editor, C+D

James Waldron

News editor, C+D

Amish Patel

Managing director, Hodgsons Pharmacy, Longfield, Kent 
Kenny Gibson

Head of early years, immunisations and military health, London region,
NHS England

Rekha Shah

Chief executive officer, Pharmacy London

Mandeep Baveja

Locum GP, London

London flu service in numbers
40,000

flu jabs logged in first 3 weeks

142

vaccines logged during the 1-hour webinar
It was the blockbuster announcement of this year's community pharmacy funding settlement for England. The ace up PSNC's sleeve. After months of "extremely difficult" talks with the NHS, the negotiator hailed the commissioning of a national flu service as a sign that the sector's messages were finally "starting to get through", and contractors were delighted by the "brilliant" news.
But, inevitably, everything has not gone as smoothly as hoped. The service – initially planned for the start of September – did not get underway until after the halfway point in the month. In the build up, GP leaders hit out at the scheme, saying it would increase GP workload and fail to boost patient uptake of the vaccine, while contractors said the lack of a national system to keep surgeries informed of vaccinated patients would undermine pharmacy's work.
Being involved in another national service can only be seen as a good thing, but it is important the sector irons out problems to ensure that the service keeps on improving for pharmacists and – most importantly – patients. To this end, C+D gathered together representatives from everyone involved in the service – a contractor, a commissioner, a pharmacy leader and a GP – to talk through the most pressing issues facing those delivering the scheme. With topics ranging from "horror stories" of GP resistance to potential patient groups for the future, the lively debate shed new light on what went on behind closed doors in the run-up to the scheme, and the possibilities for improving it next year.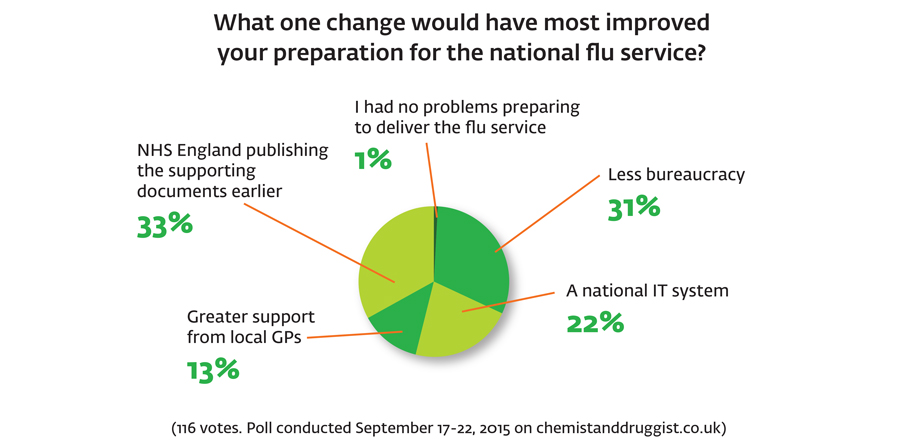 Preparing to jab
Between the announcement of the service in July and its launch, pharmacists had just two months to book training, order vaccines and prepare their premises. Contractor Amish Patel says that simply is not long enough: pharmacists need a minimum of three months to prepare for something of this scale. "Six months is ideal, because pharmacists have got holidays, the staff have got holidays, and all these things play into it," he says.
Readers seem to agree: a third of 116 C+D readers polled said having the preparatory documents for the service – which included the patient group direction – would have been the one thing that could have helped them better prepare for the service, and only 1% said they had "no problems" preparing.
One of the biggest hurdles for pharmacists was the declaration of competence: a document asking pharmacists to show they have met all the training, premises and equipment requirements necessary to deliver the scheme well. Following the launch of the service, contractors rushed to events offering help filling out the document, with five Centre for Pharmacy Postgraduate Education (CPPE) courses filling up within four days of being announced.
But Pharmacy London chief executive officer Rekha Shah says completing the declaration is a "far better way" of preparing for the scheme than having to keep – and submit – separate bits of paper from various training programmes. And, from her experience in London, it gets easier every time. "We started using it last year in London, and people did find it a little onerous. This year it's been a lot easier," she says. 
And – as LPC chief officer Nick Hunter tells C+D in the run-up to the webinar – perhaps pharmacists need to take more responsibility for ensuring they are prepared. He says that he is getting "several queries a day" about the service that could be solved if pharmacists' simply read the Pharmaceutical Services Negotiating Committee (PSNC) flu guidance, available on its website.
It's a comment backed up by Ms Shah. "PSNC published a guidance document and if you were to read it from front to back, in the right order, it made everything very clear," she says. She has had a similar experience to Mr Hunter, with pharmacists either rushing through the guidance – and therefore failing to understand it properly – or not reading it at all because of the pressures of everyday work.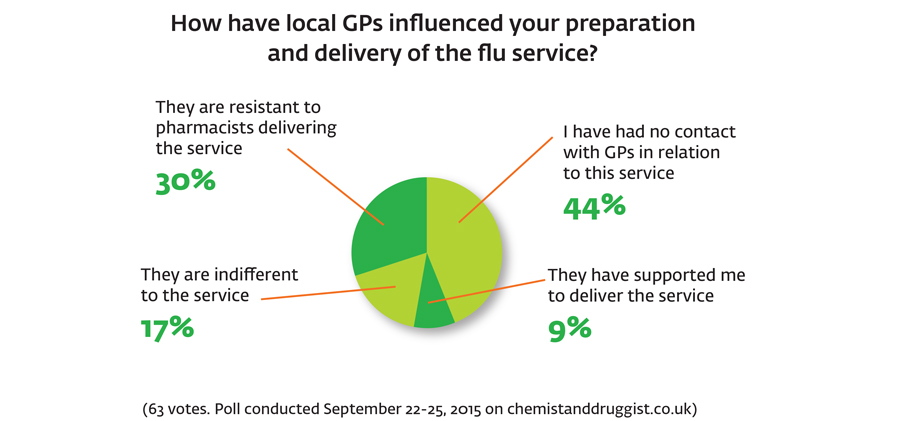 Friction with GPs
Criticism of the service from both the British Medical Association and the Royal College of General Practitioners was always going to trickle down to grassroots level. And so it has proved, with Mr Patel admitting he's seen some "horror stories" of GPs advising patients not going to a pharmacy for a flu jab as part of his work with Kent LPC. "GPs [are] pushing that, 'Don't go to your pharmacy, you're not going to get as good a vaccine, or as good a service, or it's not as safe' [message], whatever it may be."
As if to demonstrate Mr Patel's point, Northampton GP Jamie Green tweets a worrying message in the build-up to the webinar: "Best for patient to have the flu jab with GP: we also use the time to do med reviews. Pharmacy only wants the profitable work, not the loss-making stuff GPs do." 
The friction has rubbed so raw that it has got NHS England worried – Mr Gibson says there are examples of relationships that are "most unhelpful" to patients, and the "very real" incidents that occur between the two professions "need to be dealt with locally". 
But there does seem to be hope. The dismissive attitude demonstrated in Kent is by no means present in all GPs, as London locum GP Mandeep Baveja proves. He says he welcomes pharmacies delivering the service, and says pharmacists "help me get through my day". "We are saturated and squeezing people in, or doing flu jabs during routine appointments and then we're running late. Anyone who can do it should be allowed to do it," he says.
Mr Gibson says he's seen relationships in London improve over the past three years of running a local service, with GPs "starting to understand" the benefits that community pharmacies have for their own practices. 
So how can pharmacists take advantage of this shift in attitude? Communication seems to be the key. Dr Baveja says that ensuring GPs know which patients have been vaccinated is central to a good relationship, while Mr Gibson calls on pharmacists to initiate a conversation between the two professions. "Building relationships is not just the remit of general practice," he says.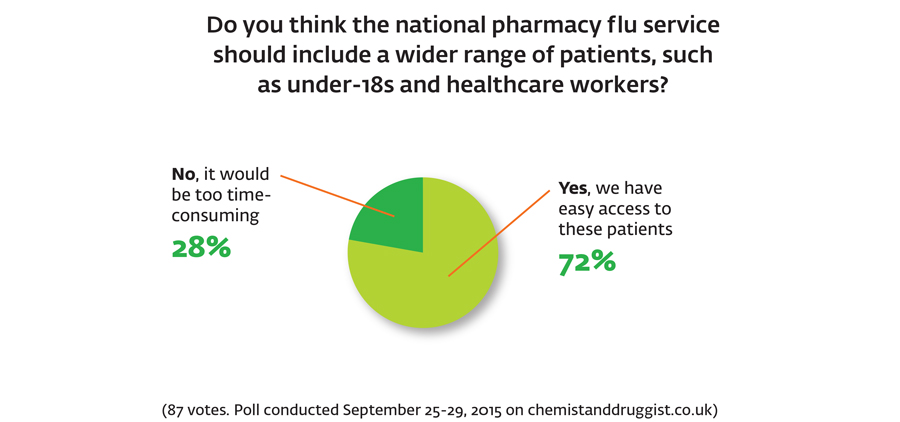 Looking to the future
The end of this year's service is a long way off, but contractors are already looking to the future. In a poll of 87 C+D readers, 72% called for more patients to be added to the scheme, including under-18s and healthcare workers. Dr Baveja gives the move the thumbs up, saying it is important that the NHS looks at "alternatives" to GPs, who are in a "recruitment crisis". "There would be quite a lot of acceptance," he says.
Pharmacists in London are already vaccinating these additional groups and many more, Ms Shah says, including NHS England staff, frontline care workers, Public Health England workers and "flu champions": patients who will "raise awareness" about the importance of the vaccine. "The access [pharmacists] can provide to those people is huge," she says.
Any changes to the service would surely rely on evaluating its success this year. NHS England has so far remained tight-lipped on how it will do this, but Mr Gibson uses the webinar to reveal exclusive details of the process. And don't worry if you got off to a late start: how your patients feel about the service will be more important than the number of jabs you deliver, he says. "Commissioners understand you're never going to capture a whole population when a regime is new. Where pharmacies are judged will be the patient voice."
Another important factor will be how pharmacists "empower" patients to look after their own health. "If we can empower young adults, people with mental health challenges or learning disabilities, and pregnant women to protect their own health and wellbeing, that's a big thing," he says. 
Evaluations will happen both regionally and nationally, and – although there is no guarantee of a service next year – Mr Gibson makes the prospect sound likely. "The volume of vaccines need to increase, someone has to deliver those appointments with well-trained competent staff," he says.
The Twitter reaction
This is a failed area of commissioning, need a better strategy if we are to allow others to do GP work. Distinct difference between job pharmacist does and outsourcing of primary care work.
Jamie Green
@drjamiegreen 
All patients I have vaccinated say they much prefer pharmacy and ease of access. When they go to GPs, they are stood in a line and vaccinated one after another, with NO privacy. Not saying this happens everywhere, but I know of at least 2 where this has happened.
Jon F
@FlitmanJ  
We started late, but have got people booked in. Learning point next year. Have told staff to remind each other early to prepare. 
Sachin Badiani
@thesupersach 

What are your thoughts on the flu service so far?