Category focus: Breathe some life into winter remedies sales
Pharmacists can make the most of the winter remedies category this season
The days are getting shorter and the first leaves are already starting to fall from the trees – a sure sign that winter is coming. Along with digging the knitwear out from the back of the wardrobe, it is time for pharmacists to again consider how to get the most out of their sales of winter remedies.
This becomes even more important when you consider that the winter remedies market was less lucrative last year. According to market research company Kantar Worldpanel, as a result of a warmer 2015-16 winter season, 255,000 fewer shoppers bought these products than in the previous year. The consumer analyst firm suggests this may have been because "parts of the UK enjoyed a toasty
16°C Christmas".
So does pharmacy remain vulnerable to feeling the effects of a milder season? Up until last year, the category was growing at a rate of 12%, with pharmacies outstripping supermarkets in their sales growth.
Kantar Worldpanel predicts that this category will grow again this year, but it admits this is based on the assumption that winter temperatures fall back to average and incidence levels of seasonal illnesses also rise.
While the weather remains unpredictable, what is certain is that people will always need help from pharmacists for colds and flu, as well as other common winter ailments. As one of the first ports of call for patients, this is something the sector can immediately respond to, by offering advice and services that prevent or treat the inevitable array of coughs, sneezes and sore heads.
Off-the-shelf solutions
Many winter illnesses are infections caused by viruses, for which there is no cure. Terry Maguire, owner of Maguire's Pharmacies in Belfast, says: "They run their course, and symptoms often last longer than people are willing to accept."
A raised temperature, a sore throat, and aches and pains will last a few days, while a cough could last for about three weeks, he points out.
While there is a vast range of products that pharmacy can offer to relieve these symptoms, data from Kantar Worldpanel suggests that decongestants have a winning formula, enjoying sustained growth throughout 2015 and into this year. Despite not being suitable for patients with high blood pressure, 233,000 more shoppers bought decongestants this year – so this area seems a good one to promote in the coming winter months, especially since many of the products are only available through pharmacies. "Nurofen has played its part since launching into this category, and Boots has encouraged shoppers to buy bigger packs," Kantar Worldpanel adds.
Antonio Monachello, superintendent pharmacist at Charing Practice in Ashford, Kent, recommends appropriate symptomatic relief based on age, prescribed medications and the symptoms that are troubling the patient the most. This is where pharmacists can excel, as they can recommend a variety of different treatments, including decongestants, all-in-one cold remedies and products for sore throat, he stresses.
Martin Stimson, area business manager for Fisherman's Friend in the UK, adds that medicated confectionery presents another opportunity for pharmacies, which are in a strong position to sell over-the-counter (OTC) products.
"Research has shown that flavour is a key purchase driver for our consumers," says Mr Stimson. "To make the most of the winter cough and cold season, retailers should make sure they have a well-stocked selection of lozenges," he adds.
Warding off winter illness
As pharmacists gear up to help treat winter illnesses, this is also a good time to promote preventative pharmacy services. Rekha Shah, chief executive of Pharmacy London and London LPC lead for pharmacy immunisations, says flu and pneumonia vaccinations offer an opportunity to tie in sales of winter remedies.
"If somebody comes in for a flu vaccination, you can also offer them advice about [their general] winter health," she says.
So if vaccination patients offer an ideal market, how do you expand this group?
Ms Shah has been heavily involved in the London pharmacy vaccination service, which was set up in 2014 to give the pneumococcal jab to people with long-term conditions and who are vulnerable to pneumonia. "This will be the third year and we hope to see about 2,000 jabs being delivered," says Ms Shah.
"Pharmacy teams need to start targeting and informing patients about vaccines now," says Ms Shah.
She emphasises the importance of pharmacy staff providing patients with information explaining why they should have a flu and pneumonia vaccination. "Be proactive. Follow up each patient eligible for a flu jab with reminders," she advises.
"Promoting the flu jab is a must," agrees Ravinder Singh Cholia, manager of a Day Lewis pharmacy in Essex. He believes the pharmacy sector is in an "ideal position" to be able to administer flu jabs to patients – both under the national pharmacy flu service in England, which launched last week, and through private schemes.
Keep the competition at bay
Vaccinations are one way to attract customers away from pharmacy's biggest winter rivals: supermarkets. The large retailers are stiff competition for community pharmacists because patients have easy access to cold and flu remedies at grocery stores.
But pharmacies have the edge when it comes to the knowledge, expertise and personal service they can offer, says Ed Round, marketing manager at winter remedy manufacturer Covonia. "Pharmacy staff are well placed to offer expert advice and recommend suitable treatment options – something that grocery shelves cannot," he points out.
"It's important that pharmacists play up to this strength and educate themselves about the category ahead of the key cough and cold season," Mr Round adds. "Staff will need to be aware of the different cough types and the latest range of products available, so that when customers seek help they have advice tailored to their individual needs."
Pharmacists can also tie in their diagnostic expertise to OTC product sales, says Mr Singh Cholia (pictured below). He emphasises how pharmacists – unlike general retailers – will make sure any medication they recommend is specifically suited to the individual.
"We can give advice if people need it. If you go to a shop to buy paracetamol, or any winter remedy, you won't be asked if you are on medication and other important questions. Pharmacists always ask."
During the winter months, Mr Singh Cholia also encourages patients to follow general health advice, emphasising the importance of a varied diet that includes fruit, vegetables, protein and carbohydrates. He recommends multivitamins and supplements if a patient's diet is poor.
Easy access
Accessibility is where pharmacy can really offer patients more during the winter. For anyone with a seasonal ailment, the pharmacy is a place they can easily visit.
Keeping up to date with the latest evidence and guidance on preventing colds (see box on previous page), and giving information about warding off winter viruses, is a vital part of the pharmacist's role, says Mr Monachello.
But the sector could do even more to help support customers, Mr Monachello argues. He believes that, where possible, pharmacists need to "spend more time with patients outside the dispensary", by focusing on delivering winter ailments services – and he stresses the importance of having a qualified team of staff behind them.
Mr Monachello says pharmacists are often aware of a patient's social circumstances and medical background, and suggests they use this knowledge to their advantage when dealing with winter illnesses, as they "can spend more time with people than their doctor can".
For example, while carrying out a medicines use review, talking to patients about the contents of their medicines cabinet can help to ensure you are aware of the repeat medicines they require during the winter months. Ms Shah agrees this tactic stops patients from running out of their regular medication if bad weather hits.
She adds that pharmacists can help vulnerable people stay warm during the winter by talking to them about the importance of staying hydrated. "Just because it's cold we might not drink enough water, but warm drinks can be just as effective," she says. All of these interactions are ways to promote not only the expertise of you and your team, but the remedy products available.
Mr Singh Cholia adds that while pharmacy is doing a "great job" in the winter health category, there is "always room for improvement", and independent pharmacists can learn lessons about promoting their services from the big players.
"The multiples always have offers on products in winter. Independents should try to promote themselves and get out there – using social media to make sure people are aware that we provide support for winter remedies," he says.
The future of winter remedies
Pharmacists say there's room for further growth in this area – Mr Maguire predicts winter ailments "will only get bigger as a category" for pharmacy.
Ms Shah also envisages a growing presence for independent and smaller multiple pharmacies in this category, because of their "personalised targeted approach" and the "massive role" they have in helping ease winter pressures for other health professionals.
As GPs are snowed under trying to manage patients with cold and flu symptoms, the community pharmacy sector has a chance to give even more support to patients and the NHS. The winter certainly doesn't have to be bleak for community pharmacy – instead, view this season as an opportunity to invigorate your sales and keep your profit margins healthy.
A pharmacy staff member wants to brush up on their knowledge of winter ailments, including the different preventative and over-the-counter remedies available
What can you advise?
Leyla Hannbeck, NPA chief pharmacist
Pharmacists and their teams should be ready to advise customers about remedies for winter ailments. These can include colds, flu, coughs, sore throats and chilblains. Before advising customers, your team should use the WWHAM questioning technique to ensure any advice and products are appropriate. This means asking: Who is the patient? What are the symptoms? How long have they been present? Has any action or medication been taken?
Common colds are caused by viruses. Symptoms can include a stuffy nose, nasal discharge, sneezing, sore throat, a cough and general malaise. Most symptoms will improve after seven to 14 days, but a cough may last for longer. To help manage symptoms you can suggest steam inhalation, vapour rubs, gargling with salt water or sucking menthol sweets. Nasal saline drops could also be recommended. You can suggest the patient takes paracetamol or ibuprofen for headaches, muscle pain or fever.
Flu is caused by different viruses to those that cause the common cold. Symptoms appear suddenly, and can be similar to those of a cold, but are more severe. Some symptoms can last for one week, but others may last for longer. To help manage symptoms, advise customers to drink plenty of fluids and take paracetamol or ibuprofen. You could consider whether you can offer a flu vaccination, either under the community pharmacy seasonal influenza vaccination advanced service (in England), or a private patient group direction.
Acute coughs can last for up to three weeks and are usually caused by an upper respiratory tract infection. Sore throats are typically self-limiting and the use of throat lozenges, and paracetamol or ibuprofen (for relief from pain or fever), may be advised.
Chilblains are itchy, painful swellings on the skin. Your staff can advise customers that they will clear on their own, but patients should avoid continued exposure to cold weather.
Covonia launches TV advert in time for winter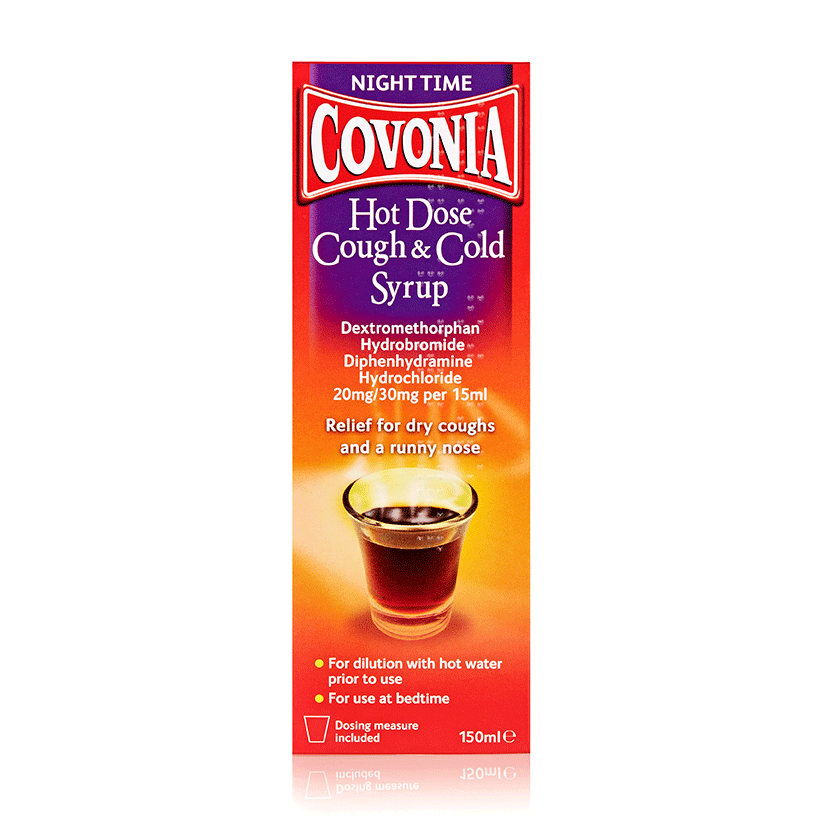 Covonia Hot Dose Cough & Cold syrup will be supported this winter by a national advertising campaign worth more than £4 million, the manufacturer has announced.
Cough brand Covonia's Hot Dose Cough & Cold syrup offers night-time relief for dry coughs and colds, according to its manufacturer.
Diluting the product with 15ml of hot water creates a powerful 30ml shot syrup that should be sipped before bed, Covonia said.
Covonia Hot Dose Cough & Cold syrup is suitable for anyone over 12 years old and retails at £5.49 for 150ml, it added.
To order the product or for free point-of-sale information, call 01484 848200
November launch for Olbas promotional campaign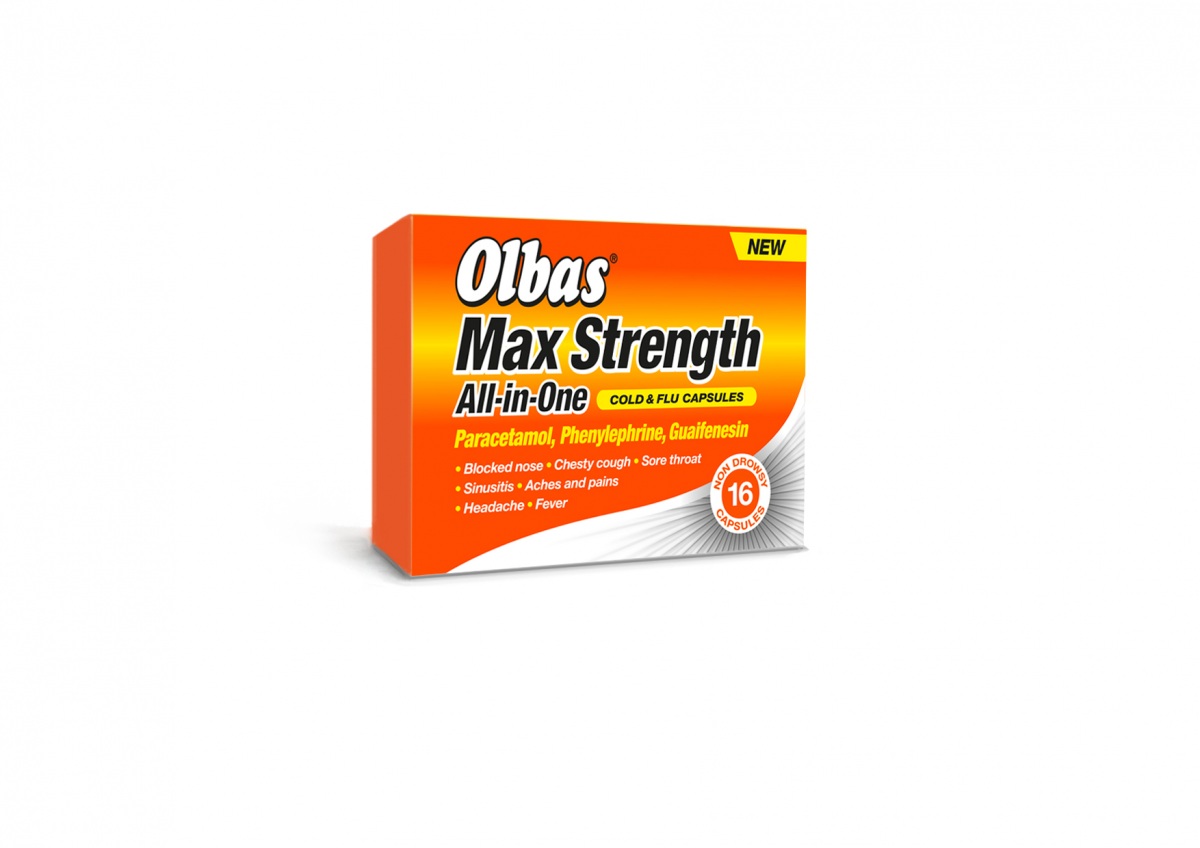 Decongestant brand Olbas will launch an advertising campaign in November to support its maximum strength all-in-one cold and flu remedy.
Olbas Max Strength Cold & Flu Capsules are formulated to help manage symptoms of cold and flu including sinusitis, blocked nose, sore throat and high temperatures, the manufacturer said.
The Olbas range will be supported by national television advertising and consumer PR campaigns, which are due to run from November to January, the manufacturer added.
A blister pack of 16 Olbas Max Strength Cold & Flu Capsules retails at £4.79.
To order, call 01452 507458