Our prescribing scheme overcame 'competitive' GP-pharmacist relations
A strong relationship was the cornerstone on which a pharmacist and a GP built a C+D Award-winning prescribing scheme
The winners of the C+D Award for GP Partnership of the Year are a shining example of what can be achieved when healthcare professionals work together for the benefit of their patients.
Community pharmacists will be aware that fostering a good working relationship with local GPs can be difficult – attitudes towards the pharmacy flu service in England are a recent example of the tensions that can exist. But the C+D Award winners – pharmacist Dylan Jones and GP Dr Andy Raynsford – both insist that the key to their success was "establishing trust", and overcoming what can be a "sort-of-competitive relationship" between the two professions.
The C+D Award went to Dudley Taylor Pharmacy in Llanidloes, mid-Wales, for a collaboration with the Arwystli medical practice to deliver a pharmacy-based independent prescriber service. Both the pharmacy and the GP practice are in a rural part of the country where GP workloads are high. To address this, Mr Jones stepped up to partner with the surgery and provide patients with increased access to treatments for minor ailments, achieving a "shared goal of providing a holistic service for the community".
"Alleviating pressure" on local GPs
The partnership didn't spring up overnight. Rather, it was the result of a 15-year relationship that began when Mr Jones became a pharmacist in the small town.
Mr Jones had worked as a prescribing adviser at the practice, and Dr Raynsford was his mentor while he completed his independent prescriber training.
During this time, Mr Jones says he became very aware of the pressure on the practice. Spotting an opportunity to "alleviate that pressure" was the starting point of the service, he tells C+D.
Initially, his training focused on common ailments, such as sore throats and "simple skin infections [like] impetigo", Mr Jones says. However, Dr Raynsford says "it became fairly obvious" that Mr Jones was going to advance from "coughs and colds" to deal with more "complex acute presentations".
What does the service involve?
The service utilises the skills Mr Jones attained while training to become an independent prescriber, to treat acute illnesses and prescribe antibiotics for uncomplicated bacterial infections. It's one of a number of services the pharmacy provides – including an emergency medicines service for people with respiratory conditions, smoking cessation, and a benzodiazepine reduction clinic.
As part of the prescribing service, Mr Jones conducts a patient consultation in the pharmacy, then recommends the most suitable course of action, such as: an over-the-counter product; a treatment option from the Welsh common ailments service; or a referral – in one instance referring a patient with a suspected heart irregularity for an electrocardiogram (ECG).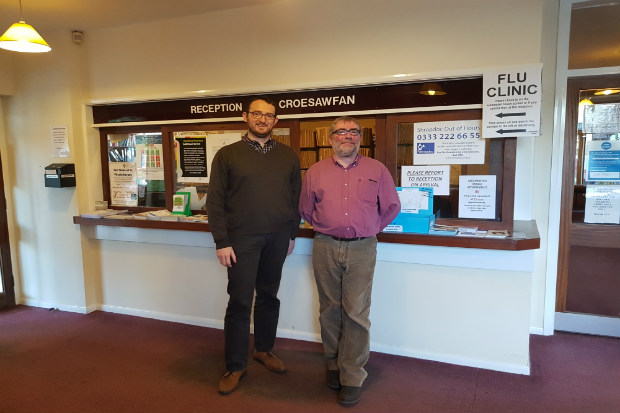 To support the service, Dr Raynsford (above, right) explains that their practice nominates a "dedicated GP on call for that day [who does] not have surgery commitments". This means there is a single point of contact at the surgery if Mr Jones has queries.
As Mr Jones puts it: "If I see a patient and I am not sure, or I think it is beyond me, I can speak to a GP or a nursing care practitioner within five minutes – or straight away more often than not." He explains that "everyone in the practice understands" that for every call he makes to the practice, Mr Jones estimates he saves them "from seeing another nine [patients]".
Dr Raynsford says both the main practice and the branch surgery – at Caersws Health Centre (pictured below), nine miles away in Powys – have receptionists who are able to direct appropriate patients to Mr Jones, as often he "can deal with it". It is important that GP reception staff are on board "from the outset" and understand Mr Jones' role. As a result, they "are happy to direct people to Dylan", while explaining that Mr Jones can prescribe, he says.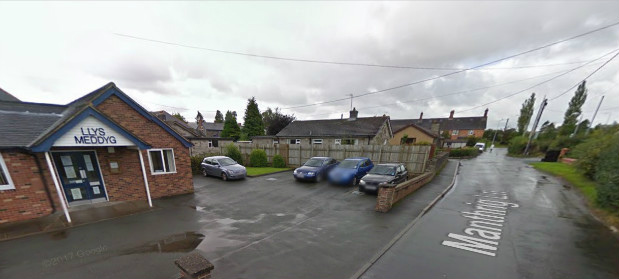 In their C+D Award entry, both Mr Jones and Dr Raynsford say that the "early evidence is that GP workload for acute illness, out-of-hours GP demand and unnecessary A&E attendance have all been reduced." The practice's evaluation found that between December 2016 and August 2017, 9% of 1,055 pharmacy consultations resulted in a referral to the surgery.
But as Mr Jones stresses, this isn't a referral-only service. He estimates that half of the patients he sees are "walk-ins" – and that having this pharmacy service available means "patient perception has changed dramatically".
Dr Raynsford adds: "[The service] has massively helped patient access. [Our reception staff] will ask [patients] what the problem is and will say: 'Your first port of call could well be the pharmacist in town, he can deal with it.' We do a good job of selling Dylan's service. A lot of people go directly [to Mr Jones' pharmacy] now, rather than phoning up first."
What training do pharmacists need?
Mr Jones undertook an independent prescriber qualification that required working 90 hours alongside a prescriber – in his case this was Dr Raynsford. He also spent time with a range of specialists, such as a microbiologist – as antibiotics make up many of the prescriptions he writes.
Dr Raynsford says that reviewing cases and clinical records at the beginning was useful, as it allowed Mr Jones to "reflect on whether he thought he had managed the patient correctly", and think about what he may have done differently. However, "there weren't many cases where we would have acted differently", Dr Raynsford says.
Funding the pharmacy service
The fees for the independent prescriber training were initially split on a "50:50 risk basis between my employers and the local health board", Mr Jones says. Later on, an enhanced service was agreed for a two-year period "to reflect the impact of an increasing number of patient consultations", according to the pair's C+D Award entry.
Mr Jones was unsure there would be demand for the scheme during the pilot stage, so it was his preference to be reimbursed as "an item-led service", where he would be paid for each consultation, in a similar way to medicines use reviews – even though the local health board wanted a single payment service.
| | |
| --- | --- |
| 0-30 consultations a month | £0 |
| 31-60 consultations a month | £594 |
| 61-90 consultations a month | £990 |
| 91-120 consultations a month | £1,386 |
| 121-150 consultations a month | £1,620 |
| 151-180 consultations a month | £1,980 |
The resulting compromise means the pharmacy is paid a "small retainer fee" – of £48 – for each full day the service is provided, as well as a "banded [payment] structure" (see table, above). However, within the first month the service had already exceeded expectations, and now it earns the pharmacy an average of £2,100 a month.
What else does it take to make it work?
To successfully deliver this service takes "a whole team approach, a shared vision, and a positive working culture", says Mr Jones. One of the biggest changes in the pharmacy was moving from a "traditional dispensing role and refocusing on a service-driven model", he says.
To do this, he had to ensure his staff were well trained for their new roles. For example, "front-line staff" are "responsible for triage and referring to services," he says.
As a result of this training drive, three members of the dispensing team – who had no previous qualifications – have become accuracy checking technicians. They "take on a greater responsibility for dispensary management", which allows the pharmacist to "concentrate on more clinical services", Mr Jones adds.
Moving forward
Dr Raynsford stresses that to "provide sustainable healthcare within the community" the two have committed to try to work together on "more schemes".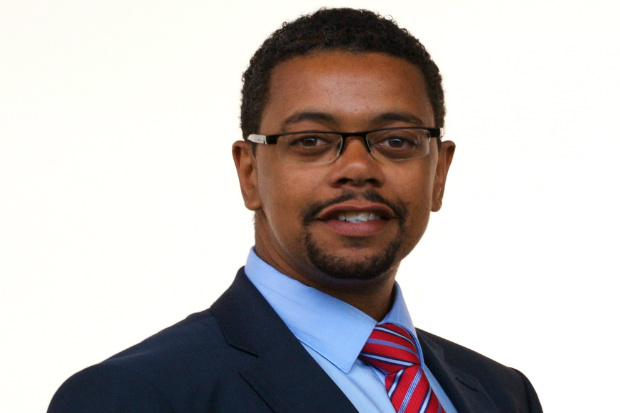 Mr Jones is hoping their success will have a "knock-on effect" on Welsh primary care services. They have presented the service to the Welsh Assembly and Vaughan Gething, Welsh cabinet secretary for health and social services (pictured above), "to reiterate how important the service is and how much good this has done for the community", Dr Raynsford says.
Mr Jones has also shared his learning at the Royal Pharmaceutical Society's medicines safety conference in Hensol, as well as with other health boards, to "encourage them to take the same route". And with more independent prescribers being commissioned across Wales, Mr Jones believes that more schemes like this C+D Award-winning one will be rolled out.
Could you win a C+D Award in 2018? Entries for all 12 categories are now open, so find out more here.