C+D hits the road with an award-winning delivery driver
C+D deputy editor Lilian Anekwe followed a C+D Award-winning delivery driver for an afternoon, to see first-hand the difference these unsung pharmacy team members make
Pharmacists are usually keenly aware of the important role their staff play in helping them provide excellent care for their patients. But sometimes pharmacy staff, such as delivery drivers, might need a reminder of their own worth – now more than ever, when the valued services they provide are under threat.
So I shadowed Shirley Jamieson, delivery driver at Bedminster Pharmacy in Bristol and winner of last year's Pharmacy Staff Member of the Year C+D Award, to find out the impact she makes to her team, and their patients.
"More than just a day job"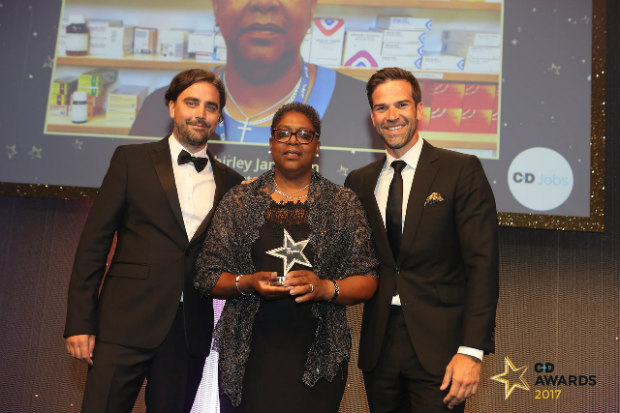 "I took the job just for the driving, but Ade [Williams – Ms Jamieson's manager at the C+D Award-winning Bedminster pharmacy] says it's more than that. It's nice to be recognised, I suppose. But I'm just doing my job."
During the afternoon I spend with her, I lose count of the number of times Ms Jamieson dismisses the work she does as only "part of the job", or just "who she is". But her importance to the pharmacy team is clear, Mr Williams says. "She's our link to the patients, and helps spread the word about our services."
On our way out of the pharmacy to make the deliveries, I notice a letter from Karin Smyth, Labour MP for Bristol South and shadow deputy leader of the House of Commons, who made a point of singling Ms Jamieson out for praise while congratulating the Bedminster team on winning an impressive four C+D Awards in 2017.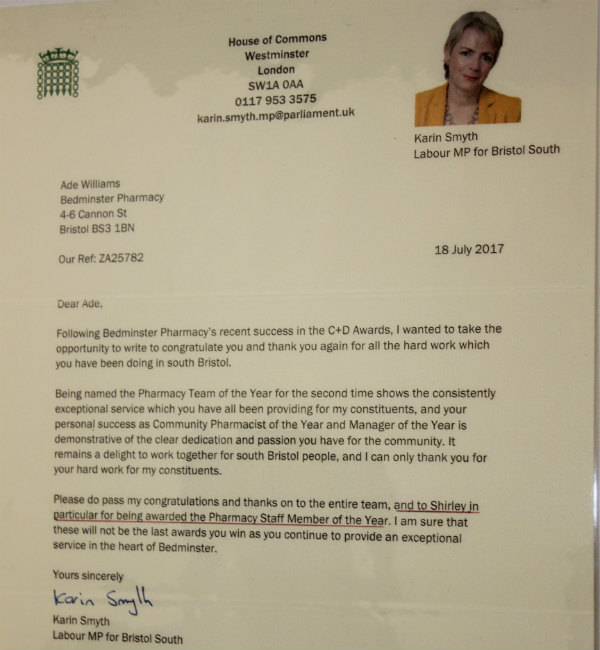 One of our stops on Ms Jamieson's route is a local GP practice, where the receptionists know her by name and greet her warmly. It's easy to see why the C+D Awards judges commended Ms Jamieson for playing a "pivotal role in fostering good relations between the pharmacy and local GP surgeries, community nursing teams, and social care and secondary care organisations".
Making the link to patients
When we visit the Monica Wells House 'urban retirement village' – a complex of 121 retirement homes – I see what Mr Williams calls the "link" Ms Jamieson provides between the pharmacy and their patients in action.
Ms Jamieson is well known, and extremely popular among the staff at Monica Wells House. Before making her deliveries, she helps them resolve an issue concerning medicines for a patient who is in hospital.
She is even more popular among the residents themselves, which she concedes in her self-deprecating style: "The patients look forward to seeing me, but they just want to talk most of the time."
"Shirley's always very kind," says one resident after chatting at length with Ms Jamieson, who remembers to ask how the patient's granddaughter is getting on at university.
"Oh, I'm not surprised," says another, when she learns I'm shadowing Ms Jamieson following her C+D Award win. "She's always doing good deeds."
The judges noted Ms Jamieson: "Understands the needs of these patients, and goes beyond the call of duty to provide a personalised service – sometimes posting letters and parcels, buying a pint of milk, or even visiting people in hospital. No wonder her customers always give her the highest feedback ratings."
This is poignantly brought home by another letter I spot back at the pharmacy – from a patient thanking Ms Jamieson for the "outstanding service" she provided to the patient's mother, before she died.
"Gobsmacked" by C+D Award win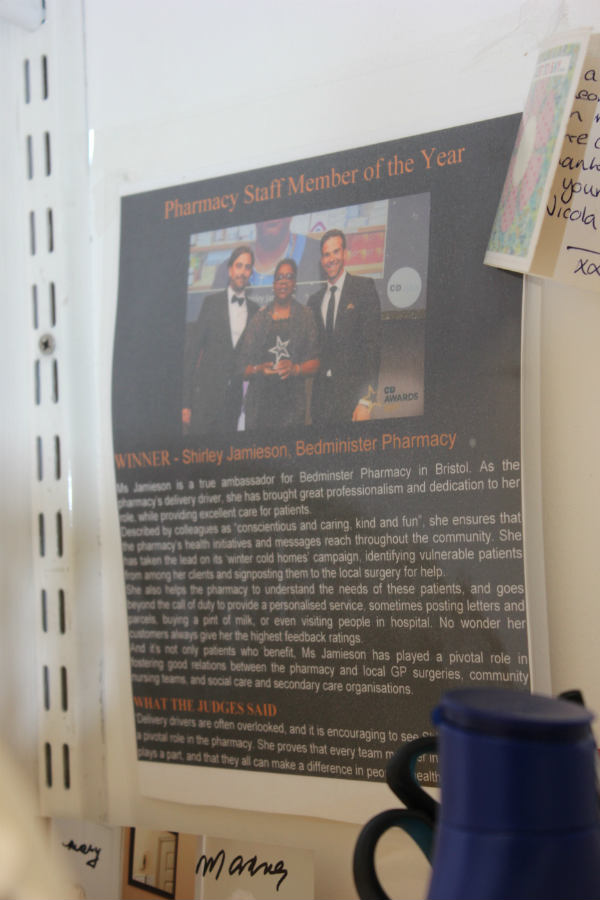 Before I leave, I ask Ms Jamieson what made her enter the C+D Awards. I'm not surprised when she explains she didn't apply herself – her manager did, and even then "he didn't tell me he was entering me". "The first I knew about it was when Ade said: 'You've got to go to the ceremony'."
And how did winning the C+D Award, and getting recognised for her work, make Ms Jamieson feel? "For the first time in my life, I was totally gobsmacked."
Is there a staff member in your pharmacy who really makes the team tick? The C+D Awards is an opportunity to show how important they are. Entries for all 13 categories are now open, so find out more here.