Contractors fear closure amid finance chaos and plummeting profit
Community pharmacy contractors are fighting to stay in business as medicines prices force them to search for credit, an analysis of an NPA survey reveals
After almost three years of funding cuts in England, the Pharmaceutical Services Negotiating Committee estimates there have been 233 confirmed closures across multiples and independents – with hundreds more expected. Many contractors tell C+D they are on a knife's edge. To make matters worse, unpredictable medicines shortages and pricing have caused relentless problems for pharmacies' finances.
Responses to a National Pharmacy Association (NPA) survey – seen by C+D – are the latest evidence of how tough running an independent pharmacy has become. The survey on pharmacy financial pressures, which ran from December 2018 to January 2019, received answers from 238 contractors in England. Several say the situation is the worst they have experienced, predicting they will have to close unless they see drastic change.
One in five respondents (22%) say that over the six months before the survey launched, their wholesaler bills exceeded their NHS payments for at least five of those months. A staggering nine out of 10 (89%) say these were greater than NHS payments for at least one of the months.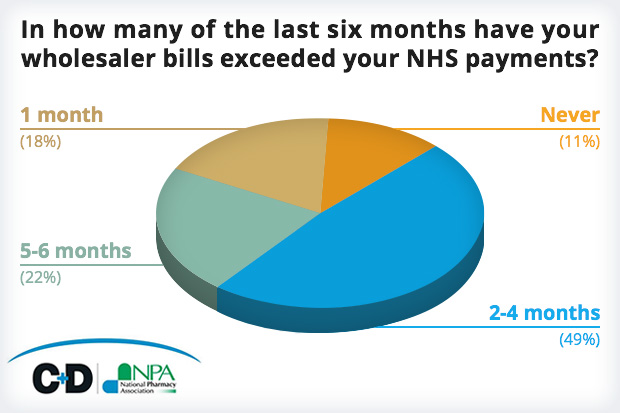 The traditional dispensing-focused funding model is no longer tenable, the findings suggest. One contractor tells the NPA that price concessions "don't cover the cost of what we have had to pay. What other business can survive operating like this?".
A fellow respondent says: "We will soon trade at a loss, after 20 years in business. The cost of drugs has tied up much more cash recently, it is totally desperate for independents."
Another says: "Price concessions are not shown in relation to the major essential drugs. Worse still, they are appearing in the last week of the month.
"We are constantly in a state of anxiety as to what to supply. The cheques coming for dispensing have shrunk to an amount that is not covering costs."
Searching for credit
Many have turned to wholesalers for help, with almost a third (31%) of respondents saying they had to ask for an extension to their credit terms. But this is not the only action shrinking income has forced them to take.
"Our finances are a real mess," one contractor tells the NPA. "We are having to seek help with a loan extension to enable us to survive, due to the NHS cuts, which are no longer sustainable and will result in job losses very soon."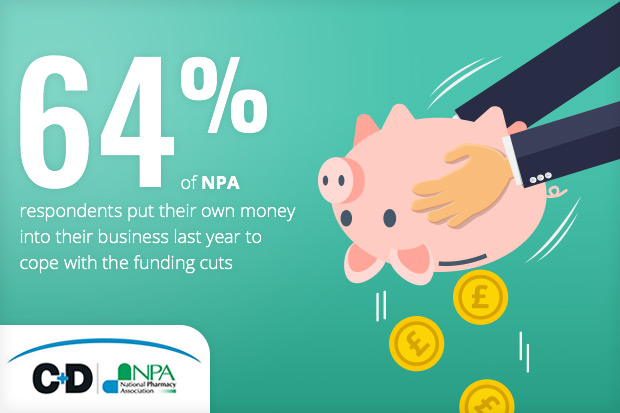 Others have reached into their own pockets to keep their businesses afloat – the survey suggests that as many as 64% may have injected cash into their business to cope with the cuts.
"I have not taken a monthly salary for six months and am feeling the pressure," one contractor says. They can't fire staff because each one is "critical" for the business to run, they explain.
One respondent, whose pharmacy dispenses 20,000 items a month, asked to borrow £100,000 from their bank, despite saying they have already followed the Department of Health and Social Care's (DH) advice of investing in robots and highly trained staff.
Profit drops
Profit is down across almost every pharmacy, the survey suggests. In response to the question "is your net profit more or less than two years ago", 97% say it decreased. The most common drop was 25-49%, reported by 38% of respondents, the NPA findings reveal.
Such dire conditions have damaged the long-term viability of many pharmacies. Almost all respondents (96%) say they are worried about the survival of their business, with 54% saying they are "very worried".
Maintaining safe standards in a pharmacy costs money. The financial situation has made it more difficult to maintain a safe service for 91% of contractors, the survey suggests.
One contractor says they are struggling with the basic functioning of their pharmacy. This was partly because of a "ridiculous situation where we get reimbursed [for medicines costs] two months after dispensing".
Another warns: "I think a significant number of us will go under over the next couple of years."
In the words of one respondent, who has owned a pharmacy for more than two decades: "I have never known the situation to be as bad. We seem to be squeezed from all quarters. Stock shortages, wholesaler discount reduction, and dwindling NHS payments.
"There seems to be no end to the problems we face."
Stressed contractors
The incessant onslaught of pressures is taking its toll on the mental health of pharmacy owners. Almost nine in 10 (86%) said the financial situation was having a negative impact on their health and wellbeing physically or mentally.
This mirrors C+D's own findings last year, which revealed that stress among community pharmacists had risen six percentage points in three years, from 68% in 2016 to 74% by 2018.
The message from NPA members is clear: pharmacies are fighting to survive due to a variety of factors, of which medicines pricing is among the most urgent. Unless something changes soon, it seems inevitable the real cost will be mass pharmacy closures.
"Out of control"
The DH received the NPA's findings in April. The association's chief executive Mark Lyonette (pictured below) says he wanted to "show ministers and officials first-hand accounts of the harsh reality on the ground for many independent pharmacies".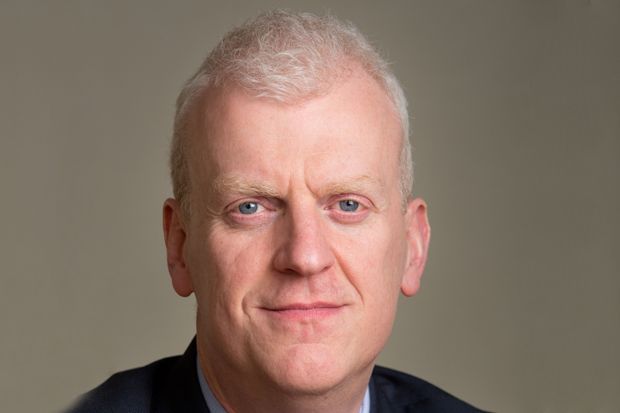 "At the NPA conference in June, the pharmacy minister Seema Kennedy said she was aware of the evidence we'd submitted," he continues. "Let's hope the UK government listens to what we're telling them: the current precarious financial position is not a solid base from which pharmacies can step up to deliver on the NHS long-term plan. In any transformation programme, you have to have a clear vision and then set the right incentives."
"The [survey] results are entirely consistent with other things we are hearing from the pharmacy frontline. No one can predict who will fall over, where or when. It is out of control."

This article is part of a collaboration between C+D and the National Pharmacy Association to draw attention to the financial conditions independent contractors are facing.
Do you have a story you'd like to share? Email C+D features editor Thomas Cox at [email protected] or tweet @ChemistDruggist using #PharmacyCrisis.