Overcoming dead fish in the dispensary to open daily for 67 years
One pharmacy dealt with the aftermath of flooding, snow, and power failures to keep its doors open every day for almost seven decades
Much has changed in pharmacy practice since Wicker Pharmacy in Sheffield first opened in January 1952, but one constant is that it has greeted patients every single day. Martin Bennett, current chairman and superintendent pharmacist, says it's all down to having "excellent staff – we're absolutely dependent on them".
While he first heard of the pharmacy while growing up in Sheffield during the 1950s, he could never have predicted he'd lead its team one day. It all began at the start of that decade. As a Boots in the city centre had started opening late, under NHS regulations all the pharmacies in the area had to put a sign in their door directing patients to the multiple's branch when they were closed, Mr Bennett explains.
Independent collaboration
"They weren't happy about advertising Boots," Mr Bennett says. So, in 1951, 45 contractors called a meeting. They all contributed money towards a rival independent pharmacy in the centre of Sheffield that would stay open late "every day of the year", he says.
Mr Bennett claims Wicker Pharmacy was "the first consortium-owned pharmacy" in England. The business took its name from its road, on which wicker baskets were once made.
Each shareholder could then replace the sign in their window with one directing people to Wicker Pharmacy, instead of Boots. Competition aside, their aim "was more about providing a service than making money", Mr Bennett says.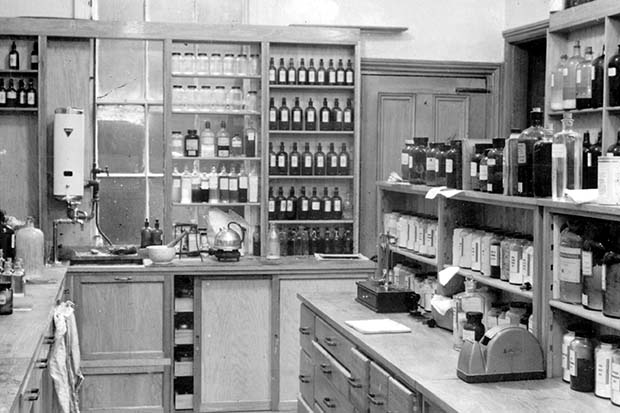 The idea of an association of independent pharmacies as shareholders "got a lot of publicity at the time and led to others copying the idea". Seven other associated chemists set up throughout the country, including in Birmingham, Stockport and Leeds. He sees this as "unusual, as typically pharmacists can't all agree on something".
However, most of these businesses "faded", either closing due to redevelopment or switching to wholesale operations. In contrast, Wicker Pharmacy became "well used by the people of Sheffield", Mr Bennett says. He joined the pharmacy as managing director in 1973, after running a pharmacy in North Wales.
The man for the job
He knew Wicker had a good reputation and he didn't expect to secure the position. "They asked me what I would do if I got the job. I spouted on about introducing stock control, changing the layout, and generally promoting the professional side of things.
"Two days later, I got a phone call asking: 'When can you start?"'
4x4 backup
Mr Bennett and the Wicker staff have fought to keep the pharmacy open, whatever the weather. He recalls how during the Three-Day Week in 1974 the UK went for four days a week without power. The team rigged up machines to batteries and generators.
It's just one example of how Mr Bennett always has a backup plan. For example, knowing that heavy snow conditions can prevent staff getting to work, he invested in a four-wheel drive vehicle to transport them.
Evacuation
In 2007, flooding of a nearby river forced an evacuation of the team in the late afternoon by boat. However, at 7am the following morning, staff arrived to clear part of the premises, including "small dead fish in the dispensary", to ensure patients could still receive their medicines.
Emergency generators were in place for four days while the fire brigade pumped out water from the basement, "but we kept going", says Mr Bennett. It was a "massive, dirty, tiring job", with much of the stock ruined, but "we still opened every day".
Dramatic changes
Over the decades, technology has transformed the pharmacy. When Mr Bennett joined, there wasn't even a calculator, and now they have robots in the dispensary (pictured below, with Mr Bennett). His efforts over the years have not gone unrewarded. In 2010 he received an MBE for his services to pharmacy.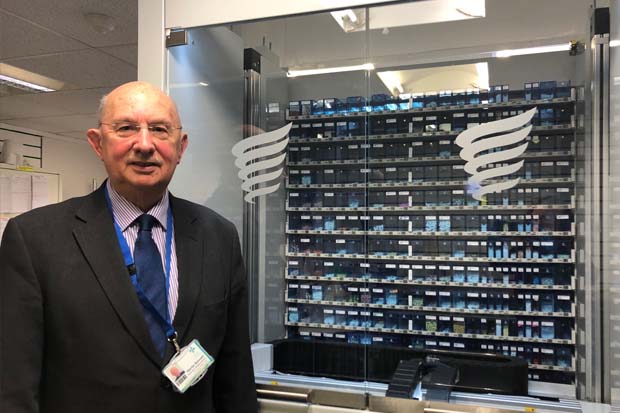 The role of the pharmacist has also evolved "dramatically". He used to mix powders and ointments, but "now we have to send for specials, which cost a fortune", Mr Bennett says.
Whatever surprises come their way, he says he can depend on his huge team of 55. Their loyalty has been strengthened by the organisation's decision in 2012 to move to employee ownership – staff now own 16% of the company.
Mr Bennett says the can-do attitude and willingness to go the extra mile for patients is part of an ethos that has been passed down through the generations. Some staff are following in the footsteps of grandparents who worked at Wicker. He hopes the pharmacy will maintain that philosophy, so it can continue to serve patients every day.