Why have locum stress levels worsened despite a pay increase?
The C+D Salary Survey 2019 found the average UK locum pharmacist rate rose to £21.99 – but 75% reported high levels of stress
The Salary Survey has documented workplace pressures, pay and job satisfaction for 12 years. C+D maps these across the UK to draw a detailed picture of the evolution of the working life of locum pharmacists, among others.
The latest survey found that the average hourly locum rate among 229 respondents across the UK is £21.99. This marked an increase of 36p from last year, and the highest since 2012. But it also revealed more locums defining themselves as stressed – up by 14 percentage points to 75%.
So, is a pay increase coming at too great a cost for locum pharmacists?
Increasing locum rates
The increase of 36p may be less than half of the 2017-18 locum rate rise, which climbed from £20.84 to £21.63. But this year's is the highest UK average since 2012's level of £22.80.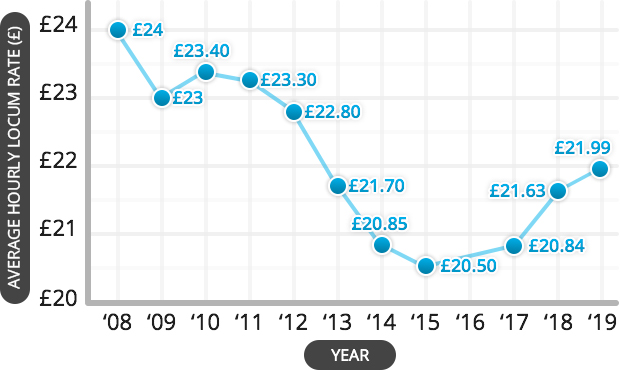 Miraj Patel, CEO of locum booking platform My Locum Choice, says that while this increase may not look big "on paper", it "definitely" is significant. "After years of declining rates, a few years of steady increases is a positive for locums," he says.
A key reason for the increase is locums "banding together" to try and instigate change, Mr Patel says. Many have felt for a "long time" that rates of pay "did not reflect the responsibilities, professionalism and competence of the job at hand".
The second key factor is a reduced supply of locums, as they "flow" out of community pharmacies into roles in GP surgeries and in industry, says Mr Patel (pictured below). He predicts the hourly rate will have an "upward trend for at least another year or so".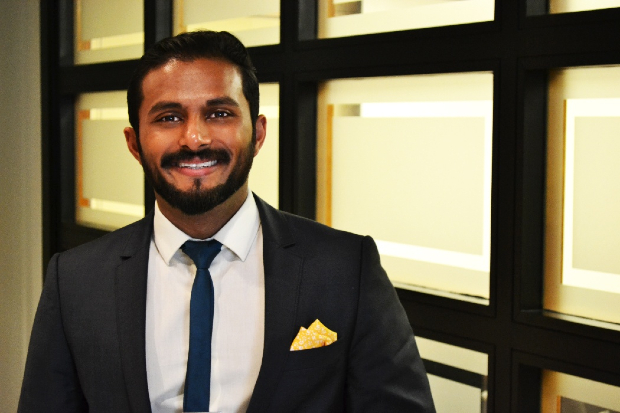 However, Jonny Clarke, CEO of Locate A Locum, a platform that connects locums to employers, says the 36p increase seen this year is "less than the current inflation rate rise". Therefore, the increase is not large "overall".
Location matters
Average locum pay and satisfaction fluctuated depending on location. The rate in Wales was £24.17, while in Northern Ireland it dropped to just £15.67.
See the full breakdown by UK region of average hourly pay rates in C+D's locum pharmacist map.
Mr Patel explains that Northern Ireland has a lower locum pay because it "operates differently to England and for that reason has become somewhat segregated".
Although Scotland has higher pay, at £23.00, this is still a 19p fall since last year. Mr Patel says the country retains a higher rate than the rest of the UK because locums are in scarce supply.
The same goes for Wales, he continues, with the effect particularly pronounced in rural areas. Some employers may incentivise locums by offering multiple bookings at once and higher pay rates.
Escalating stress
Stress levels have increased over the past year, with 75% of locums reporting their levels as "somewhat high", "high" or "very high", compared to 61% in 2018. This data backs up C+D's research from last year, as well as a report by Pharmacist Support in September.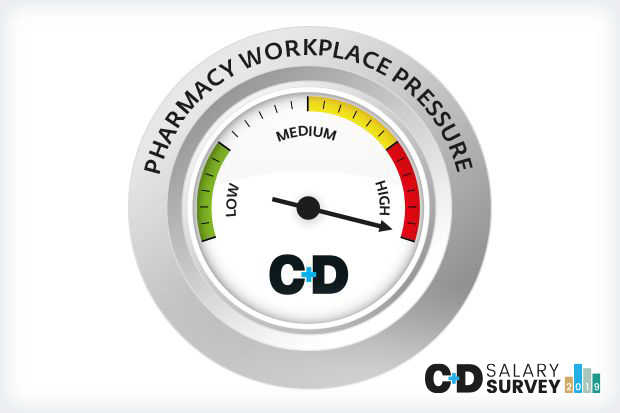 So why are more locums reporting high levels of stress? Locum respondents to the Salary Survey reveal that staff shortages are a key factor. One said low staffing levels are "everywhere", while another stated that "all" pharmacies are understaffed.
Another locum pharmacist noted that they are "expected to work with trainee or non-dispensers". Other issues respondents highlighted included an increase in paperwork, a higher workload and a lack of breaks.
Over the past year, 87% of locums reported an increase in workload. Two in five (42%) cited reduced staff levels as the cause, while 24% blamed the delivery of services, and 10% pointed to problems sourcing medicines.
The issue may be worse in the UK than in other countries. One locum, Basheer Puthanpeedikayil Mohammed, has worked as a pharmacist in India, Qatar and the United Arab Emirates. Now based in London, he has found the UK "more challenging and stressful".
Mr Puthanpeedikayil Mohammed says that stress levels for locums are "very high", due to insufficiently trained staff, understaffing and managers' expectations. He says he would like the General Pharmaceutical Council (GPhC) to do more to try to improve staffing levels. Last month, the regulator said it would be "counterproductive" to enforce an ideal number of staff in pharmacies.
Mr Patel says My Locum Choice welcomes feedback from locums and insists that issues are raised with employers. Pharmacy "has always been and will remain a high-stress role", he says. Factors contributing to locum stress are "probably impacting the employer in the same way". However, he recognises that over the years the increase in pharmacy services and responsibilities have "impacted stress and anxiety levels".
It's "more important now than ever" that locums and employers work together to solve these issues, he continues.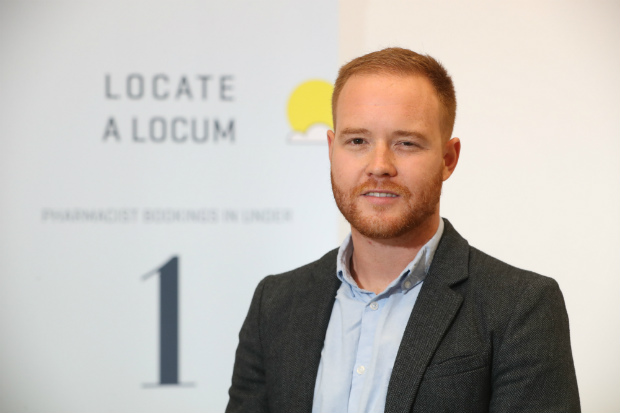 Mr Clarke (pictured above) also attributes the high levels of stress to "increasing workloads". He suggests that having to deliver services and lower levels of funding in England are contributing to increased workplace pressure for locums. Having no formal employer, it can be "difficult to raise problems", he says.
Deborah Estlin has worked as a locum pharmacist for 25 years. Based in Wirral, she says her rate of pay is £25 per hour, the same as it was 12 years ago, but she now has a "much higher workload".
Ms Estlin (pictured below) tells C+D: "The workload increases continually, but funding does not keep pace. Efficiency measures have been taken too far within the NHS."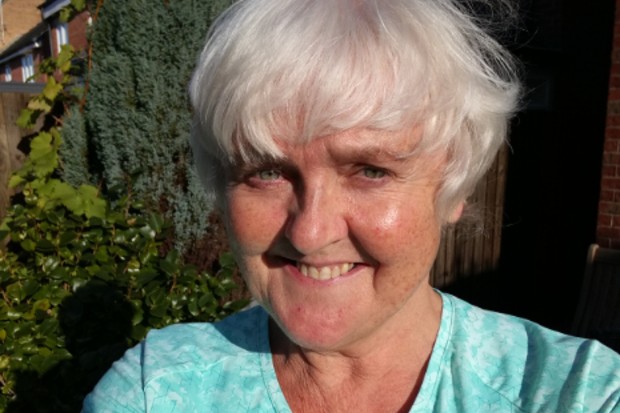 More services
Some locums are increasingly required to perform services around their dispensing duties. But fitting these in is "not that easy", or "not easy at all" according to 91% of locums who responded to the Salary Survey.
Mr Clarke says that "adequate staffing levels would help" manage stress, such as having an accuracy checking technician on hand.
Will the new service-based pharmacy contract for England, which came into force in October, contribute to this? Mr Clarke says that due to future funding being tied to services, locums who wish to get work need to be suitably trained in performing them.
Mr Patel says that services have "always been a part of pharmacy" and that delivering them "ultimately comes down to time management".
"Contacting the pharmacy the day before the shift will prepare the locum for any potential services that have been booked in, such as flu jabs," he says. Pharmacies could also employ locums to solely deliver services, to avoid a clash with dispensing duties, he suggests.
Mr Puthanpeedikayil Mohammed says the new funding contract has caused "more workload and stress" for locums and pharmacists.
Regardless of the slow increase in pay rates in certain regions across the UK, it's clear that rising stress levels among locums – as with all community pharmacists – still need to be urgently addressed.
The C+D Salary Survey 2019 – the largest UK survey of community pharmacy, and the biggest in the survey's 12-year history – ran between October 1 and November 14 and was completed by a total of 2,556 pharmacists and pharmacy staff. C+D's ongoing coverage from the survey can be found on our dedicated hub.
Search through locum pharmacist jobs on the C+D Jobs website.