In their own words: Why 65% of contractors want to leave pharmacy
Stress, lack of funding and paperwork are making pharmacy owners in England question their future, the C+D Salary Survey has revealed
With a new funding contract, rising medicine shortages and more pressure to offer services, the landscape of pharmacy has shifted over the past 12 months. Judging by the stark findings from the C+D Salary Survey 2019, these changes have not been greeted with universal enthusiasm.
The survey – completed by 46 English pharmacy contractors between October 1 and November 14 – highlighted a pattern of increasing disenchantment. Almost two thirds (65%) said they feel "disillusioned with pharmacy as a career" and would like to either sell their business to retire or move out of the profession. This was an increase of seven percentage points on last year's survey.
Furthermore, a staggering 87% would not recommend pharmacy as a career – an increase of twelve percentage points.
One contractor tells C+D they are "desperate to get out of this joke of a profession" and that although there are trying to sell their pharmacy, "nobody is interested at any price...I can't say I blame them, no pharmacy is worth investing in".
Why have pharmacy contractors become so pessimistic about the profession?
"Not making money"
Three quarters of respondents saw their personal income decrease over the past year. Out of 83% of contractors who were dissatisfied with their income, two thirds blamed the government.
The proportion of contractors who experienced an income drop has almost doubled since C+D's Salary Survey 2016 – the last to be conducted before the introduction of a 12% cut to the sector's overall funding.
"The government drives down ambition through their action," says one contractor, who "used to love [their] career, but not anymore".
Another says that while they have "always been positive about pharmacy", they are now "working so hard, not making any money". They are tempted to close their business, "but the pharmacy is supposed to be my pension plan, and I have to hang on hoping for better times".
This financial strain is continuing to have a knock-on effect on the wellbeing of pharmacy teams – 61% of contractors said they could not give their staff a pay rise, six percentage points higher than in 2018.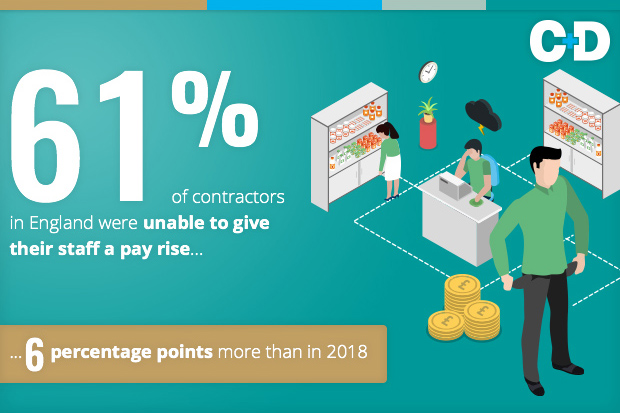 Funding cuts still the biggest threat
A whopping 87% of contractors surveyed perceive cuts to pharmacy funding in England as the biggest business threat, a 24 percentage point increase on last year.
Almost one in three (29%) said the factor most affecting their service to patients is "increased paperwork", while several said it is inadequate funding.
"Drinking every night due to stress"
All of the contractors reported high stress levels, while more than half (57%) reported it as "very high".
One contractor says they "don't have the time to talk to anyone" about their financial stress.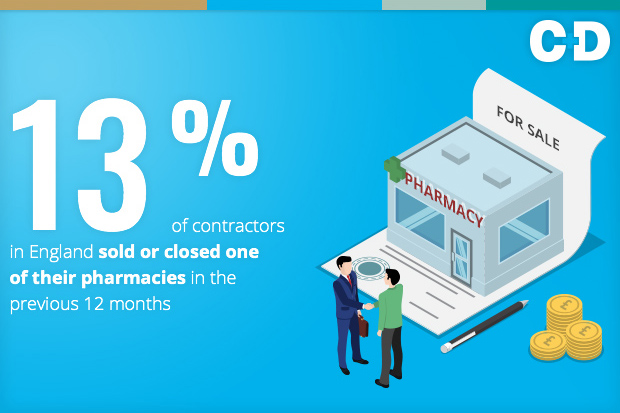 No work-life balance
All contractors surveyed reported an increase in their workload. This was evenly attributed to paperwork (22%), sourcing medicines (22%), and delivering services (20%).
One pharmacy owner says that more than half their working hours are spent on paperwork and sourcing medicines. They "take frustration out on family" and are "drinking every night due to stress", they admitted.
Almost half (48%) said their workload is "often unrealistic", and two in five (39%) said their life is "dominated by work".
Describing the impact of a five-year contract of frozen funding, one contractor says: "I despair that the government and PSNC feel it is right to greatly increase our workload and expect my staff not to get a pay rise for eight years – three years of cutbacks [followed by] five years on the same revenue."
Another believes they can't "afford a work-life balance and pay the bills for the business". Although their future retirement depends on continuing their business and selling it in a few years, the "personal cost is great in the meantime".
"Besides Sunday, I take a day off from business [each week], but both days are spent doing paperwork or [attending] courses. I can't afford to go out to meet the very few friends I have got left," another contractor tells C+D.
With pressures growing on England's contractors – and their teams – the government must urgently make good on its promise to "unleash the potential" of the sector, along with adequate funding, or see a wave of passionate pharmacists turn their back on pharmacy for good.
The C+D Salary Survey 2019 – the largest UK survey of community pharmacy, and the biggest in the survey's 12-year history – ran between October 1 and November 14 and was completed by a total of 2,556 pharmacists and pharmacy staff. C+D's ongoing coverage from the survey can be found on our dedicated hub.
The number of contractor respondents from Scotland, Wales and Northern Ireland was too small for C+D to conduct a similar analysis in these three countries.