How demand for locums fluctuated during 2020
Demand for locum pharmacists rose and fell during a stormy year that took a toll on their mental health
Locum pharmacists were thrust into a healthcare crisis with unimaginable pressures during 2020. Like other healthcare professionals, they were battling to keep up with increased patient demand and putting themselves at risk of catching COVID-19 by going to work. However, unlike many other healthcare professionals, locums had the added stress of job insecurity.
At the beginning of the pandemic in March, some contractors reported that they were finding it difficult to source locums. However, demand for locum pharmacists dropped during the summer, three locum agencies have told C+D.
Data from the C+D Salary Survey 2020 reveals how the storm of factors unleashed by the pandemic affected the working lives of locum pharmacists. Of the 180 locums who responded to the survey – which ran between October 19 and December 10 – 43% found it harder to find work. This figure was 15 percentage points higher than the previous year.
Despite the added pressures of COVID-19, respondents to this year's survey reported lower stress levels – although they are still feeling the strain. Some 68% of locums said that their stress levels were high in 2020, seven percentage points lower than the previous year.
Emergency locum bookings
The average UK hourly locum pay rate was £22.34 in 2020, according to the C+D Salary Survey. While this marks a 35p increase on the 2019 figure, the average locum rate declined between 2010 and 2015 and has not yet fully recovered.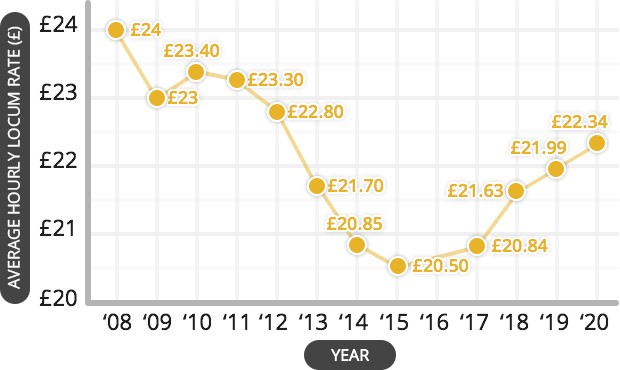 At the beginning of the pandemic, a debate flared over whether locums increasing their rates during the pandemic was ethical. Some pharmacy professionals accused locums of being "mercenaries", while some locums argued the rate was just reaching a fair market level.
According to Miraj Patel (pictured below), CEO of locum booking platform My Locum Choice, the 35p increase this year reflects the higher demand for emergency shifts at the beginning of the pandemic.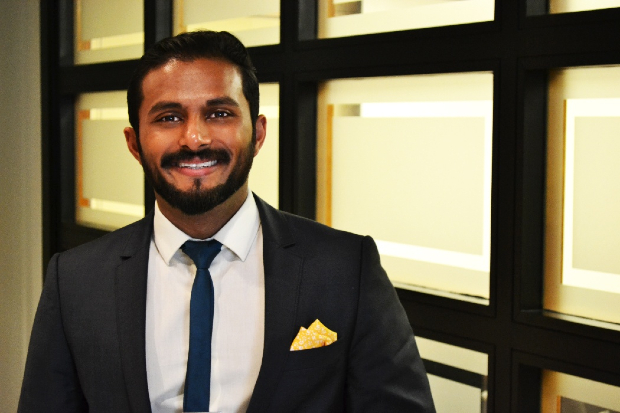 "Regular work decreased but there has been an increase in emergency bookings and therefore higher rates offered for these," Mr Patel says.
"Pharmacists are increasingly aware that the current climate brings with it a variety of factors, which in many regards make their work more difficult and challenging. These factors directly contribute to their rates and the subsequent increase."
Although the rates may have been higher for emergency bookings, many locums had less work over 2020. Almost one in three (31%) reported the greatest impact of the pandemic upon their work had been a reduced number of shifts.
Despite the 35p increase, most locum pharmacists (62%) remain dissatisfied with their rates in 2020. Of these, 42% most blame their employers, while 31% blame the Department of Health and Social Care.
Locum rates were buffeted by crosswinds of demand throughout the pandemic. Jonny Clarke (pictured below), CEO of online booking platform Locate a Locum, told C+D that in 2020 his agency recorded "fluctuations of rates by month and by the city, which was in part down to the ongoing pandemic".
For example, the platform noticed that rates in Plymouth during 2020 were "significantly above" the usual due to demand for locums exceeding supply, Mr Clarke says.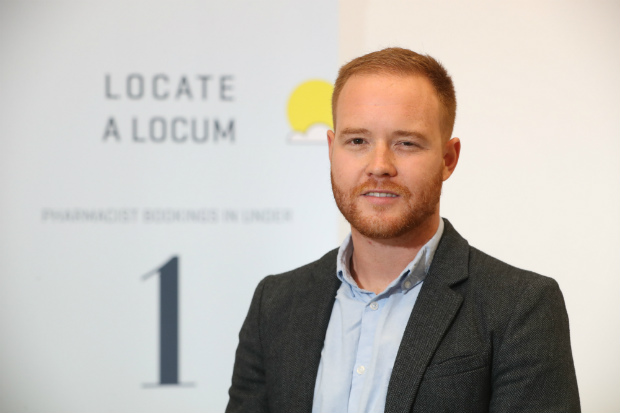 Increased workload
Unsurprisingly, 85% of the locums who responded to the C+D survey said their workload increased in the 12 months leading to October 2020, while 65% found their job often or always unrealistic. Two in five (41%) considered "reduced staffing levels" to be the biggest contributing factor to their increase in workload.
Mr Patel says that locums who are working "faced a substantial increase in workload" in 2020, particularly from March to August.
"The pandemic brought with it a wave of uncertainty, lots of frightened patients, many patients suffering…anxiety among pharmacy teams to adequately protect themselves and increased footfall to pharmacies for medicines.
"These factors increased workload and [locums] had to manage this alongside carrying out their normal work as pharmacists," he added.
One locum who responded to the survey said that because GPs and dentists moved online, more patients turned to their pharmacy. Other locums shared a similar opinion, with one saying that their local GP surgery was "doing much less and directing workload to pharmacy, such as for repeat prescription ordering".
Safety in jeopardy
Aside from staffing levels and the surge in demand, the ever-present threat of coming into contact with the virus piled further stress on locums in 2020. Several locums said they had been affected by a lack of COVID-19 staff testing and personal protective equipment (PPE).
More than half (52%) of locum respondents said that in 2020 they had been pushed to complete services unsafely either "frequently" or "occasionally" because there was insufficient distancing or PPE.
"This is a very sad thing to hear as nobody should feel unsafe in their job role," Mr Patel says when asked about the findings. "My perception is that this may have been during the beginning of the pandemic, where there was not a clear directive on what prevention measures actually entailed or looked like."
However, one locum pharmacist who responded to the survey said that their employers had not provided PPE, forcing them to spend £1,200 out of their own pocket on equipment over eight months.
Mr Clarke says that the pandemic led to an initial increase in stress from the locum community. "But they are resilient healthcare professionals and as the pandemic has gone on, the stress levels seem to have decreased".
"This could be put down to knowing what you're up against, rather than uncertainty," he says.
Depression and suicidal thoughts
Since the beginning of the pandemic, pharmacy teams told C+D they were suffering an increase in abusive behaviour from patients. More than two in five of the locum respondents (45%) said they received "intimidation from customers".
The pressure has consequences for some locum pharmacists. More than a third reported trouble sleeping (37%) and poor motivation (40%), while one in five (21%) said they had suffered from depression at work. Tragically, 12 out of the 176 respondents to the question (7%) said they had suffered "suicidal thoughts" at or as a result of work.
However, the impact of working conditions upon locums may have gone unnoticed by colleagues. Almost nine in 10 (89%) locums said they were given no support from their employers for their problems.
A locum pharmacist said that after a stress-related absence, their employer slowly phased them out of the business. "I was discriminated against [after] having depression caused by the stress of not having enough support staff to do the work. I brought this to their attention, which I believe was another factor in my slow removal from the company."
The stresses of 2020 have taken their toll on the UK's locum pharmacist workforce. With the added injustice of rates remaining lower than they were a few years ago, it's easy to see how some have reached a breaking point. Although some locum pharmacists may have acclimatised to the stressful conditions of the pandemic, the resilience of some is no reason to disregard their wellbeing.
The C+D Salary Survey 2020 – the largest UK survey of community pharmacy – ran between October 19 and December 10 and was completed by a total of 1,667 pharmacists and pharmacy staff. C+D's ongoing coverage from the survey can be found on our dedicated hub.