The pharmacist who ran 5 marathons so he could donate 20k PPE items
One contractor ran the equivalent of five marathons over a month to buy PPE for care homes
One year ago, as COVID-19 swept the UK, healthcare organisations were desperate for personal protective equipment (PPE). Face masks, aprons and gloves were crucial for the safety of healthcare professionals and patients, but during the first few months of the pandemic, the items saw crippling stock issues.
Pharmacy owners said they were having to beg, borrow and steal PPE to try to protect their teams from COVID-19. An initial delivery from Public Health England in March quickly ran out, with wholesalers almost completely out of stock of face masks the next month. Staff were terrified of catching the virus but the costs of buying PPE were "extortionate", they said at the time.
Last month, the Department of Health and Social Care (DH) released "experimental statistics" showing how less than 0.4% of personal protective equipment (PPE) made available to wholesalers by the DH over a 10-month period was "released" to community pharmacies in England. Although pharmacies could claim costs for PPE, and they could also try to acquire items through an ordering portal, supplies were difficult to procure.
Care homes were also affected by the PPE shortages. A report published in February by parliament's Public Accounts Committee said that the adult social care sector only received 10% of the stock it needed between March and July 2020.
Rishi Bhatia, the owner of RB Healthcare company – which has three branches in Greater Manchester and York – knew that something had to be done. "Care homes were crying out for PPE as they couldn't buy it or initially did not have access to government stocks," he says.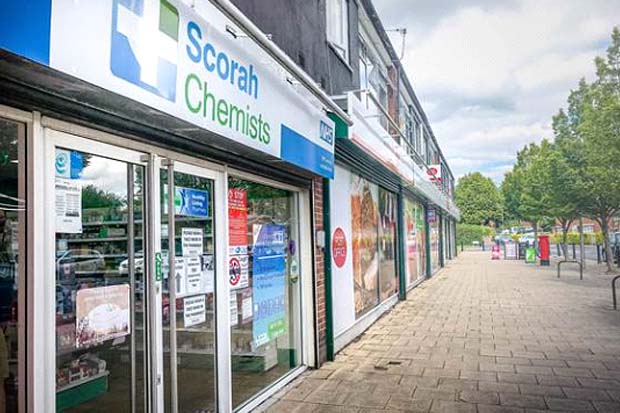 A RB Healthcare branch in Bramhall, Greater Manchester 
In May 2020, Mr Bhatia embarked on an epic fundraising journey. Over the course of the month, he ran a total distance of five marathons – 340km – through morning runs of 5-20km each.
Mr Bhatia raised £3,215 through his Just Giving page. His original hope had been to raise just £1,000, but after reaching that milestone within the first weekend, he aimed higher.
"I ran solo, unfortunately I couldn't get anybody to get up at 4am with me. I had to be at work for 7-8am due to the increased workload and some runs were 1.5 hours," he explains.
With the money raised, he purchased 20,000 individual items of PPE for workers in 18 care homes in Greater Manchester, Liverpool and York. His donations included 4,500 masks, 13,550 gloves, 250 face visors and 81 litres of hand sanitiser.
As well as helping to protect care home staff from COVID-19, he was able to offer them some refreshments. With the help of donations from Tetley and Yorkshire Tea, he passed on 9,000 tea bags accompanied by 9,000 biscuits.
Cycling to raise money for cancer 
Mr Bhatia was motivated by the success of his running to complete further charitable challenges. In September 2020, he cycled over 150km from Wilmslow, Cheshire to Holyhead, Isle of Anglesey over two days. He rode with a group of around 20 friends, who were all new to cycling, raising £44,000 collectively for charities including Cancer Research UK.
Not stopping there, the group has set its sights on raising £50,000 by cycling more than 200km from Newcastle to Edinburgh over three days in September. "This is my way of giving back," Mr Bhatia says. "I feel very fortunate and I don't take it for granted. It is important to help others."
Anxious patients
Mr Bhatia undertook his fundraising activities despite the considerable pressures from COVID-19 on his business. "At the start of the pandemic, there was a heightened level of anxiety among patients because of the unknown. People didn't understand what was going on or what was ahead of them, and so they turned to pharmacy for help."
To cope with the surge in demand he organised regular team meetings to improve communication and help staff feel valued. "It hasn't been an easy journey. We have faced immense pressures. It was a challenge managing the busy periods, all while dealing with members of the team being off work self-isolating, adhering to social distancing regulations and delivering medication to people still isolating at home.
"I believe we can see light at the end of the tunnel now that the COVID-19 vaccination programme is underway. Patients are feeling calmer now that there is a lot less uncertainty."
While many pharmacies have endured financial turmoil during the pandemic, Mr Bhatia and his team have demonstrated how pharmacy can surmount the challenge while going the extra kilometre to support communities.
This article is a collaboration between Numark and C+D
Listen to a podcast with a pharmacist who raised money for Syrian refugees in Lebanon: