Pharmacy's role in 'joining the dots' for older people's care
In 2015, the Mid & East Antrim Agewell Partnership (MEAAP) placed a competitive bid for funding following a UK-wide call from Dunhill Medical Trust for proposals to deliver a "bottom-up, community asset-based approach to delivering social care for older people".
From a pool of 24 UK applicants, MEAAP, along with the partners of the Northern Trust, Northern Commissioning and the Mid and East Antrim Borough Council, secured almost £1 million in funding for the Involving Many to Prescribe Alternate Care Together (IMPACTAgewell) programme.
This integrated care partnership programme focused on a multidisciplinary model of care – on "building relationships and partnerships", Sarah McLaughlin, IMPACTAgewell team leader, tells C+D during a visit to their offices in Ballymena, Northern Ireland, in June. The project was officially launched in April 2017.
As part of the programme, six localised health and wellbeing hubs were developed, all coordinated by one strategic hub. Each of the six hubs then partnered with a GP practice, community pharmacies and staff from other areas of health and social care.
Ms Laughlin explains that it was initially difficult to get GP practices on board to establish the model, with their reluctance due to "concerns over work pressures". But they soon came around when they realised the benefits the programme could bring.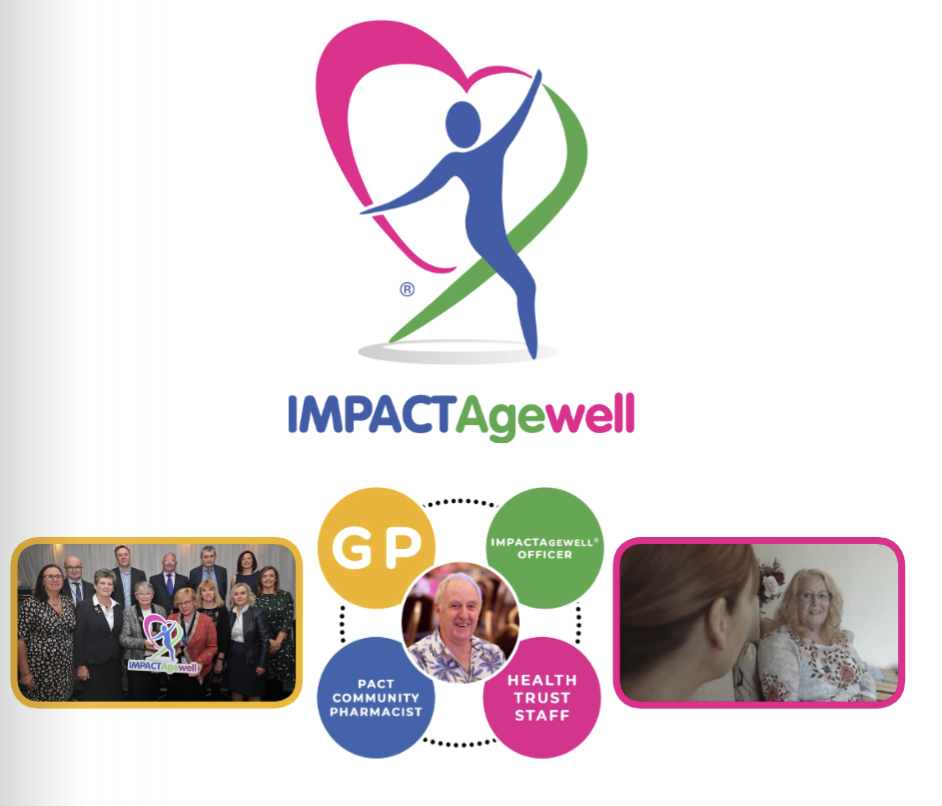 Providing a "compass" for older people
The MEAAP team identified that older people were struggling to navigate the healthcare system, and that this was contributing to health and wellbeing problems. Ms McLaughlin says that ImpactAgewell provides a "simple compass" and a way to "join the dots" by bringing community resources together for their service users, which in turn helps to improve health and wellbeing outcomes.
Under the model, people aged 65 years and over within the Mid and East Antrim area who are registered with one of the participating GP practices, are supported by a dedicated IMPACTAgewell project officer for up to six months to discuss their general health and wellbeing.
Where does community pharmacy fit in?
Primarycare and Community Together (PACT) is a community interest group that uses a network of community pharmacies to deliver programmes in partnerships with local communities
PACT director Jonathan Lloyd tells C+D that "not all community pharmacies provide all the commissioned services: Some do lots of them, some do bits and pieces and some of them don't do any".
"Community pharmacy services aren't particularly well understood by other healthcare providers, and they were very poorly integrated – and still are to a certain extent – throughout the region," he explains.
He feels that PACT provides a "solution to these issues" by ensuring there are no gaps in the provision of commissioned services. He describes PACT as "a fluid federation of community pharmacy – not as rigid as a properly formally constituted GP Federation, but it allows community pharmacies to work together essentially under the umbrella of PACT".
Initially, six community pharmacists represented the surrounding network of pharmacies on the IMPACTAgewell locality hubs. These pharmacists then advised the hubs on pharmacy-related issues identified, such as polypharmacy, medicine use reviews and adherence.
Mr Lloyd explains that if a service was not provided by a particular pharmacy, they were able to refer patients over to another pharmacy, with this being coordinated by the PACT pharmacist. "We then have a blanket coverage of community pharmacy services for that older person," he says.
PACT pharmacists enabled a feedback mechanism into the hubs that hadn't been there previously. Under this mechanism, the pharmacists took interventions back to the hub to be discussed, which would then be actioned by the pharmacist.
Ms Laughlin says this allowed for "relationships [to be] built in the hubs between the GPs and the pharmacists that obviously weren't there before". There was a lot more communication between the pharmacies in the area, and whereas they had previously been in competition, they were now working together.
"Breaking down the barriers allowed for a realisation of the value of what community pharmacy could offer,"
She adds: "Once it was understood what PACT pharmacists were doing" – not just medication reviews – "it was very accepted by other partners within the hub".
"Gold standard model"
The scheme resulted in tangible benefits for patients. In April 2018, PACT, in conjunction with the Medicines Optimisation Innovation Centre (MOIC), evaluated the project, focussing on the community pharmacy element of the IMPACTAgewell programme.
And the results speak for themselves. TA total of 426 recommendations were made by community pharmacists and sent to the GP and IMPACTAgewell hubs, with 96% of these having been accepted and actioned. Most of these interventions (71%) were classed as significant and resulted in an improvement in the standard of care.
This evaluation highlighted the value of community pharmacy, demonstrating an enhanced delivery of clinical expertise within a new service model. Mr Lloyd says: "We wanted to show community pharmacy should be an essential member of a multidisciplinary team and could work collaboratively and plug gaps."
This service model also provided significant cost savings: Every £1 spent on community pharmacists within the project delivered a return on investment of £5.81, the team concluded.
Stephen Slaine, chair of Antrim/Ballymena integrated care partnership, tells C+D he is "delighted we have a mechanism to work with an organisation like MEAAP" and the funding from Dunhill Medical Trust has made it possible to establish this "gold standard model".
Scaling up and developing the model across NI
Due to the success of the model, funding has been awarded to MEAAP by Dunhill Medical Trust to set up a social enterprise – with a primary product being an ImpactAgewell franchise, facilitating the scale and development of the project across Northern Ireland.
On winning the C+D Primary Care Partnership Award, Ms McLoughlin says: "[We are] very pleased that this has been recognised, it's a brilliant example of how community pharmacy can work [collaboratively]."
The success of the IMPACTAgewell programme shows a promising future for integrated primary care models, with community pharmacy's involvement crucial to realising the potential of healthcare hubs in the community.
Lovely morning meeting the @ChemistDruggist Primary Care Partnership award winners @meaapni to discuss their community pharmacy partnership aimed at improving the lives of older people @IMPACTAgewell #CDAwards21 #communitypharmacy pic.twitter.com/9zOiaNzg5c

— Naimah Callachand (@CandDNaimah) June 18, 2021
Thank you Cathy.
It's great to see how IMPACTAgewell continues to innovate with the development of #MYEASYAPP supporting older people to get digitally connected and it's continued collaborations with @MOICNI but at it's core are the relationships within the MDT teams. #ICS

— Stephen Slaine (@StephenSlaine) June 19, 2021
You can find out more about the IMPACTAgewell programme on the MEAAP website.
Do you think you could win a C+D Award? Get inspiration by reading about each of last year's C+D Award winners, runners-up and shortlisted entries, or click below to learn about this year's categories and to enter.