Brine: 'I need legislation' to change 'sluggish' pharmacy contract
The pharmacy minister has said he needs legislation to change the "sluggish" national pharmacy contract for England.
Steve Brine branded the contract "a slow, one-button vehicle" during a visit to a London pharmacy delivering a hepatitis C testing pilot last month (April 19).
While at Portmans Pharmacy in Pimlico, Mr Brine heard how the pilot had entered its second three-month phase following a "successful" rollout that saw half of injecting drug users testing positive for hepatitis C (see video below).
The pilot ran across eight pharmacies – including Portmans – from November 2017 to February 2018, while the second phase began at the end of April.
Rekha Shah, pharmacy immunisations lead for London's local pharmaceutical committees (LPCs), told Mr Brine that the pilot could not be replicated across London because "there isn't the framework within the pharmacy contract".
In response, Mr Brine said: "It's such a sluggish vehicle. I need primary legislation [to change it]."
The minister also promised to "talk to Jeremy [Hunt]" about hepatitis C, as he had already discussed it with the health and social care secretary that week, and that health minister Lord O'Shaughnessy "is really keen on this subject – like me".
Hepatitis C is "one of those things we can beat", Mr Brine said.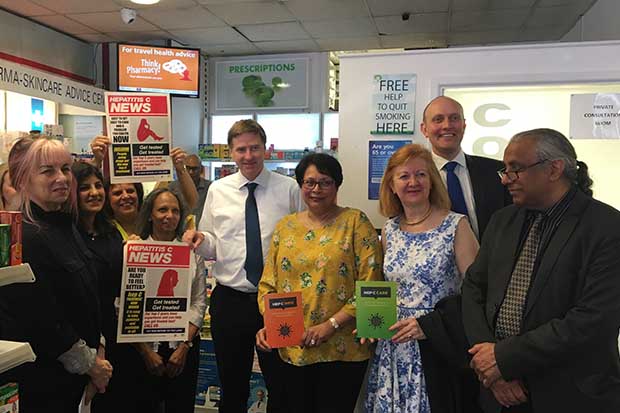 During the visit, the minister spoke with professionals in the sector, pictured above (left to right): London Joint Working Group (LJWG) policy lead Dee Cunniffe; LJWG co-chair and Chelsea and Westminster Hospital consultant hepatologist Dr Suman Verma; Portmans Pharmacy owner Anar Tejani and staff member Jesu Patel; Ms Shah; former Conservative MP for Kensington Victoria Borwick; MSD director of policy and communications James Read; and Sonar Informatics director Pritpal Thind.
Four days after the visit, the all-party pharmacy group announced that Mr Brine had written to discuss "the detail" of paying pharmacies in England for their "care-orientated" role in its funding negotiations this year.
Watch Ms Shah's reaction to Mr Brine's comments after his visit to Portmans Pharmacy in the video below: