C+D careers event returns to London – and extends to Bradford
Join C+D free of charge at two events in September for tips on choosing and changing your pharmacy career.
C+D's careers event returns to London next week (September 13), where pharmacists at all stages of their career are invited to hear from an array of speakers from across the spectrum of pharmacy sectors.
Speakers – including Royal Pharmaceutical Society president Ash Soni, hospital pharmacist and lead coordinator for structured training and experience for pharmacists in London, Kate Pine, as well as professor of clinical and applied pharmacy practice at Kingston University, Professor Reem Kayyali – will share their experiences and advice, both on stage and while networking over complimentary food and drinks.
Extending to Bradford
Following feedback from last year's event in London, C+D has taken on board requests to run events regularly across the UK, by heading to West Yorkshire to hold another event in Bradford on September 27.
Here, pharmacists will get the chance to hear from and network with RPS English pharmacy board member Dr Mahendra Patel, and Shammi Khosla, head of pharmacy experience at Boots.
C+D clinical editor Kristoffer Stewart said: "I know that getting your foot on the career ladder can be a daunting prospect for pre-registration and newly qualified pharmacists. There are also plenty of pharmacists who are considering a career change, but are not sure which path to consider or how to make the leap."
Mr Stewart continued: "I'm excited that we are able to host another careers event and thrilled that we are extending the event to Bradford".
To register to attend the free events in London or Bradford, click here.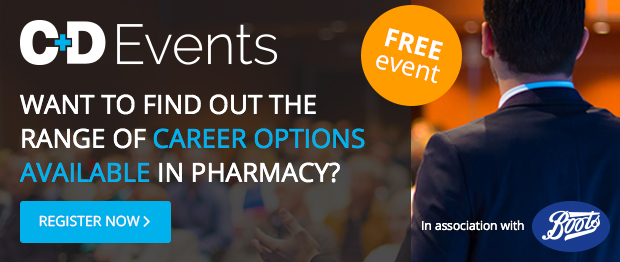 For the latest roles or services from the event's sponsors, please visit: