Well's refitted branch is template for its 'essential pharmacy' model
Well has given a branch in Manchester a major refit to increase space in the dispensary and install a prescription vending machine, in a bid to improve customer experience.
The Northenden branch – which officially reopened last week (November 16) – was "ripped down" and "rebuilt from scratch", to increase the size of the dispensary and give staff more space to pick, check and assemble prescriptions, Neil Stewart, strategic lead behind the multiple's "essential pharmacy" model, told C+D.
The multiple has also installed a prescription vending machine, because "that's the convenience that patients and customers are demanding", he added.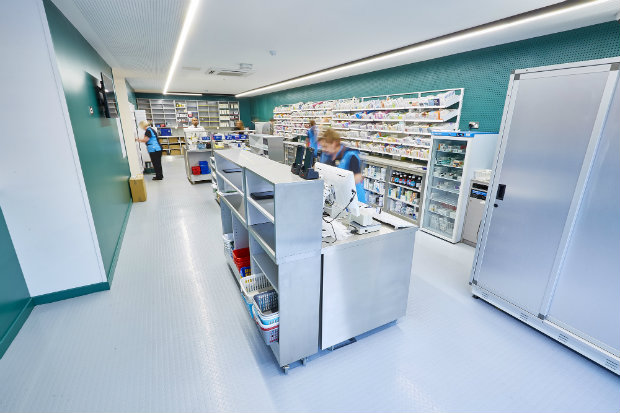 Pharmacist store manager Shezan Dar told C+D: "We were very aware that 90% of the revenue that comes into the business is from prescriptions. But if you looked at the pharmacy, only about 20% [of the space] was allocated to the dispensary and you had 80% of a shop floor.
"[Staff] were literally [working] on top of each other."
As part of the refit, the make-up range has been removed from its retail offering, Well said.
"Not just a physical design"
Well transformation director Chris Ellett said the branch's new patient medication record (PMR) system has helped to increase efficiency throughout the dispensing process, so "customers aren't stood in the queue waiting".
"This is not just a physical design that looks nice…it's about re-engineering how the store works and operates – that's everything from process to technology."
The "essential pharmacy" model is "liberating" the pharmacist from doing unnecessary tasks and "removing them as the bottleneck in the [dispensing] process," he added.
Mr Dar said simple changes like moving the telephone has also helped reduce his workload.
"Before, the telephone was right in front of me so I had to answer the call. Now it's [whoever] is collecting the prescription that will be in charge of actually answering the call."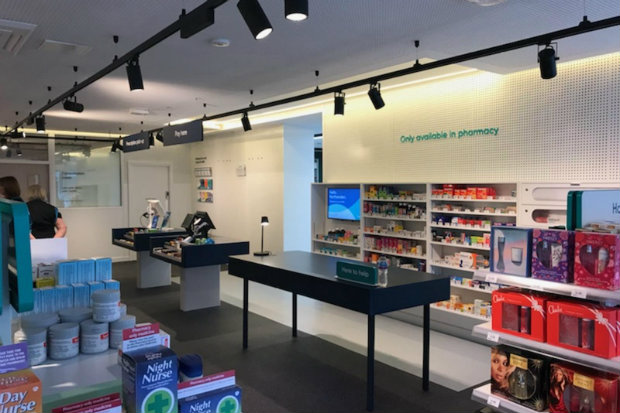 Hub-and-spoke dispensing
Mr Ellett told C+D the Northenden branch will also be operating under the multiple's hub-and-spoke dispensing model from next week.
"There's no point having a store design that doesn't link with other parts of our strategy," he said.
The multiple plans to refit two more branches in England along the same lines, with a view to then transform branches in Scotland and Wales into "essential pharmacies".
"This is a learning process for us. This is our first store…there's a lot more we've got to do here," Mr Ellett said.
"By the end of next year, we'll have a blueprint of what "essential pharmacy" means for us and then we'll work out how to roll that out in the business," he added.
Digital strategy
The refitted pharmacy "seamlessly integrates digital [processes] into its operations", the multiple said, with customers encouraged to make use of the the prescription vending machine and the multiple's online and iPhone app services.
Mr Ellett said: "Stores are going to play an important part in [our] journey for a whole host of reasons. Not least because some customers want to come in store, and some services we have to do in store anyway."
For example, "managing acute [illnesses] is still quite difficult to do online. It's about giving [customers] that choice", he added.
Have you refitted your pharmacy this year? Then why not enter C+D's Pharmacy Design Award?
You can also search for the latest vacancies at Well Pharmacy on C+D Jobs