Patients favour pharmacy over GPs for minor ailments, research finds
Two thirds of patients with minor ailments would rather consult a pharmacist than a GP, according to a report commissioned by Community Pharmacy Scotland (CPS).
Of the 1,121 Scottish patients who accessed the national pharmacy minor ailments service and responded to a survey – which ran from June-July 2018 – 66% disagreed with the statement: "Given the choice, I prefer to consult a GP rather than a pharmacist for minor ailments."
The results show patients' preference for the pharmacy service, CPS said in the report published yesterday (January 9).
The research – conducted in conjunction with Robert Gordon University and the University of Strathclyde – also showed that 96% of respondents were "confident" that treatment in a community pharmacy is as safe as in a GP surgery, CPS added.
Nearly nine in 10 (89%) said they would like to see their pharmacist and GP working together to make sure they receive the best treatment, while 90% said they were "more interested in the quality of care I receive than who delivers it".
One patient said the minor ailments service is useful for "the things you don't want to bother the doctor with, but [that] still get in the way of day-to-day life", according to CPS.
Another said a pharmacist's advice "can save a doctor's appointment for patients with more serious conditions", CPS reported.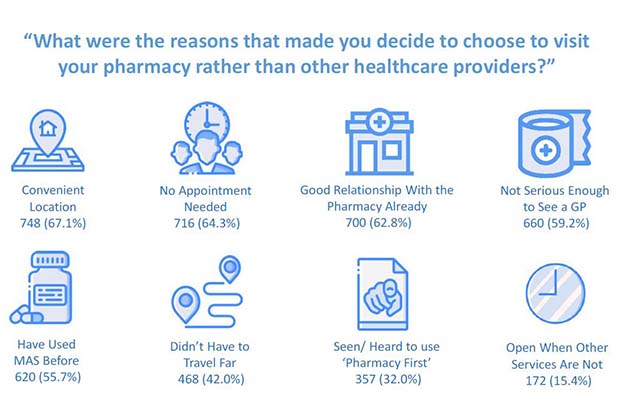 Source: CPS: A mixed methods national evaluation of the experiences of service users of the minor ailment service
CPS said a theme among the answers was patients "being unable to access a GP appointment", while 64% of respondents said they chose to use the pharmacy service because no appointment is required.
It acknowledged that "there may have been biases in response" to the survey, because the minor ailments service is provided for free.
The most frequently reported ailments related to allergies (29%), followed by skin complaints (16%), gastrointestinal issues (11%) and infections (10%), according to the report.
Patients don't use other healthcare services
In a follow-up survey conducted one week after the patient had used the pharmacy scheme, 86% of 327 respondents reported not having used another service, with only 6% having consulted a GP.
When asked which services they would have used had they not visited the pharmacy, 59% said they would have gone to a GP.
CPS board chair Martin Green said: "The evidence is clear: the minor ailment service is extremely popular and saves GP time."
The minor ailments service in Scotland
Minor ailments constitute 13% and 5% of GP and A&E visits in the country respectively and cost two and four times more than comparable treatment in community pharmacy, according to research from 2014 referenced in the report.
About 16% of Scottish residents – 884,000 people – are registered for the pharmacy service, which has been running since 2006.
In 2017, CPS attributed the fact that the majority of the population have not registered with the service in part due to only 60% meeting the eligibility criteria – which includes under-16s, under-19s in full-time education, over-60s, individuals on jobseeker's allowance and asylum seekers.
In its 2018-19 national programme, published in September, the Scottish government said it will be "developing and implementing a redesigned minor ailment and common conditions service available to all in the coming year".