Pharmacy overlooked in five of seven political manifestos
Pharmacy leaders, including RPS president Ash Soni, are "unsuprised" that only the Lib Dems and Green Party have formally acknowledged the sector
The Liberal Democrats and the Green Party are the only major political parties to mention community pharmacy in their election manifestos.
The Liberal Democrats used their manifesto to pledge to "utilise the network of community pharmacists across the country so they become the first point of contact for advice on minor illnesses". The sector could achieve this by being "joined-up with GPs and community health teams", the party said in its manifesto, published last week.
The Green Party made a general reference to pharmacists as one of a range of "community-based professionals" who were "best-placed to prevent ill health from developing in the first place". "They can carry out checks and give advice or treatment to people who are – for instance – stressed, obese, inactive, or alcohol- or nicotine-dependent," the party said.
The five other main parties - the Conservatives, Labour, UK Independence Party, Scottish National Party and Plaid Cymru - did not refer specifically to the sector in any of their health pledges.
A wider problem
Pharmacy leaders said they were "unsurprised" by the sparse references to the sector. Royal Pharmaceutical Society president Ash Soni said the manifestos reflected "a problem we have that when people talk about the NHS they talk about doctors and nurses".
Rather than focus on the manifestos, pharmacists could increase their influence by delivering services that aligned with NHS England's Five Year Forward View strategy document, published last year, he told C+D. "From a pharmacy perspective, the relationships we're building with the Royal College of General Practitioners and the British Medical Association are the route that will get us through the doors."
Pharmacy Voice chief executive Rob Darracott said he was not "particularly concerned" that the sector had not been name-checked in most manifestos and agreed with Mr Soni that the Five Year Forward View was a "bigger driving force for change".
Pharmacy Voice had been encouraging pharmacists to engage with parliamentary candidates in the run-up to the general election on May 7, he said. "While change at the top can be relatively slow and painstaking, engaging with potential MPs can ensure community pharmacy's interests are best represented by the new parliament," he added.
NHS Alliance pharmacy advisor Mark Robinson said community pharmacy "was not a big enough issue to sit in the main parties' manifestos". "The Liberal Democrats and Greens [are] much more focused on [the] community and local people. The larger parties are still battling on the same old ground," he said.
Kent LPC chief executive Mike Keen said the manifestos showed the political parties "have still not learned their lesson". "Only one of them has picked up on the fact that if we are the first port of call we can filter out unnecessary GP and A&E consultations," he told C+D.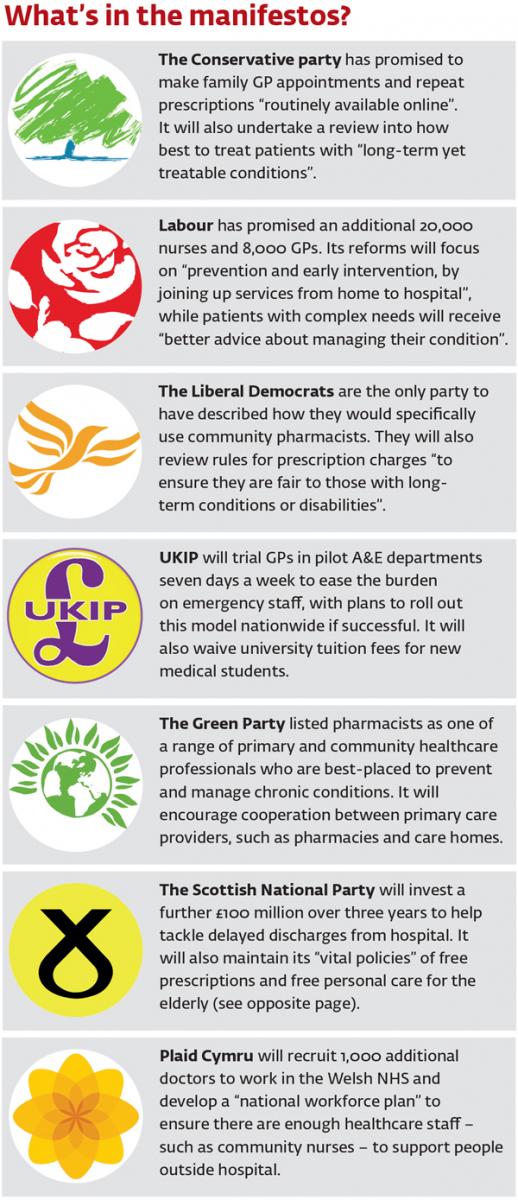 Which party will you vote for in the general election?
We want to hear your views, but please express them in the spirit of a constructive, professional debate. For more information about what this means, please click here to see our community principles and information