GPhC: Readers' calls for student cap 'a step too far'
It is too soon to suggest a cap as no-one knows how many graduates "the market will bear", says GPhC head of education Damian Day
EXCLUSIVE
Calls for a cap on the number of pharmacy students are "a step too far", according to the General Pharmaceutical Council (GPhC).
Almost nine in 10 pharmacists support placing a limit on student numbers, according to a poll of 211 readers posted on the C+D website November 25–December 3 (see below).
Responding to C+D's findings, GPhC head of education Damian Day said it is too soon to suggest a cap, because no-one knows how many graduates "the market will bear".
"There's a degree of uncertainty. We can only act on the facts, and we don't have enough facts yet to actually know how it will end up. Unfortunately the only way of knowing is waiting and seeing,"  he told a C+D webinar on pharmacy education on Tuesday (December 8).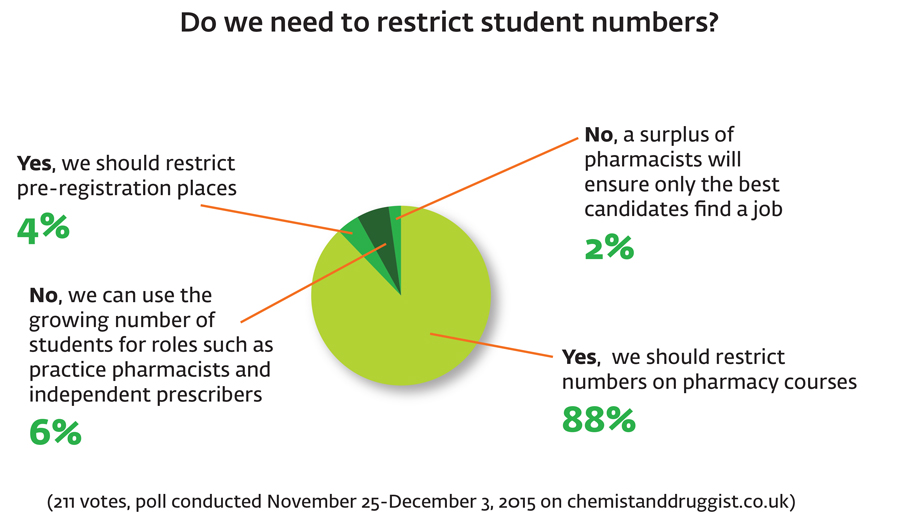 The sector "needs to look at" the issue of student numbers, but any cap would have to be backed by universities, who "alone have the right" to decide how many students they take on, he said.
The government rejected a student cap last October, and Mr Day said there is "no means of influencing" universities' targets for student numbers.
Asked whether universities would ever back a student number cap, Mr Day said it is "genuinely a matter for them". 
There is also an "underlying issue" of whether aligning the number of universities and pre-registration placements is a better solution to rising student numbers, he added. 

The GPhC stressed that any decision about a student cap is not within the regulator's remit.
Listen back to the webinar


Should universities reduce the number of parmacy students they take on?
We want to hear your views, but please express them in the spirit of a constructive, professional debate. For more information about what this means, please click here to see our community principles and information