Half of readers will reduce staff to counter funding cuts
Almost a fifth of respondents to a C+D poll say the 6% drop in the global sum for England will leave their pharmacy at risk of closure
EXCLUSIVE
Nearly half of readers will reduce their staff as a result of the government's planned 6% cut to pharmacy funding in England, a C+D poll has revealed.
Forty-eight percent of 549 readers said they will "have to reduce the number of staff we employ" because of the cuts, which will see the global sum slashed by at least £170 million in October.
Almost a fifth of readers said the drop in funding would leave their pharmacy "unviable" and at risk of closure, according to the poll, published on the C+D website between December 21 and January 13.

A quarter of readers said they will have to reduce the services they offer patients as a result of the cut, while less than one in 10 said they expect the cuts to have "no significant impact".

What will the biggest impact of the £170 million cut to English pharmacy funding will be to your business?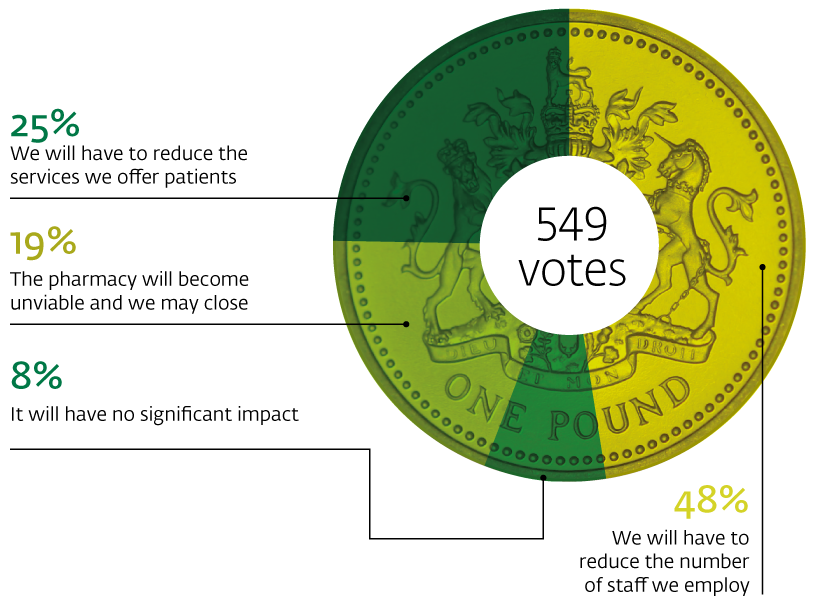 *source: poll of 549 respondents published on chemistanddruggist.co.uk December 21 - January 13

Making savings now
Kent contractor Amish Patel said he has already begun to make savings in preparation for the drop in funding.
"I may even look at limiting patients to one [free] delivery a month. I have a full time member of staff leaving soon – I will not replace her," he posted on Twitter.
Rekha Shah, chief executive officer of LPC consortium Pharmacy London, warned that contractors are having difficulty planning for the cut. "It works well for the NHS but many contractors feel hard done by," she said.
Pharmacist John Munday warned that contractors will lose out if they fail to pay their staff reasonable rates as a result of the cuts, because their "great teams" may look to elsewhere for employment.
 



What effect will the cuts have on your pharmacy?
We want to hear your views, but please express them in the spirit of a constructive, professional debate. For more information about what this means, please click here to see our community principles and information