Deadline extended for Lloyds-Sainsbury's buyout decision
The government's competition watchdog has given itself eight more weeks to decide whether Lloydspharmacy will have to sell any branches for the deal to go through
The government's competition watchdog has extended the deadline before it decides whether Lloydspharmacy will have to sell any branches if its takeover of Sainsbury's pharmacy business is to go ahead.
In a provisional ruling on the deal last month (April 30), the Competition and Markets Authority (CMA) recommended that Lloyds sell branches in 13 areas across England and Wales (see map, below) where the deal could significantly impact on patient choice.
The final ruling was due to be published next month, but the CMA revealed yesterday (May 25) that it has extended the deadline by eight weeks. The ruling must now be published by August 8, although the watchdog stressed that it aims to complete its inquiry "as soon as possible".
The extended deadline reflects the "scope and complexity" of the inquiry and to allow the CMA "sufficient time to take full account" of responses to the initial findings.
Lloydspharmacy's parent company Celesio UK told C+D that it will "continue to work closely" with both Sainsbury's and the CMA until the investigation is complete.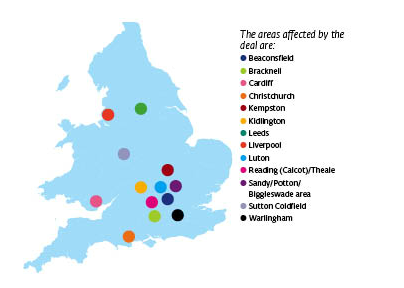 Lloyds suggests alternative measures
In a list of alternative proposals it submitted to the CMA, published on May 20, Lloydspharmacy argued that it would be "disproportionate" if it was forced to sell pharmacies in 13 areas.
Instead, the multiple suggested that it should be allowed to keep the branches in exchange for agreeing not to change their opening hours for the next three years.


Is your pharmacy in one of the affected areas?
We want to hear your views, but please express them in the spirit of a constructive, professional debate. For more information about what this means, please click here to see our community principles and information