Revealed: What really happened to pharmacy's Call to Action?
The wide-ranging review promised to overhaul the sector, but disappeared without trace. Until now…
Cast your mind back to December 2013. Community pharmacy had no inkling of the seismic changes that would befall the sector in the coming years, and the outlook at the time was one of cautious optimism.
That sense of positivity was much improved by the announcement, by NHS England, of a "Call to Action" for community pharmacy. The commissioning body organised a national roadshow of local meetings over the subsequent three months, "to stimulate debate, shape local strategies and inform NHS England's strategic framework for commissioning community pharmacy".
The purpose, it said, was clear: "NHS England is, through this Call to Action, seeking to secure community pharmacy services that deliver great outcomes cost effectively… which make the most of the expertise of pharmacists and of pharmacy's unique accessibility for patients in England."
The grand plan's lofty ambitions were widely welcomed by community pharmacy bodies. The Royal Pharmaceutical Society said the call would help "shape the future of the NHS", while the Pharmaceutical Services Negotiating Committee said the plans would "enable community pharmacists to play an even stronger role".
Grand ambitions indeed. But NHS England had faith in the sector to deliver. In an interview with C+D shortly after the consultation was announced, the then deputy chief pharmaceutical officer for England, Clare Howard, said: "I am confident the wider public discussion [will] generate many primary-care themed discussions and issues, as well as potential solutions."
The sector duly did its part – organising local pharmaceutical committee (LPC) meetings, submitting consultation responses, and attending the roadshows to offer its ideas, input and feedback. For its part, NHS England promised to set out a "strategic outline" in 2014.
The more than 800 responses that were finally submitted "overwhelmed" NHS England, Ms Howard admitted at the time. And then… nothing.
So, three years later, the question remains: whatever did happen to the Pharmacy Call to Action?
"Nothing had changed"
Confidence among the sector in NHS England's intentions began to wane. In November 2014, a C+D poll found that 70% of readers felt the commissioner had not listened to the responses to the Call to Action, and that "nothing had changed" since the consultation closed in March of that year.
By January 2015, NHS England had at least promised to publish a response "early" on in that year. However, suspicions were raised when the commissioning body claimed that many of the issues brought up in the consultation had already been addressed in its Five Year Forward View. NHS England insisted the wide-ranging strategy document had included "everything" it had to say about its primary care strategy – even though the document had contained no specific reference to the Pharmacy Call to Action.
The submissions, the consultation responses and – perhaps most importantly – what NHS England planned to do with them, all seemed to have been quietly dropped.
C+D unearths the truth
It took a request under the Freedom of Information Act for C+D to finally obtain NHS England's final report on the Pharmacy Call to Action. In its response to C+D's request, the commissioner notes that "this is now a historic piece of work, and many of the issues NHS England consulted on at the time have since been pursued and developed".
Even though the community pharmacy landscape has shifted massively since the consultation took place, the submissions, surveys and "outputs" – as independently analysed by the Chartered Institute of Public Finance and Accountancy (CIPFA) – still offer a unique insight into how NHS England perceives the community pharmacy sector, and how that reconciles with the public's view.
The response
In its analysis, the CIPFA concluded that there was "no doubt" the consultation had succeeded in its "stated aim… to stimulate debate". In total, 922 respondents provided feedback – 541 from primary care, including community pharmacy. The 100-page document groups the outputs into several broad themes, based on the feedback from the responses.
The image (below) is a heat map showing the popularity of different discussion topics during the consultation meetings.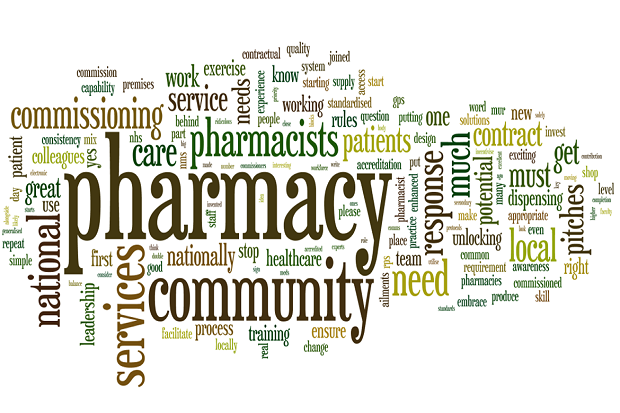 "Clusters" rear their heads
Even in 2013, the analysis reveals there was already "some concern around the way pharmacies tend to cluster or be within close proximity to each other…. and that, per head of population, we are already oversupplied".
There was no clear consensus on whether there were too many community pharmacies in some areas – but it's significant that the desire to take action against clusters of pharmacies appears not to be a new problem. 
Early call for GP practice pharmacists
Again, before NHS England's national scheme was given a public name, "a large number of respondents commented that there should be more pharmacists in GP practices".
We know now that NHS England certainly took this idea and ran with it, promising last April to spend £112 million on recruiting a further 1,500 pharmacists to work in general practice.
During the Call to Action consultation, the suggestions "ranged from having permanent pharmacists within GP practices, to more flexible working arrangements". However, pre-empting the scepticism expressed by many C+D readers, in 2013 "there were concerns about funding requirements, including a proposal to ring-fence GP budgets to include a practice pharmacist". 
Decriminalisation and the "blame culture"
It won't surprise community pharmacists to know that the issue of decriminalisation – which is still rumbling on four years later – was high on the agenda during the consultation. Top priority was "eradicating the 'blame culture' [in the NHS] and accepting that human errors can be made".
Pharmacists' suggestion in 2013 was simple, and remains the same in 2017. "A large number of respondents called for the decriminalisation of dispensing errors, in order for community pharmacy to move to a culture where… pharmacists will not fear prosecution when reporting incidents or near misses."
Ensure national commissioning
Another source of déjà vu is the desire of Call to Action respondents for "ensur[ing] commonality in the services available from community pharmacy through national commissioning". In fact, six in 10 respondents called for "national commissioning of a minor ailments scheme".
In 2017, we are no closer to the holy grail of national services – an England-wide national minor ailments scheme. Having said that, the Department of Health (DH) did announce last October that NHS 111 will develop a "new approach" to referrals for patients with minor ailments in England – such as sore throats and bites – to community pharmacies for advice and medication. This work will be linked to locally commissioned minor ailments services, the DH added.  
What else was raised during the Call to Action? 
Joint pharmacy and GP targets – The "vast majority" of respondents suggested there was a need to "streamline" the GP contract and the Community Pharmacy Contractual Framework to enable collaborative working and remove overlaps in services. "A number of survey respondents would like to see a shift… from per item dispensed toward a capitation fee, or toward a clinical-based service fee structure."
Records access – Delegates wanted to enable pharmacists to have "relevant access" to the summary care record (SCR), to note and share any interventions undertaken in community pharmacy. This would be part of a wider effort to improve the "digital maturity" of the sector, the report says. There was a feeling that this would "improve the reputation of community pharmacists" – a case the sector is still making today. 
Balance pharmacists' roles – "It has been suggested that pharmacists need to let go of the dispensing role," the report says, in order for pharmacists to be more clinically driven. This idea was not universally popular, as some argued a pharmacist's clinical and dispensing roles were "inextricably linked". Respondents toyed with the idea of changing regulations so that supplying medicines could be undertaken by an accuracy checking technician or robotic dispenser – although there was a fear that a move to automation would cost jobs.
Give pharmacists "a place at the table" – The majority of comments about commissioning highlighted a feeling that community pharmacy did not have a "place at the table", and recommended that a position on each clinical commissioning group for either individual pharmacists or LPCs "should be considered mandatory". Sound familiar?
Source: Improving health and patient care through community pharmacy – A call to action. A Content Analysis of the Responses to NHS England, July 2014
What did patients say about community pharmacy?
As part of the Pharmacy Call to Action consultation, NHS England partnered with Pharmacy Voice to design and distribute 25,000 patient surveys to 125 community pharmacies around England. NHS England received 1,132 responses from 17 areas across the country. The survey found:
60% said pharmacists should have more access to patients' personal information
 
93% wanted to talk to pharmacy staff for help managing "common ailments"
 
84% said they were likely to use a managed repeat dispensing service
 
57% wanted pharmacy to make more use of their personal data and medical records to improve pharmacy services
Source: Community pharmacy: your views. NHS England, January 2015. ​