Mowat: I hope we can put the funding cuts 'behind us'
David Mowat hopes the sector can put the cuts behind it, he told the Sigma conference in Rio this week.
"Everyone will know that it's been a challenging few months, and I do know the government [funding] reforms have caused some concern," the pharmacy minister told delegates via a pre-recorded message on Monday (February 13).
"I very much hope that we can get that behind us and work together on what we all want to do, which is to produce a much more clinically-focused, services-orientated community pharmacy profession," he added.
Mr Mowat's recording was played to delegates after a letter was read out from Prime Minister Theresa May, who claimed the cuts would make community pharmacy more "modern and efficient".
In his own message, Mr Mowat said: "As we build a seven-day NHS – and frankly we don't have enough GPs – there really is a massive opportunity for the pharmacy sector to step up and work with us, as we try to get integrated right across the primary care sector."
Mr Mowat name-checked the Pharmacy Urgent Care pilot announced by the Department of Health last October, which will direct patients who call NHS 111 for urgent repeat medication to a community pharmacy, instead of an out-of-hours GP surgery.
The minister repeated the government's belief that "something like 200,000" calls to NHS 111 will be directed on to a pharmacy "as that pilot gears up".
He also reaffirmed his aim that the remaining half of England without locally commissioned minor ailments services should have put them in place by April 2018.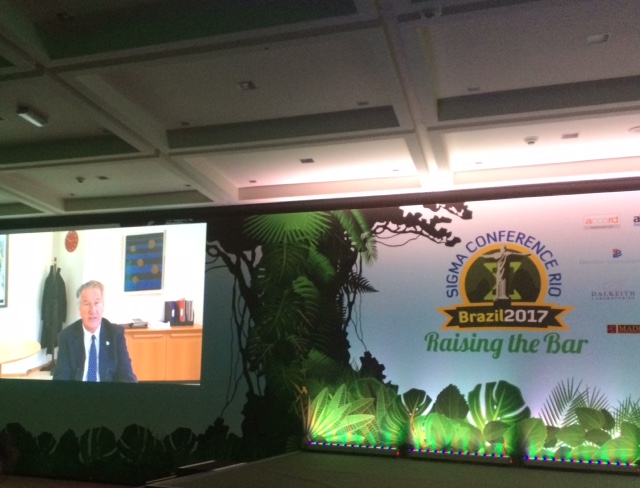 Whatever happened to the Murray review?
Mr Mowat said the 'Murray review' into pharmacy clinical services – published in December – is with England's chief pharmaceutical officer Keith Ridge, who is going to "reply formally".
"I do know [Dr Ridge] welcomed the review. There is a great deal in there which is very worthwhile."
Mr Mowat singled out one quote from the review in particular, which he found "particularly fascinating":
"Community pharmacists should be actively engaged to help explore and develop pathway approaches that integrate community pharmacists and their teams into primary care, and make best use of their skills in the identification and management of patients who will benefit most from their expertise."