Just 1,000 pharmacies could survive cuts, APPG hears
England could be left with just 1,000 pharmacies as a result of government cuts to the sector's funding, the all-party pharmacy group (APPG) heard this week.
"It's terrifying how bad the situation could be," Mark Burdon, owner of The Burdon Pharmacy Group and a Pharmaceutical Services Negotiating Committee (PSNC) representative, told politicians on Monday (March 13). 
"We could quite easily end up with 1,000 pharmacies in the country; all posting prescriptions to patients through Royal Mail in the 'Amazonised' model, completely ignoring pharmacy's role beyond dispensing," he warned.
Mr Burdon was responding to a question from APPG chair Sir Kevin Barron about the impact of government reforms to pharmacy, during an APPG evidence session.
The PSNC representative claimed that "a lot of untruthful reporting within the government" means the "real ramifications" of the funding cuts "are not apparent to most people".
"[It could] mean the loss of huge numbers [of pharmacies], not just the 1,000-3,000 [Alistair Burt] spoke about, but a hell of a lot more than that," he stressed.
The Pharmacy Access Scheme (PhAS) is "only a politically expedient tool used by the government to make it seem like they're not cutting every single pharmacy – to appease patients," Mr Burdon continued.
"In 12 months' time [the PhAS] won't exist," he pointed out.
"The market will eat you up"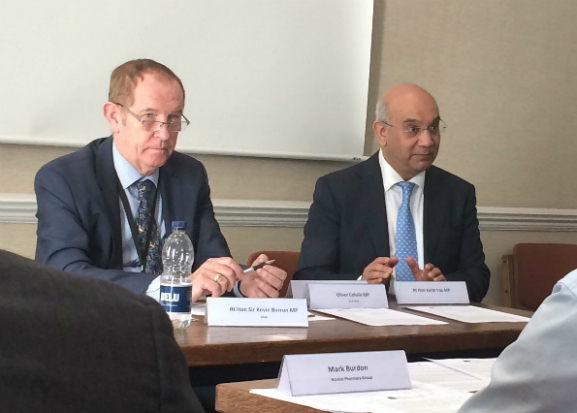 Labour MP for Leicester East Keith Vaz (pictured above, right) acknowledged the benefit of face-to-face interactions in the pharmacy.
"My mum thought her pharmacist was a god. That's the kind of personalised service which GPs – even to some extent which MPs – can't give," he said.
However, Mr Vaz admitted that when the government's plans were announced, it was "pointed out" that there were 12 pharmacies on one road in Leicester.
"The market will take care of it," he said. "It will eat you up if you are not able to survive."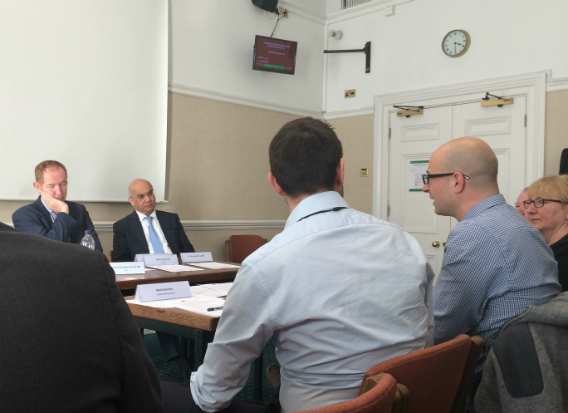 Mr Vaz asked whether contractors now feel a "responsibility" to discuss locally whether their businesses are viable, as a result of government concerns about pharmacy "clusters".
Mr Burdon argued that the current regulatory system around pharmacy mergers "has driven this glut of pharmacies, preventing [them] from merging where they should do so".
"For years we've asked to be allowed to merge pharmacies where there's two nearby. Until the end of 2016, if you closed one of the pharmacies, it would have created a need for a new one," he said.
PSNC chief executive Sue Sharpe said last November that changes to regulations around mergers – which came into force in December – could help contractors "survive" in future.
Read C+D's live reporting to see what else was discussed: 
Improving patient record read/write access feasible, but lack of usage of SCR in 9000 pharmacies discourages progress - says @NHSDigital rep

— Thomas Cox (@CandDThomas) March 13, 2017
Director of @HealthwatchE: #SCR irritation of patients is having to repeat themselves. Older people want skype option + alerts #appgsession

— Thomas Cox (@CandDThomas) March 13, 2017
Pharmacist Mark Burdon says SCR is start of digital capability but need to be able to write @KevinBarronMP #appgsession

— Thomas Cox (@CandDThomas) March 13, 2017
Mark of Burdon Pharmacy group tells @KevinBarronMP there hasn't been dynamic gov support of services like safe methadone spaces #appgsession

— Thomas Cox (@CandDThomas) March 13, 2017
Pharmacist Mark Burdon tells @Keith_Vaz_MP pharmacists should be able to prescribe NHS-paid insulin to diabetics #appgsession pic.twitter.com/AD923who79

— Thomas Cox (@CandDThomas) March 13, 2017
Patient Hector tells @KevinBarronMP 60% of patients in his area housebound so pharmacies need to remain accessible #appgsession

— Thomas Cox (@CandDThomas) March 13, 2017