Contractor forced to scrap 'inspiring' service due to cuts
A contractor has had to pull his medicines optimisation service – once hailed as "inspiring" by England's chief pharmaceutical officer – as a result of the funding cuts.
Jon Campbell, of The Old School Pharmacy in Bristol, said he decided to scrap the service in January, after a "severe drop" in funding resulted in the pharmacy losing "£13,000 in December".
"I knew [the funding drop] was coming, but I didn't think it would be this bad," Mr Campbell told C+D earlier this month (March 8).
"This 12% [cut] across the board is feeling more like 30%," he added.
Impact on patients
As part of the service, Mr Campbell and his staff helped "around 550 patients" identified as vulnerable, elderly or with long-term conditions, to keep track of their medications every month.
Mr Campbell said he was able to provide the service free of charge under the old pharmacy payment structure, "but now with the payment dropping, it just doesn't stack up".
Since stopping the service at the beginning of the year, "15-20% of the patients that I normally ring still haven't been in to collect their medicines", he added.
England's chief pharmaceutical officer Keith Ridge praised the medicines optimisation service in a blog, after visiting Old School Pharmacy and its partnered GP surgery in 2014. 
The service was "not only good for outcomes, but also reduces waste", Dr Ridge said at the time.
"It's also good for drug expenditure, with the practice having prescribing/dispensing costs considerably less than the national average."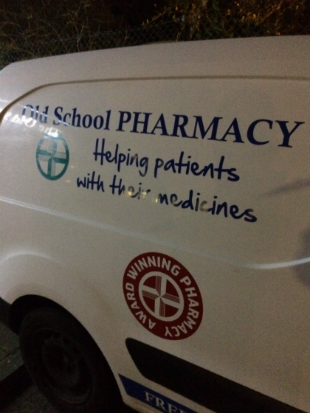 Other funding options
Mr Campbell said his pharmacy does not qualify for the Pharmacy Access Scheme, and despite meeting all of the criteria for the Quality Payments Scheme – including being an accredited healthy living pharmacy – the funding does not make up for the pharmacy's losses.
"We are putting focus back on clinical services, such as flu vaccinations, medicines use reviews and new medicine service reviews, and more recently NHS health checks.
"But this additional income doesn't even scratch the surface when it comes to replacing the loss of revenue due to the cuts," he added.
New service commissioned
Since first speaking to C+D, Mr Campbell's local GP surgery has commissioned his pharmacy to provide a free NHS health check service for patients in the area.
As part of the pilot scheme, the pharmacy will receive £25 for every health check completed and logged via PharmOutcomes, Mr Campbell told C+D yesterday (March 28).
GPs have so far recommended 50 patients to receive a health check at the pharmacy, but Mr Campbell said there is nothing stopping his team from offering the service on a walk-in basis.
"As long as the patient is between 40 and 74 and has not got a pre-existing condition, we can pick this up on an opportunistic basis," he said.
"That is the value of community pharmacy – having that face-to-face care, making sure every contact counts," Mr Campbell added.
How are the cuts affecting your pharmacy? And what are you doing to survive? Share your stories by emailing us at this address.