Pharmacy 50: Full results revealed
With more than 100,000 votes cast, C+D can exclusively reveal who was named 2017's most influential individual in community pharmacy
Pharmaceutical Services Negotiating Committee (PSNC) chief executive Sue Sharpe topped the list of people who have the biggest impact on the sector.
Royal Pharmaceutical Society director for England Robbie Turner took the number two spot, followed by General Pharmaceutical Council chief executive Duncan Rudkin.
C+D readers cast more than 117,000 votes on the Pharmacy 50 app between March 28 and April 25, picking between a randomly generated selection of pairings (read more details of how the app worked here).
Want to see the full Pharmacy 50 results? View C+D's interactive feature here.
You can read C+D editor James Waldron's view on why Ms Sharpe – who recently announced that she would resign as PSNC chief executive at the end of the year – reached the Pharmacy 50 top spot below.
C+D's previous Pharmacy 50 initiative – which ran in 2013 – saw NHS England's chief pharmaceutical officer Keith Ridge named the most influential individual in community pharmacy. Mr Ridge ranked thirteenth in this year's Pharmacy 50.
Surprise omissions
Despite his role as chief executive officer at Boots' parent company Walgreens Boots Alliance, Stefano Pessina narrowly missed out on the top 50 this year, as did John Murphy, who retired as director of the Pharmacists' Defence Association (PDA) in January, but remains general secretary of the PDA Union.
Editor's view: Sue Sharpe tops the list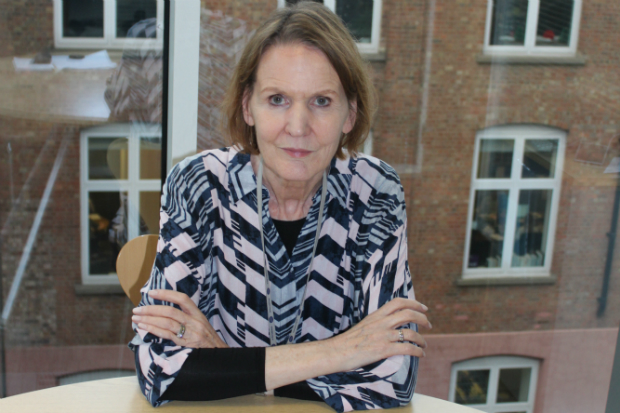 Commenting on Ms Sharpe claiming the top spot, C+D editor James Waldron said:
When C+D last ran the Pharmacy 50 four years ago, I predicted that the top spot would go to Ms Sharpe. She may have been receiving more than her fair share of criticism at the time, but I argued that there was no denying that PSNC's role in contract negotiations affects every community pharmacist in England.
Of course that was in 2013, when Ms Sharpe was still a lightning rod for concerns about the country's imbalanced pharmacy contract. Maintaining a constructive relationship for funding negotiations meant PSNC often seemed subdued in its defence of the sector.
But the landscape fundamentally changed on the afternoon of December 17, 2015, when the Department of Health (DH) sent an open letter to PSNC setting out its plans to cut funding.
Community pharmacists in England are still dealing with the consequences of that letter. For PSNC – which had effectively been sidelined by the government – it was an opportunity to finally speak out on the sector's behalf.
Ms Sharpe wasted no time in penning a strongly worded response to the DH. By September, she was publically introducing pharmacy minister David Mowat as representing a sector that "feels bruised, betrayed and badly let down". Ultimately, it led PSNC to a heroic – if unsuccessful – High Court battle against the funding cuts.
Faced with a government unwilling to listen to the sector, there was sense that PSNC – and Ms Sharpe – had finally found its voice.
It makes Ms Sharpe's surprise announcement that she will retire at the end of the year all the more poignant. She leaves the role as the single most influential individual in the sector – as voted for by C+D readers – and her successor will have a tough job living up to that legacy.
Explained: How the results were decided

How was the shortlist compiled?
The C+D team created an initial list, and then opened up suggestions to readers on the website and on Twitter in December 2016. The resulting shortlist of 122 individuals was entered into the C+D Pharmacy 50 app, which appeared on the C+D homepage and its dedicated Pharmacy 50 page for four weeks. The full Pharmacy 50 list can be viewed in C+D's interactive feature here.
Was the app cheat-proof?
Effectively, yes. The app worked like 'top trumps' – randomly selecting pairings from the shortlist. This prevented users from voting multiple times for themselves or any other preferred individual.
Instead, a vote was cast by clicking on whichever of the two figures the reader considered most influential; this loaded up another pair of names at random. A score for an individual was generated using the number of times they appeared in the app versus the number of votes they received in total (giving their percentage of 'victories' in the app). The individuals were then ranked by score into the final order.
How did C+D define "influential"?
We left this up to you. The Oxford Dictionary defines "influence" as "the capacity to have an effect on the character, development, or behaviour of something". It can therefore be positive (eg a pharmacist who inspires their peers) or negative (eg an influential policy maker who does not prioritise community pharmacy). C+D's clinical editor Kristoffer Stewart also wrote a blog on how "influence" on pharmacy can be decided.
Who didn't make the cut?
Of course, having the C+D team and readers select a shortlist of 122 individuals means that more than half could never make the final Pharmacy 50. For reference, C+D has published the remaining individuals from the shortlist below, some of whom only missed out on the top 50 by a handful of votes.
Please note that this list is in alphabetical order, and is not ranked by vote count:
Olutayo Arikawe – Manager, The Priory Community Pharmacy
Jay Badenhorst – Superintendent pharmacist, Whitworth Chemists
Reena Barai – Owner, S G Barai Pharmacy
Ornella Barra – Co-chief operating officer, Walgreens Boots Alliance
Karen Baxter – Director, British National Formulary
Martin Bennett – Managing director, Associated Chemists (Wicker)
Kenny Black – Managing director, Rowlands Pharmacy
Richard Bradley – Pharmacy director, Boots UK
Nadia Bukhari – Senior teaching fellow in pharmacy practice, UCL
Alistair Burt – Conservative MP and former pharmacy minister
Tom Byrne – Secretary general, British Pharmaceutical Students' Association
Peter Cattee – CEO, PCT Healthcare and PSNC board member
Zameer Choudrey – CEO, PCT Healthcare and PSNC board member
Oliver Colville – Vice-chair, All-Party Pharmacy Group and Conservative MP
John D'Arcy – Managing director, Numark
Sid Dajani – UK rep for Pharmaceutical Group of the EU, and RPS board member
Mair Davies – Chair, RPS Welsh pharmacy board
Kim Davies – Health and wellbeing pharmacist, Celesio UK
Michael Dugher – Former Labour MP
Andrew Evans – Chief pharmaceutical officer for Wales
Tess Fenn – President, Association of Pharmacy Technicians UK
Stephen Fishwick – Head of communications, National Pharmacy Association
Chris Ford – Head of parliamentary affairs, National Pharmacy Association
Sanjay Ganvir – Superintendent pharmacist, Green Light Pharmacy
Vaughan Gething – Welsh cabinet secretary for health, wellbeing and sport
Thorrun Govind – Locum pharmacist
Gerard Greene – Chief executive, Community Pharmacy Northern Ireland
Michael Holden – Principal associate, MH associates
Nick Hunter – Chief officer, Doncaster, Nottinghamshire and Rotherham LPCs
Ken Jarrold – Chair of government board to "rebalance" medicines legislation
Hala Jawad – Locum pharmacist and RPS public health network moderator
Will Jennings – Lloydspharmacy's Sainsbury's integration lead, Celesio UK
Salim Jetha – CEO, Avicenna
Dilip Joshi – Chief officer, Lambeth, Southwark and Lewisham LPC
Nick Kaye – Superintendent, Nick Kaye's Pharmacy; and chair of Peninsula LPF
Tricia Kennerley – Vice president, Walgreens Boots Alliance
Dr James Kingsland – President, National Association of Primary Care
Daniel Lee – Chief operating officer, Pharmacy2U
Peter MacNab – Managing director, Superdrug
Babir Malik – Manager, Weldricks, Scunthorpe; OTC lead for RPS pre-reg team
Catherine McDermott – Operations director, Celesio UK
Ben Merriman – Treasurer, Cumbria LPC and member of area prescribing committee
Garry Meyers – East Midlands and South Yorkshire representative, PSNC
Marvin Munzu – Media pharmacist and branch manager, Priory Fields pharmacy
John Murphy – General secretary, PDA Union
Chaand Nagpaul – General Practitioners Committee chair, BMA
John Nuttall – Chief executive officer, Well
Michelle O'Neill – Northern Irish Assembly member and Sinn Féin Leader
Ash Pandya – Chief executive, Essex LPC
Amit Parekh – President, British Pharmaceutical Students' Association
Stefano Pessina – CEO, Walgreens Boots Alliance
Graham Phillips – Contractor, Manor Pharmacy Group
Adrian Price – Superintendent pharmacist, Tesco
Mark Raffaitin – Commercial manager pharmacy lead, Tesco
David Reissner – Senior partner, Charles Russell Speechlys LLP
Paul Robinson – CEO, Boots Pharmacists' Association
Shona Robison – Scottish cabinet secretary for health, wellbeing and sport
Aamer Safdar – Pharmacist education lead, Guy's and St Thomas' NHS Trust
Martin Sawer – Executive director, Healthcare Distribution Association
Bharat Shah – Managing director, Sigma Pharmaceuticals
Paula Sherriff – Treasurer, All-Party Pharmacy Group
James A Skinner – Executive chairman, Walgreens Boots Alliance
Amanda Smith – Committee member, Community Pharmacy West Yorkshire
John Smith – Chief executive, Proprietary Association of Great Britain
Paul Smith – CEO, Phoenix Healthcare Distribution
Liz Stafford – Policy development manager, Rowlands Pharmacy
Kristoffer Stewart – Clinical and CPD editor, C+D
Dr Mark Timoney – Chief pharmaceutical officer for Northern Ireland
Faisal Tuddy – Superintendent pharmacist, Asda
James Waldron – Editor, C+D
Noel Wardle – Partner, Charles Russell Speechlys LLP
Xrayser – C+D blogger and pharmacist
Do the Pharmacy 50 results match your expectations? Read the C+D team's own predictions here, then share your thoughts in the comments below or on Twitter with the hashtag #Pharmacy50