NHS 111 minor ailments scheme is 'problem waiting to happen'
A government scheme to refer patients with minor ailments to community pharmacy via NHS 111 is a "problem waiting to happen", a local pharmaceutical committee (LPC) CEO has warned.
The Department of Health (DH) announced plans last year to develop a "new approach" in which NHS 111 would refer patients with minor ailments – such as sore throats and bites – to community pharmacists for advice and medication. The scheme will not receive extra funding and instead be "undertaken through 'business as usual' work", it told C+D at the time.
However, minor ailments schemes "need commissioning, and commissioning needs money", Kent LPC's Michael Keen warned health policy makers this week.
"We have a problem brewing," Mr Keen said at an event set up by policy conference organisers Policy UK on Wednesday (May 24). He called on the audience to help him "tackle" the DH's minor ailments strategy, as it has "gone under the radar."
By 2018 – when the NHS 111 minor ailments scheme is due to be evaluated – it will not have been "awarded the time" to make it a success, because clinical commissioning groups "are not aware" of it, Mr Keen said.
 "Awful acronym"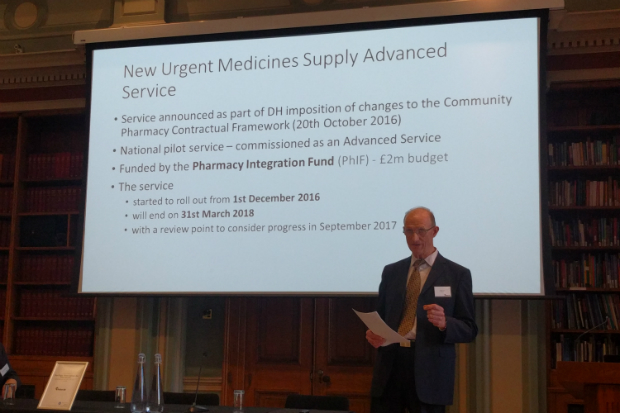 The LPC chief also used his session at the Policy UK event to criticise the government's Urgent Medicine Supply Advanced Service (NUMSAS) – which he said was an "awful acronym" for service that for the most part, pharmacy is already providing. The pilot scheme will see patients who call NHS 111 for urgent repeat medication directed straight to a community pharmacy, instead of an out-of-hours GP surgery.
"There is no consistency," he explained. "Despite plans to include the use of community pharmacies in delivering emergency care and to develop our role, [the government] cuts our funding."
"This is a contrarian approach by our masters in government," he said. "I was asked: are we ready for the role? Yes, we are ready – because we're already doing it.
"[NUMSAS] is totally underpaid, but at least it is there," he added. However, he stressed that "the system" is not ready for pharmacies to make the most of the scheme.
"Our government and chief pharmacist do not understand the added benefits that community pharmacy brings, or they are not interested," he added.
The best way to prove pharmacy's case to policy-makers is to "get MPs onside", Mr Keen said. He called on the audience to lobby their local MPs, especially during the general election period.