Contractor calls for MUR payment rethink after cap met early
The current model for medicines use reviews (MURs) remuneration does not encourage "quality and consistency", a Leicestershire contractor has said.
Satyan Kotecha, superintendent pharmacist of K&K Healthcare Limited, said his pharmacists "don't chase targets", but he would welcome a rethink on the way pharmacies are remunerated for MURs after two of his branches reached the 400 cap early.
"I would like to see a situation where my MUR remuneration relates to my prescription volume, so having a more realistic cap. Why is it a pharmacy that does 3,000 items [a month] has the same 'cap' as a pharmacy that does 10,000 items?" Mr Kotecha told C+D last week (June 6).
"Having a national MUR pot works, but this allocation should then be amended on a quarterly basis so if a pharmacy is not delivering its allocation, the extra MURs are put back in to the main pot, allowing those who are delivering theirs, to deliver more," he explained.
This should help make sure MURs are linked to "quality, delivery and consistency", rather than pharmacists having a "mad rush at the end of the year" to reach the MUR target, Mr Kotecha added.
"We have completed MURs in February and March as patients still want to talk to their pharmacist about their medicines, we just didn't claim for them", as the pharmacies had already reached the 400 cap, he said.
"No pharmacist would stop supporting patients just because the funding pot has been allocated. Pharmacy has always been about customer service, not chasing money."
Not replacing staff during cuts "big mistake"
Commenting on some pharmacies' attempts to offset the funding cuts in England by reducing staff, Mr Kotecha said reducing overheads "risks damaging customer service and team morale".
He had "a few vacancies" across his three pharmacies – two high-street and one online – as the funding cuts came into force in December, but he quickly realised that if he did not replace them, "customer service will go down, productivity will go down, and stress levels will rise".
"[It] would have been the biggest disaster because I very quickly realised that the [workload] was still increasing, the number of prescriptions were going up, we were dealing with stock shortages, ever-increasing administrative burden and meeting quality criteria. This meant we were busier than ever so I needed the staff," Mr Kotecha told C+D.
"We often talk about the GP workforce crisis; I am concerned that a similar situation could arise in community pharmacy in the future, if it isn't already here."
Mr Kotecha, who sits on two local pharmaceutical committees (LPC), is chair of West Midlands pharmacy local professional network (LPN) and has a role with NHS England, said he is "very fortunate" that pharmacy is not his sole source of income, but he has had to look very closely at his business to improve cashflow.
"I am spending a lot more time in my pharmacy with my staff to make sure they feel they have someone who gives a damn about the business and it is not just about profit and numbers," he said.
The positive side of the funding cuts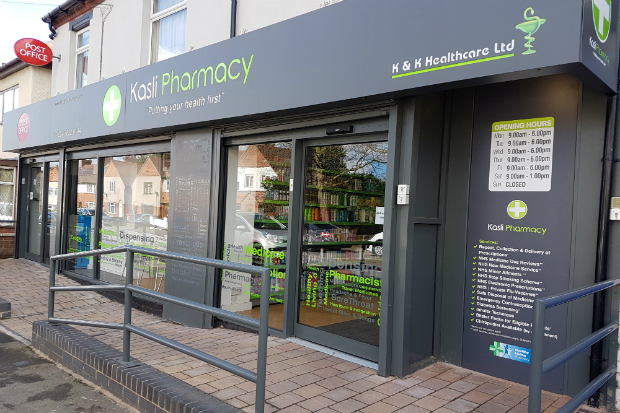 While the funding cuts have left some of his colleagues "distraught", Mr Kotecha said the one positive is "it has focused the whole team on efficiency".
"We have developed a very simple tool to make sure that we only provide monitored dosage systems (MDS), blister packs and deliveries to those patients who really need them.
"Staff members often come to me to suggest how things could be done better or more efficiently," he added.
"We also probably didn't promote our services – such as our private travel clinic – as much as we do now," he said.