Lloyds chief: Use technology to 'release the genius' of pharmacists
Technology should be seen as an "enabler" to help "release the genius" of pharmacists and pharmacy teams, the managing director of Lloydspharmacy's parent company has said.
Speaking at a Pharmacy Show session in Birmingham earlier this month (October 8), Celesio UK's Cormac Tobin said technology would "release the genius of our pharmacists", taking the pressure off and giving them the time to do more "clinical work".
"We are not responding in the [right] language to our patients' needs. We are responding in a language that's locked in the 20th century," he said.
There should also be "cross-sector collaboration" between GPs, NHS trusts, pharmacy bodies and pharmacists, he continued.
"Everybody needs to understand each other's needs and come up with a compromise so that patients' experiences can be transformed to being meaningful in the modern era."
Don't "circumvent independents"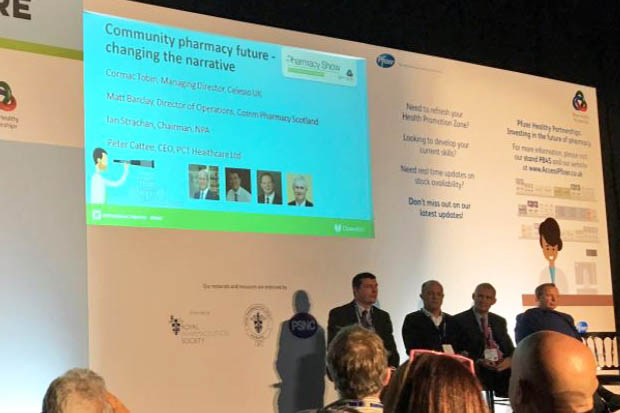 During the session Mr Tobin was joined on the panel by National Pharmacy Association (NPA) chair Ian Strachan (pictured above, far right).
Mr Strachan said that while technology "has a place" in the future of pharmacy, it is "naïve and irresponsible" to think that if technology becomes "centralised" it would not "circumvent the independent sector".
"[The chancellor] Philip Hammond has said [the government] wants less reliance on bricks-and-mortar [pharmacies and]... more reliance upon digitised centralised distribution," Mr Strachan said.
But this would be to the "detriment of all the qualities and abilities" of pharmacists, Mr Strachan argued, as "the most important thing" is "face-to-face contact with patients".
"I'm not against technology and we're not against innovation, but you've got to be careful," he stressed.
"For me it's about protecting the independent network. It's a balancing act. Not all digitisation is in the interests of the sector," he added.
Also on the panel was Peter Cattee, CEO of PCT Healthcare and chair of the Association of Independent Multiple Pharmacies (above, second from right). He said there would be an "inevitable move to technology" in community pharmacy, but he would like to see it implemented "from the bottom up rather than the top down".
"We've centralised a lot of processes over the years," Mr Cattee said. "The monitored dosage system is the obvious thing to centralise," but doing so with other pharmacy services would have to be managed "slowly".
Does pharmacy need one voice?
Moving onto the topic of representation, Mr Tobin said the sector needs to be "integrated" under "a single leadership body", as the number of groups speaking for community pharmacy made the future unclear.
However, Mr Cattee said: "I think it's perfectly legitimate that there are different interest groups where the lines divide in all sorts of ways."
"I've never really seen any great problem in bringing the voice of all of us together in one place, and the natural place for that for me was always the Pharmaceutical Services Negotiating Committee (PSNC)."
However "PSNC needs to find a way to re-engage with government" because "there's no real engagement with the profession whatsoever", he stressed.
Catch up on all the tweets from the Pharmacy Show with C+D's Storify.