60% of technicians in favour of supervising medicines supply
Sixty per cent of pharmacy technicians are in favour of supervising the sale and supply of medicines, a C+D survey has revealed.
Of 58 pharmacy technician respondents to a C+D survey – which ran from November 22-28 – 35 said they would be in favour of overseeing the sale and supply of pharmacy (P) and prescription-only medicines (POMs) "in principle".
Many of the pharmacy technician respondents to C+D's survey called for appropriate training and guidelines before taking on the additional responsibility (see below for more comments).
In contrast, just 15% of 243 pharmacist respondents said they would be in favour of allowing pharmacy technicians to have this added responsibility.
In September 2017, C+D exclusively published detailed proposals to allow a "registered pharmacy professional" – such as a pharmacy technician – to supervise the sale and supply of P medicines and POMs. These proposals had been submitted to a Department of Health (DH) programme board tasked with rebalancing medicines legislation.
The working group behind the proposals stressed that "consideration should be given to developing a national UK competency framework/training programme to upskill pharmacy technicians to take on these functions", according to the confidential documents seen by C+D.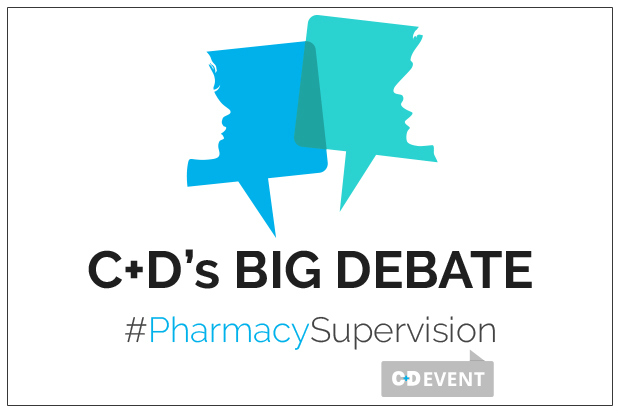 To understand where the sector stands on allowing pharmacy technicians to supervise pharmacies, C+D hosted a roundtable debate in November, bringing together leading industry figures to discuss the proposals. C+D invited readers to contribute to the debate by answering a short survey on pharmacy supervision in the lead-up to the event.
You can read C+D's highlights of the discussion here.
Pharmacy technicians respond
A pharmacy technician in favour of taking on this supervision role argued that "the training technicians have done qualifies them to do this". By allowing pharmacy technicians to take on more responsibility, "technicians could then take a lot of pressure off pharmacists, freeing them up for other services", another commented.
However, some pharmacy technicians expressed concern that they are not qualified to supervise medicines supply. One claimed they "do not feel adequately trained", while another said: "The amount of clinical knowledge required to make these decisions hasn't been covered in our training."
One pharmacy technician called for "relevant training and strict guidelines" to be produced before any changes to legislation on supervision, and another said "as long as there are clear protocols... and pharmacy technicians are clear about referral, then I am for this in principle".
Others complained that the profession is not paid enough for the responsibility. "We're already underpaid for the job we currently do, and [I'm] not sure the extra responsibility would be adequately remunerated," one pharmacy technician commented.
Pharmacist reservations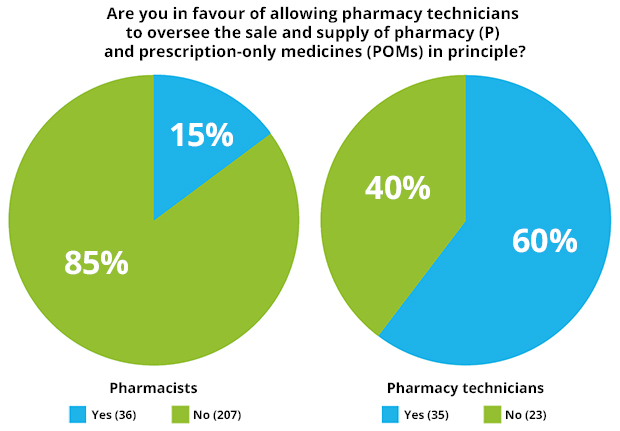 The C+D survey revealed that 85% of the 243 pharmacist respondents are not in favour of pharmacy technicians supervising supply, with several readers concerned that technicians do not have the clinical knowledge needed when supplying medicines. This could "compromise patient safety", one pharmacist claimed.
According to another pharmacist: "Medicines are becoming ever more complex, with more interactions. Pharmacy technicians don't have the training necessary to deal with the judgements needed." One said: "I have no problem in delegating supervision for technical roles as they are technicians, but have concerns about the delegation of clinical decision-making."
A pharmacist raised concerns that they could still be held accountable for any supervision errors made by pharmacy technicians, if they were the responsible pharmacist at the time. Another suggested allowing pharmacy technicians a greater supervision role would "de-value" the role of the pharmacist.
However, a pharmacist in support said it would be "perfectly acceptable" to allow pharmacy technicians to oversee medicines supply if they had "suitable training", as it would allow pharmacists to "focus on clinical work".
During C+D's debate on supervision in November, Association of Pharmacy Technicians UK president Tess Fenn said many pharmacy technicians feel "held back" in community pharmacy and are "ready to take on this additional responsibility" of supervising medicines supply.
Read what else Ms Fenn said, and C+D's other highlights from the debate, here. Alternatively, you can listen to the whole discussion in C+D's podcast below: