Independents 'trailing behind' competitors when delivering MURs
Independent pharmacies in England are "trailing behind" their competitors when it comes to delivering medicines use reviews (MURs), data analysts have concluded.
NHS Business Services Authority data shows that 87% of independent pharmacies were claiming for less than the annual maximum of 400 paid MURs in the 12 months to October 2017 (see image below), according to Carol Alexandre, director of information offerings at Iqvia – formally IMS Health.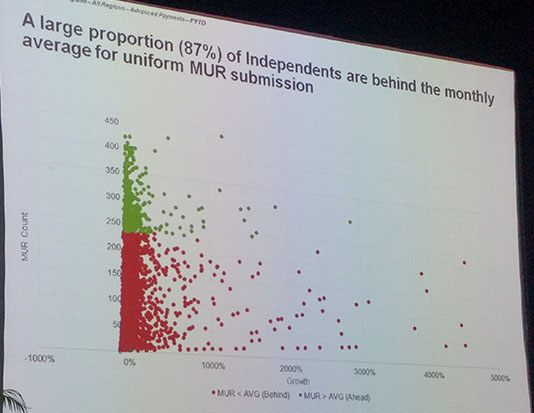 "Everyone else is doing much more in terms of MURs than independents," Ms Alexandre said at Sigma Pharmaceuticals' annual conference in Borneo on Monday (February 12).
She asked why, if independents are "increasing [their] market share across the country", they "are trailing behind the market rate of MURs?".
"I don't know the answer," she admitted. "I was quite surprised by that."
Plotting the potential number of MURs that independents could have delivered in this 12-month period – more than one million – against the actual number of MURs delivered – 483,000 – shows that "you are basically achieving half the potential of the MUR service", Ms Alexandre told delegates (see image below).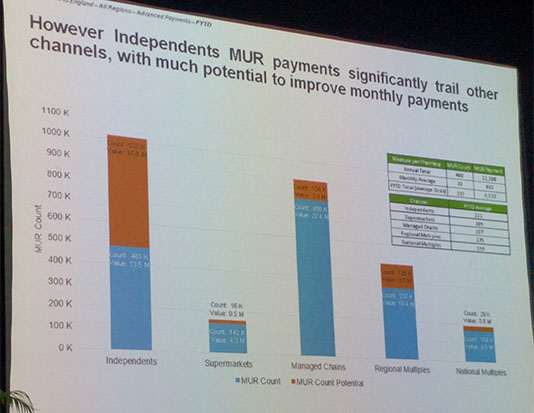 In comparison, "managed chains" – which comprise fewer pharmacies than independents – and which Ms Alexandre categorised as distinct from "national" and "regional multiples", delivered over 800,000 MURs during the same period, Ms Alexandre added.
NMS consultations another missed opportunity
According to the NHS data, "managed chains also performed more new medicine service" consultations than independents, Ms Alexandre said. And "just 55% of independents are offering the flu vaccination service", she added.
This NHS data shows there is "untapped potential" for independent pharmacies in England to deliver services, she concluded.