Targets push employees to conduct unnecessary services
Thirty-one per cent of respondents to the C+D Salary Survey 2015 say they carry out irrelevant services every day to make up numbers and a further 22 per cent do so once or twice a week
EXCLUSIVE
More than half of pharmacy employees regularly conduct services they consider clinically irrelevant simply to meet targets, the C+D Salary Survey 2015 has revealed.
Of the 1,178 employees who took the survey, 31 per cent said they carried out irrelevant services every day to make up numbers and a further 22 per cent said they did so once or twice a week.
The findings came against a backdrop of high pressure to meet service targets. Thirty-one per cent of employees say they are under so much pressure that it affects their quality of work, revealed the survey, which ran from September 29 to November 11. This represented little improvement on the impact of pressures reported by employees the previous year.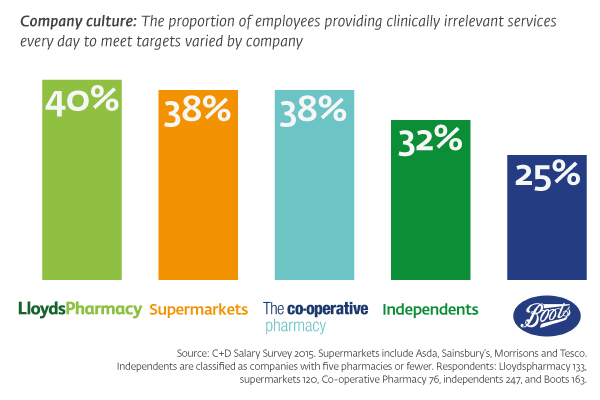 Multiple differences
Of the national multiples, the effect of target pressure appeared to be most prevalent at Lloydspharmacy - of its 133 employees responding to the survey, 40 per cent reported conducting clinically irrelevant services every day to meet targets. The figure was only slightly lower among Co-operative Pharmacy employees, 38 per cent of whom conducted this volume of services they deemed unnecessary.
Lloydspharmacy told C+D it conducted its own employee survey each year and sought to address any concerns raised. The Co-operative Pharmacy said pharmacy could be a "challenging profession" but that it aimed to ensure employees were aware of how to raise any concerns through its field management, HR and superintendent teams.
Boots was the national multiple with the lowest amount of pressure reported, with a quarter of its 164 employee respondents conducting unnecessary services every day - lower than for the supermarkets (38 per cent of 120 respondents) and independents (32 per cent of 247 employees). Boots UK director of pharmacy Peter Bainbridge told C+D that the company was pleased to see the steps it had made to reduce pressure on its pharmacists and simplify its processes were "having an effect". It would continue to focus on these issues in the future, he added.
Quantity over quality
Contractors said the overall results showed a disproportionate focus on service volume rather than quality. Martin Bennett, owner of Wicker Pharmacy in Sheffield, argued that targets should be "aspirational" and stressed that it "would seem wrong to just artificially [carry out MURs] in order to meet a number". "It's the wrong mentality. We should be talking [about] patients," he told C+D.
Ani Patel, owner of Savages Pharmacy in Essex, told C+D it was "wrong" to set targets for services. This led to pharmacists concentrating on "number crunching", whereas they were more likely to identify a need for services through conversations with patients, he said.
But Graham Phillips, owner of Manor Pharmacy Group (Wheathampstead) Ltd, said it was easy to "scapegoat" service targets when lack of resources was the real problem. "There's a myth going [around] that targets are inherently a bad or unprofessional thing. But if you look at healthcare, it's all about targets," he said.
Pharmacists' Defence Association director John Murphy told C+D he was concerned pharmacists carrying out irrelevant services could lead the profession into "disrepute". "Despite the good intention of MURs, we have a situation whereby they've been taken over by other commercial imperatives to get them done and get money in the till," he stressed.
Reckon your company is the Best Place to Work in Community Pharmacy? Make sure everyone knows it! Visit bestplacestoworkpharmacy.co.uk for a chance to be named in C+D's 2015 list of the sector's top employers.

How have service targets affected you?
We want to hear your views, but please express them in the spirit of a constructive, professional debate. For more information about what this means, please click here to see our community principles and information