This unique award is a chance to celebrate the individual stories of pharmacists and pharmacy staff going 'above and beyond' for their patients, their team, and for the sector.
C+D readers have until Monday, August 24 to view the nine shortlisted entries and vote for their favourite. The winner will be announced at the C+D Awards in London on December 14.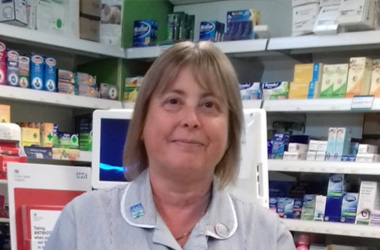 The pharmacy assistant who helped a young mother with a bleeding cyst
Beverley Wright went above and beyond when she helped a patient to identify a bleeding cyst that had been debilitating her for months.
When a pale, exhausted young mother with two young children broke into tears in the consultation room of Mill Pharmacy in Hadleigh, South Suffolk, pharmacy assistant Beverley leapt into action. 
The patient explained that she was exhausted and had been bleeding heavily on and off for months but hadn't had the time to go to the GP while juggling work and her children. Turning to the young children sharing a chair, Beverley said: "We'll get Mummy fixed."
Beverley gave each child a snack, and organised an emergency GP appointment.
The patient saw the doctor within the hour, who diagnosed her with a bleeding cyst on her ovaries. 
After hospital treatment she was able to return to work. The patient returned to the pharmacy to thank Beverley, saying: "Not only were you looking after me, but you were thinking of my children."