Mr Lawlor, 60, has asthma. Most of his life he smoked around 10 cigarettes a day, but gave up around five years ago and now his breathing has improved greatly.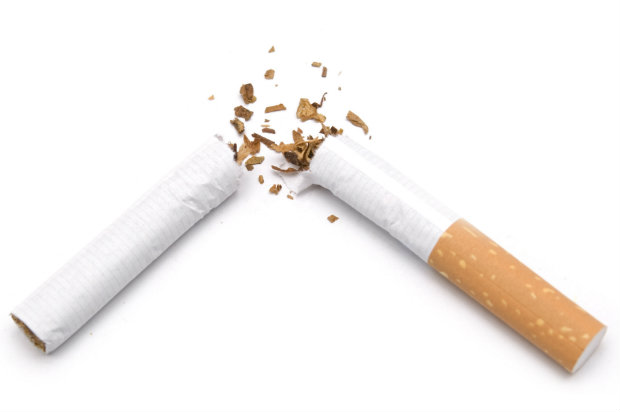 When you speak to him, he says he is in relatively good health and explains his asthma is under control and doesn't bother him.
Below is an excerpt from the MUR:
Medication and dose

Compliance

Comments

Seretide 250 Evohaler

Take two puffs, twice daily

Good

Poor inhaler technique

Salbutamol 100mcg inhaler 

Take two puffs, four times a day, when required

Patient uses daily and has ordered around 10 inhalers in the last year.

Poor inhaler technique and medication overuse – patient is using this inhaler even when he does not feel short of breath

Lisinopril 2.5mg

Take one daily

Good

No issues

Atorvastatin 40mg

Take one at night

Relatively good

Sometimes forgets to take his evening dose if he is "out and about"

Aspirin 75mg

Take one daily

Good

No issues

Fluticasone 150mcg nasal spray

Use two sprays daily

Not currently using

Prescribed medication is not being used. It was used briefly last year for allergic rhinitis.
On further questioning, you discover Mr Lawlor is taking a multivitamin which he buys over the counter.
Mr Lawlor attended his annual asthma review at his GP surgery recently. But when you ask him about it, he explains he doesn't really remember.
"I just told the doctor that I was doing fine and that my asthma never bothered me. The doctor seemed happy enough," he says.
When you ask Mr Lawlor about his salbutamol, he says that he uses it twice a day, before he uses his Seretide inhaler. He explains that this is what he was told to do when he first started using it – around 10 years ago.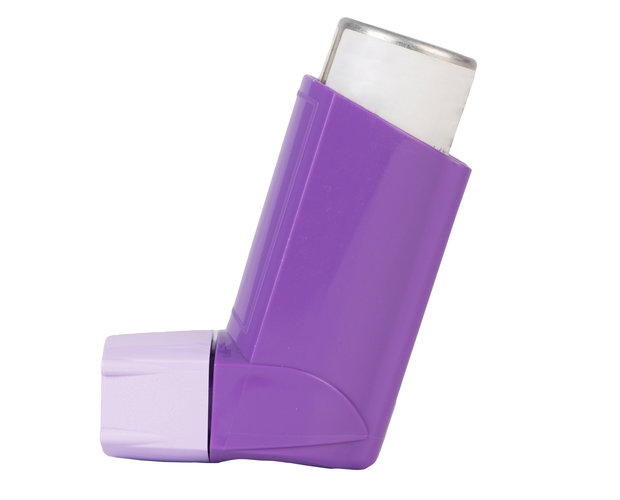 Looking at Mr Lawlor's records, you see that 18 months ago, when he had a chest infection, he was changed from a Qvar inhaler to Seretide 250. The initial dose was one puff twice a day, but it was increased to two puffs twice a day shortly after the infection and he has been on that higher dose ever since.
Main action points
Issue – Seretide – poor technique
Recommendation
Review technique – patient is taking a quick and sharp breath.
For consideration by:
Pharmacist – Explain good inhaler technique for this type of inhaler and demonstrate using a dummy device. You should emphasise the need to take breaths that are steady and deep.
If possible show him the Wessex inhaler technique website, which has demonstrations of many different types of inhalers.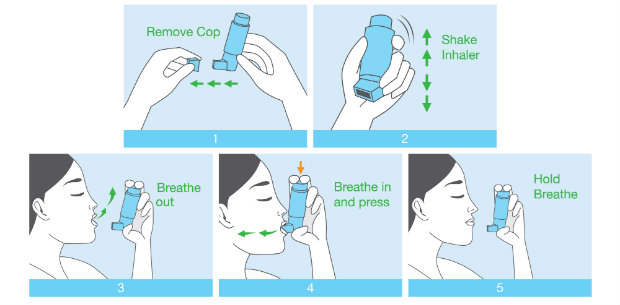 Patient – Consider the advice you have gave him and ask him to report any further difficulties
GP – Consider prescribing a spacer device to improve compliance and ensure the patient is getting maximum benefit from his inhaled medication.
Issue – Overusing salbutamol  
Recommendation 
Reviewing technique of the inhaler device as above. More importantly, if asthma is well-controlled, patients should not be using more than two puffs twice a week of salbutamol to control symptoms.
Each inhaler contains 200 doses, so this equates to only one inhaler over a 50-week period for those who have well controlled asthma – as Mr Lawlor says.
Due to Mr Lawlor's belief that he needs to use it regularly before using his steroid inhaler, he has been overusing this type of reliever inhaler.
For consideration by:
Pharmacist – advise Mr Lawlor that there is no need to use salbutamol before his steroid inhaler. Instead, he should only use it when feeling short of breath.
Explain to him that the directions to use his salbutamol inhaler before his steroid inhaler may have been done for various reasons, for example:
There is a risk of paradoxical bronchospasm – this is a type of constriction of the airways in response to an inhaled corticosteroid. This effect is usually avoided by using a reliever inhaler prior to initiating a steroid inhaler.
Alternatively, Mr Lawlor's chest infection may have meant he had bronchoconstriction – leading to a difficulty breathing in. The initial recommendation to use the salbutamol reliever inhaler before the steroid may have been an attempt to help open the airways, allowing the Seretide to have an effect.
Explain to Mr Lawlor that when taking high doses of the salbutamol inhaler there is a risk of side effects, such as:
anxiety
dizziness
headache
rapid or irregular heartbeat. 
GP – review over-ordering of salbutamol
Issue – British Thoracic Society (BTS) guidelines 2016
Recommendation 
Patient is currently on the third step of diagnosed asthma treatment, according to BTS guidelines. He reports his asthma is well-controlled and that he does not have any exacerbations of his symptoms.
For consideration by:
GP – According to BTS guidelines this patient would be eligible to step down his treatment, as it is good practice to use the minimal effective dose of inhaled corticosteroid to manage asthma. High doses of inhaled corticosteroids in those whose asthma is under control has been shown to provide no additional benefit, but increased likelihood of side effects, for example:
adrenal suppression
growth retardation
decrease in bone mineral density – potentially contributing to osteoporosis
cataracts
glaucoma.
Mr Lawlor is currently on a total daily dose of 1000mcg and therefore stepping down to a lower dose should be considered.
Issue – Fluticasone nasal spray
Recommendation
Patient not using this prescribed medication so it should be removed from repeat list. 
For consideration by: 
Patient – Return any unused medicine for the pharmacy for disposal
Pharmacist – Explain that Mr Lawlor should try to avoid reordering items he does not use.
GP – Remove the nasal spray from the repeat list if the patient no longer requires it, as it was used briefly last year for allergic rhinitis.
Items no longer needed should be removed in a timely manner to ensure patient does not order accidentally, or build up a supply of stock.
Issue – Missed atorvastatin
Recommendation
Change the dose to the morning, alongside other medications
For consideration by: 
Patient – Mr Lawlor takes his atorvastatin before bed as prescribed. Previously he was prescribed simvastatin, which should be taken at night. However, when he was prescribed atorvastatin, his prescriber continued on the same dosing schedule of "take one at night". The patient can take it in the morning with his other medication.
GP –  Atorvastatin does not require night-time dosing, as it has a longer half-life than simvastatin. Atorvastatin is licensed for daily dosing. Advise him to change the prescription to help prevent any confusion.
Lifestyle advice for Mr Lawlor
As Mr Lawlor has asthma, there are several pieces of advice you can give him to help prevent his symptoms from exacerbating:
Attending regular asthma reviews is important to ensure treatment is adequate and asthma is well controlled. You can make a note in the work diary, or on the computer, to contact Mr Lawlor in six months for his next review.

Vaccinations – asthma patients are advised to have an annual flu jab to prevent complications. If Mr Lawlor has not already had one, it is an opportunity to recommend the pharmacy flu service.

Diet – patients may find certain food triggers their symptoms. Common triggers include cow's milk, eggs, fish and nuts. Reinforcing the need to avoid triggers can help prevent Mr Lawlor suffering from exacerbations.

Exercise – regular exercise improves lung function in asthmatic patients. It also increases stamina and means Mr Lawlor will get fewer instances of breathlessness.

In addition, exercise boosts the immune system, therefore reducing the impact of coughs and colds – which can trigger asthma symptoms and worsen his condition.

Explain to Mr Lawlor that it is important for him to use his reliever inhaler before, during and after exercise – and to keep it with him at all times.
Follow up
You are aware that Mr Lawlor may have to make some changes to his medication, and so you could suggest a follow-up MUR to ensure he is coping. In addition, you could put a note on his records to check his inhaler technique next time he is dispensed an inhaler.