Mrs Hill, 57, has recently been diagnosed with hypertension. As she collects her regular medication, she asks to speak to the pharmacist about a side effect she is experiencing.
You take this as an opportunity to review Mrs Hill's recent diagnosis and find out how she is coping. Below is an excerpt from her patient medication record.
| | | | |
| --- | --- | --- | --- |
| Drug | Dose | Indication | Compliance |
| Amlodipine 10mg | Take one daily | Hypertension | Good |
| Candesartan 8mg | Take one daily | Hypertension | Good |
| Simvastatin 20mg | Take one at night | Cholesterol | Good |
| Sirdupla 25/250mcg | Take one puff twice daily | Asthma | Poor |
| Salbutamol 100mg | Inhale two puffs four times a day when required | Asthma | Overusing |
From the patient's records you can see she used 15 salbutamol inhalers in the last 12 months and has been prescribed four steroid inhalers in the same period.
The patient was using Seretide until four months ago, when she was changed to Sirdupla. Mrs Hill explains that she is "a bit confused" about why she had to change her inhaler, as she was "getting on fine before".
She was diagnosed six months ago with stage two hypertension – often referred to as severe high blood pressure. This is generally characterised by a systolic blood pressure value of greater than 159mmHg, or a diastolic blood pressure value of 99mmHg.
Mrs Hill was initiated on 5mg amlodipine, which was then increased to 10mg. Candesartan 8mg was consequently added to further improve her blood pressure.
The patient asks to have her blood pressure (BP) taken, and you find an average BP of 154/98. The patient's serum cholesterol is 6.0mmol/L, and you calculate her BMI to be 27.4kg/m2. After speaking to Mrs Hill, you find out she is currently smoking 19 cigarettes a day and drinks four units of alcohol most days.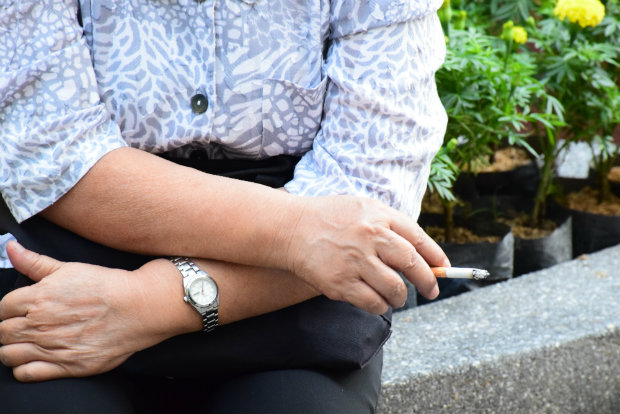 Mrs Hill says she has a busy and stressful job as a manager at a local restaurant. She has noticed some swelling in her legs, which began when she increased the dose of amlodipine.
Below is an excerpt from your medicines use review with Mrs Hill:
Issue
Peripheral oedema
Recommendation
Advise Mrs Hill to speak to her GP urgently about leg swelling. This could be a symptom of another underlying problem, or that her medication is not appropriate.
For action by:
GP: Investigate the cause of oedema and rule out any underlying condition, such as heart failure.
Consider whether amlodipine dose should be reduced or stopped. Ankle swelling and oedema are commonly reported side effects of amlodipine.
Consider the addition of a thiazide-like diuretic – such as bendroflumethiazide – to reduce oedema and leg swelling.
Issue
Poor compliance with steroid inhaler.
Recommendation
Clarify the reason for the change of inhaler to the patient.
For action by:
Pharmacist: Explain to Mrs Hill that Sirdupla is the same as Seretide, but is a new branded generic available which is more cost effective to the NHS.
Discuss patient inhaler technique.
Patient: Ask Mrs Hill to bring in her inhaler the next time she is in, so she can show you how she uses her Sirdupla inhaler, and demonstrate how it works (if necessary). Explain to her that it works in the same way as her previous Seretide inhaler.
Issue
Mrs Hill's blood pressure is still high.
Recommendation
Ensure Mrs Hill is compliant with current therapy and whether the dosage is suitable.
For action by:
Patient: Ensure patient is compliant first. If she is, discuss lifestyle advice.
GP: Consider stepping up hypertension treatment or adding a thiazide-like diuretic.
Issue
The patient is overusing their reliever inhaler.
Recommendation
A patient using 15 or more reliever inhalers per year is likely to have poorly controlled asthma.
For action by:
Patient: advise patient of the difference between reliever and preventer inhalers and ensure patient is using them appropriately.
Pharmacist: Ensure patient is using their inhaler appropriately.
GP: if asthma is still uncontrolled when a patient is compliant with therapy, consider stepping up therapy to step four of British thoracic society's guidelines.
Issue
Lifestyle advice
Recommendation
Encourage patient to consider current lifestyle advice – including losing weight and stopping smoking – to reduce cardiovascular risk score.
For action by:
Patient and pharmacist:
You should recommend Mrs Hill tries to lose weight, and direct her to current sources of healthy eating advice.
Encourage Mrs Hill to improve her exercise regime. Explain that it is currently recommended to partake in 30 minutes of moderate intensity exercise five times per week. This can be easily achieved by making small changes, for example walking to work or joining a local walking group.
Reduce caffeine intake, as this increases blood pressure.
Advise her to sign up to a local stop smoking scheme, either in the pharmacy or through her GP. Explain that these have been proven to be much more effective than attempting to quit alone. Read the CPD module Supporting smokers to quit to find out more.
Consider reducing alcohol intake. This will contribute to reducing blood pressure and has wider health benefits. Explain that i

n order to keep health risks from alcohol at a low level, no more than 14 units should be drunk over the course of a week – spread evenly over three or more days – and advise that she has several alcohol-free days each week.
Relaxation therapies can help to reduce blood pressure, and Mrs Hill may wish to consider this option alongside her current treatment regimen.
After the MUR you agree with Mrs Hill to see her next week to discuss the use of her inhalers. You also make a note in the patient medication record to follow up on the outcome of her leg oedema.