Demonstrating inhaler technique is an important part of many consultations, such as medicines use reviews, the new medicine service and the chronic medication service.
In C+D's video below, Philip Crilly, pharmacy teaching fellow at Kingston University, demonstrates how to use the HandiHaler device and discusses the content of the demonstration pack.
10 steps for using the HandiHaler
Open the cap
Pull back the mouthpiece
Peel back the foil on the capsule pack to the 'stop' point, remove the capsule and place it in the device chamber
Pull the mouthpiece back until it clicks
Hold the device upright and push the green button on the side – it is important the device is not toppled or shaken as the drug may be lost
Breath out gently (away from the inhaler)
Place the mouthpiece between the teeth and close the lips to create a seal
Breath in slowly and deeply for as long as comfortable (the capsule will rotate in the chamber and make a whistling noise)
Hold the breath for as long as possible, before exhaling. [ADDITION: Then repeat steps 6 through to 9, in order to empty the capsule completely].
Repeat step two, and dispose of the capsule.
Cleaning the HandiHaler
Although the device is often given out on prescription alongside the capsule in a combination pack, patients may subsequently be prescribed the capsule-only pack. It is therefore important that you explain to them how to clean their device – as this should be done at least once a month.
When washing the device, you should advise patients to open the dust cap and mouthpiece, then open the base by lifting the piercing button.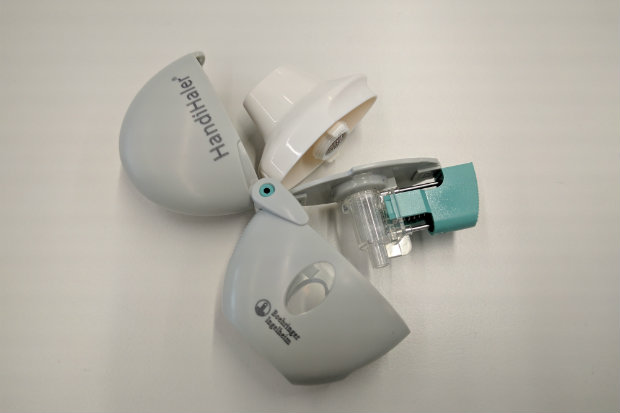 Rinse the complete inhaler with warm water to remove any powder.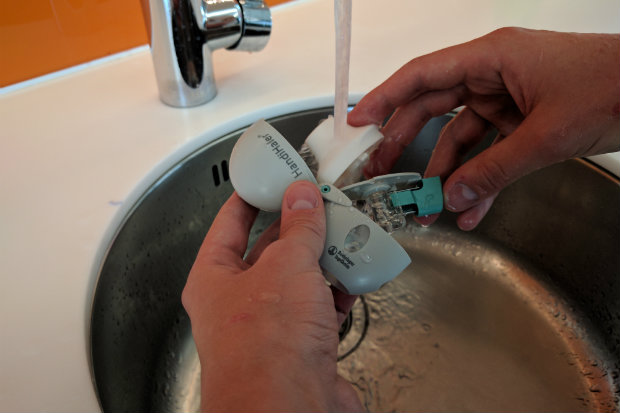 Patients should dry the HandiHaler thoroughly before using it. They can do this by tipping excess of water out on a paper towel and air-dry afterward, leaving the dust cap, mouthpiece and base open.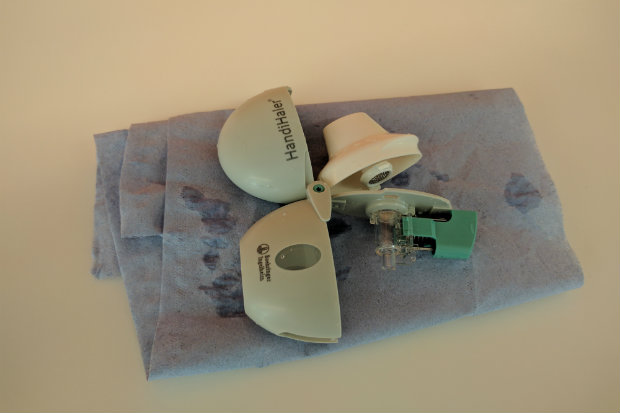 The device takes 24 hours to air dry, so clean it right after use and it will be ready for the patient's next dose. In addition, the outside of the mouthpiece may be cleaned with a moist – but not wet – tissue.
For more information: