In this CPD module you will learn about:
The main causes of acute pain and fever in patients presenting to the pharmacy
The key questions to ask patients with pain or fever to help determine what advice to give
Self-help advice you can offer, including the use of antipyretics and analgesics
Tolerability and efficacy of the two of the most widely used drugs – ibuprofen and paracetamol
Download a printable PDF of this module – including the five-minute test – here.
RB has paid for this piece and has been involved in its creation and editing.
The consultation 
For patients who present in the pharmacy with symptoms of pain or fever, WWHAM questioning helps to identify symptoms, which will inform advice on treatment options.(1)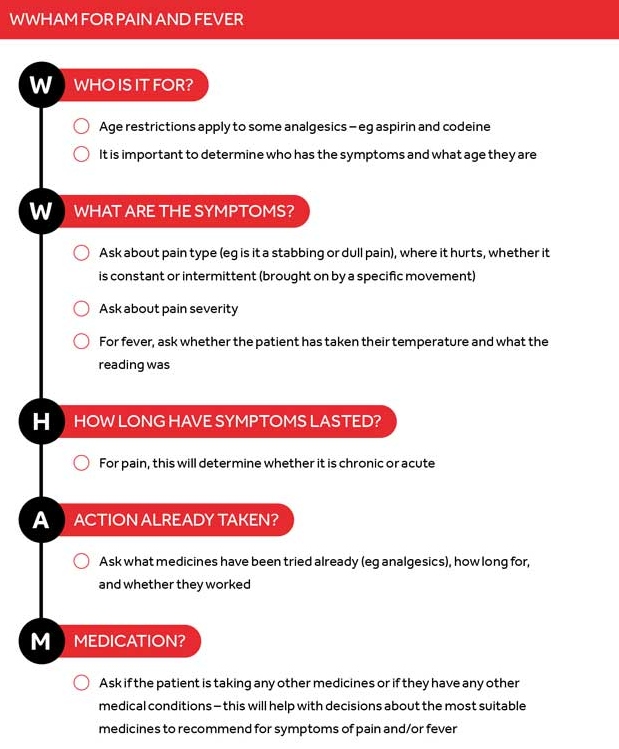 Refer patients who present with red flag symptoms
Main causes of acute pain and fever in adults and children
Pain can be caused by a wide range of conditions, from injuries (eg cuts, sprains, fractures) to disease such as cancer, arthritis and nerve damage (eg neuropathic pain).(1) Common reasons for patients to ask their pharmacist for advice about relief for acute pain symptoms include headache, toothache and backache. Adults may be more likely to present with headache or backache, for example, and children may more frequently need treatment for fever or teething pain.
Generally, infants and children with a body temperature of 38°C or higher are considered to have a fever. However, the National Institute for health and Care Excellence (NICE) recognises that fever is often hard to define because normal body temperature varies from person to person, depends on where on the body temperature is measured and time of day (body temperature is usually lowest in the morning and highest in the early evening). NICE defines fever as: "an elevation of body temperature above the normal daily variation." NICE advises that if a parent says their child has a fever it should be accepted as an indication that a child does in fact have a fever.(2)
Fever in children often results from a bacterial or viral infection, such as coughs and colds, ear infections, chickenpox and whooping cough – it is the body's natural response. In adults, common causes of fever include flu, tonsilitis and kidney or urinary tract infection.(3,4)
A patient with a fever may complain of being warm, cold or shivery. Their skin may be red and they could be sweating. Patients may also complain of headache, muscle aches, loss of appetite, irritability, dehydration and general weakness.(5)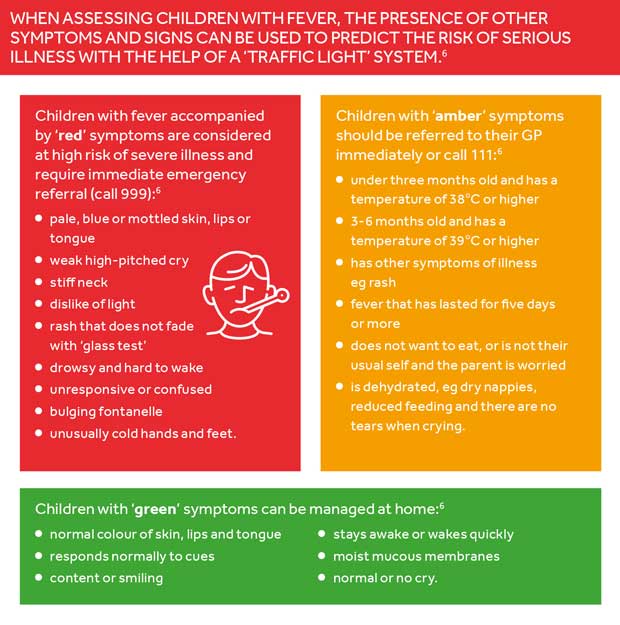 COVID-19 symptoms
High temperature may be a symptom of COVID-19 infection, along with new continuous cough or a change to, or loss of, sense of smell and/or taste. Patients who think they may have COVID-19 symptoms should self-isolate and get a test. They should not mix with others until they have received a negative test result (except when living with someone who has symptoms or has tested positive) or have self-isolated for 10 days and any symptoms have cleared.(7)
Patients with high temperature should rest, drink plenty of fluids and take paracetamol or ibuprofen if they feel uncomfortable.(3) However, taking antipyretics routinely for fever in acute respiratory infections and COVID-19 is not supported by current evidence.(8)
Patients should be reminded not to delay seeking treatment during the COVID-19 pandemic as symptoms may worsen and they may be at risk of more severe illness.
Treatment
Children
Children with elevated temperature who are otherwise well can usually be managed at home. Underlying causes are generally benign and fever can help combat infection.(6,9) They should be given regular fluids such as cool water to prevent dehydration. Parents should be advised not to sponge children with cool water to try to reduce their temperature, and told to dress children appropriately for their surroundings (ie not underdressed or overwrapped) and to open a window if a room is too warm, for example.(10)
Treatment with an antipyretic such as paracetamol or ibuprofen is usually only necessary if a child is uncomfortable or distressed by fever. Either drug can be recommended depending on comorbidities, drug cautions or contraindications and parental preference.
When using paracetamol or ibuprofen in children with fever, it is important not to give both drugs simultaneously. If one does not work, the other can be tried, taking into consideration comorbidities and drug factors.(11,12) Confident parents can also try alternating between the two at appropriate dosage intervals and being careful not exceed the maximum daily dosage of each drug.(11)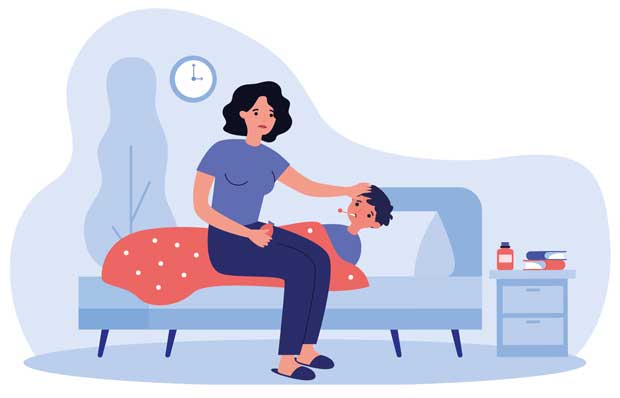 Paracetamol can be given in up to four divided doses a day and ibuprofen up to three times a day to children up to the age of 12 years (see the summary of product characteristics for individual medicines for details of maximum daily dosages).(13,14) A treatment diary can be useful to check that the correct dosages and time intervals are used.(11)
Adults
Adults with fever should avoid dehydration by drinking fluids regularly (up to two litres a day) and not consume alcohol. Antipyretics can be used to help patients feel more comfortable.(5) Paracetamol should be used with caution in adults with severe renal or hepatic impairment.(15) Ibuprofen should not be given to patients: who have previously shown hypersensitivity reactions (such as asthma, rhinitis, angioedema or urticaria) in response to aspirin or other non-steroidal anti-inflammatory (NSAID) drugs; with an active or history of recurrent peptic ulcer/haemorrhage (two or more distinct episodes of proven ulceration or bleeding); with a history of gastrointestinal bleeding or perforation, related to previous NSAID therapy; or those with severe heart failure (NYHA Class IV), renal failure, or hepatic failure.(16)
Aspirin should not usually be given to children under the age of 16 years because of the risk of Reyes syndrome.(17)
Acute mild-to-moderate pain can be treated in a stepwise fashion beginning with ibuprofen or paracetamol, switching between the two if there is no effect from a full therapeutic dosage. For patients over 16 years of age, if ibuprofen cannot be used, then a weak opioid such as codeine can be recommended. Should ibuprofen or paracetamol alone not relieve pain, a combination of paracetamol with ibuprofen or codeine can be tried. If the combination of ibuprofen and paracetamol at full dosage does not work, the ibuprofen can be substituted with an alternative NSAID. The final step is to add a weak opioid to paracetamol and/or NSAID.(11)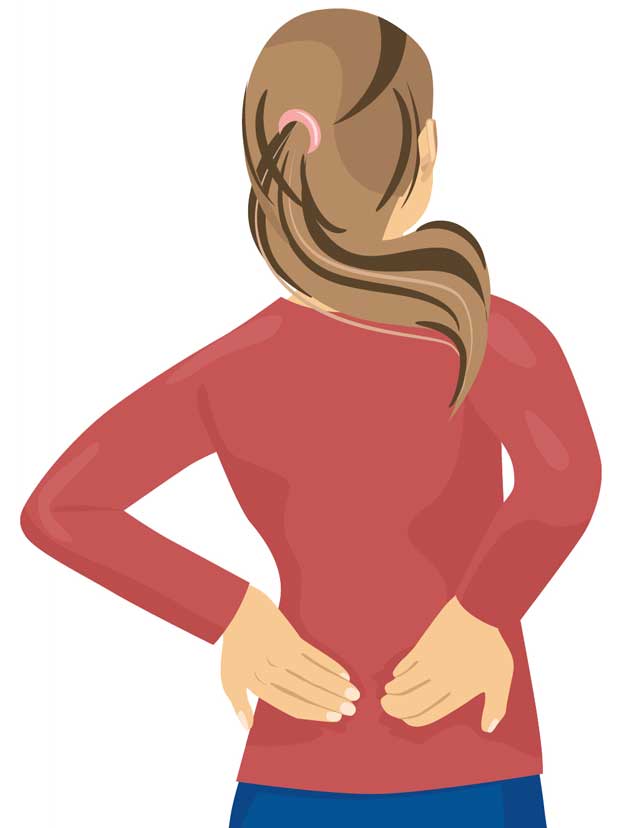 Cautions with analgesic use
It is important to identify and treat the cause of pain if possible.(18) Analgesics should be taken for the shortest length of time possible in the lowest dose that controls pain. This will help reduce the risk of side effects.(19) Speed of absorption of single over-the-counter (OTC) doses of analgesics (including aspirin, diclofenac, ibuprofen and paracetamol) has been found to be slowed by food, which is likely to reduce their effectiveness in acute pain. Some patients may therefore find it is preferable to take analgesics before food in the short term.(20)
Codeine should not be given to children under 12 years because of its association with respiratory side effects. The drug should not be used by patients who are ultra-rapid metabolisers or women who are breastfeeding. Use in children under 18 years who have had their tonsils or adenoids removed to treat obstructive sleep apnoea is contraindicated. Acute ulcerative colitis and antibiotic-associated colitis are also contraindications.(21,22)
It is important that patients do not take other medicines containing codeine at the same time and are warned about the risk of addiction, especially when used long term.(22) Children should leave an interval of at least six hours between doses.(23)
The most common side effects associated with codeine are nausea, vomiting, constipation, dry mouth, dizziness, drowsiness, euphoria, hallucination, sweating and headache.(21,24)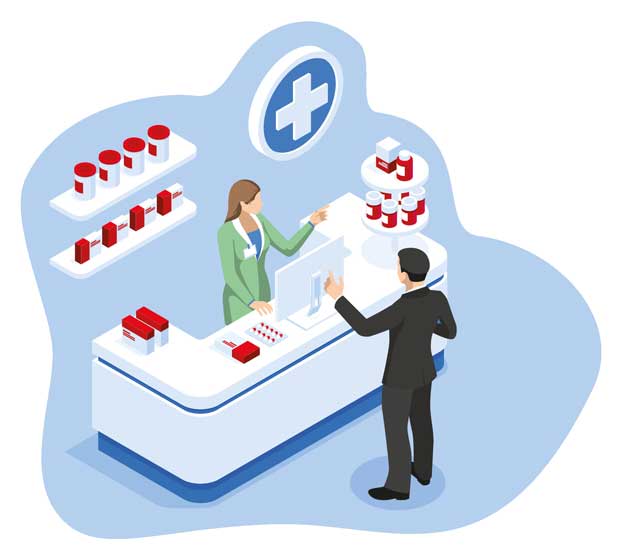 Efficacy and tolerability
An analysis of 85 studies comparing ibuprofen and paracetamol concluded that generally ibuprofen was more effective than paracetamol to treat pain as measured two hours after taking a dose in adults and children, and to treat fever in children four hours post-dose. The two drugs had similar levels of associated side effects.(25)
Trials and meta-analyses show that ibuprofen is generally as well tolerated as paracetamol with similar levels of side effects, and that the drug is at least as effective as paracetamol in the treatment of acute pain and fever.
A randomised single-blind study comparing ibuprofen, paracetamol and aspirin at OTC level doses for common pain symptoms found no significant difference in the level of gastrointestinal side effects between paracetamol and ibuprofen. The most common side effects were abdominal pain, dyspepsia, nausea and diarrhoea.(26)
A Cochrane review looked at 21 different OTC analgesic drugs, doses and formulations used in a single dose for moderate acute postoperative pain (usually following molar extraction) in adults (aged 15 years and older). It found that combinations of ibuprofen and paracetamol were the most effective – working in 70% of patients.(20)
The reviews suggest, in terms of side effects, there was very little difference between single doses of analgesics and placebo in the percentage of study participants reporting at least one side effect. Exceptions were ibuprofen 200mg plus caffeine 100mg and aspirin 1000mg.(20)
The meta analysis suggests, in terms of wheezing and asthma associated with ibuprofen or paracetamol, an analysis of five randomised controlled trials involving 85,095 children aged 12 years or younger found no difference in the odds of children developing asthma or presenting with an exacerbation of asthma between those taking ibuprofen and those taking paracetamol. However, it concludes high quality trials with clear definition of asthma outcomes after receiving ibuprofen or paracetamol at varying doses with longer follow up are warranted for any conclusive findings.(27)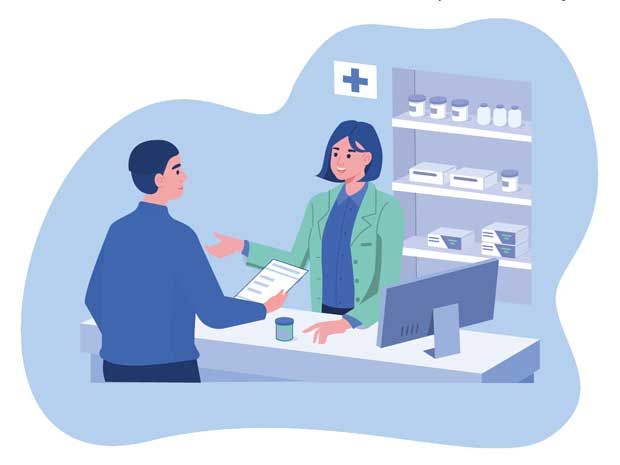 Summary
Community pharmacists are well placed to advise patients about the acute symptomatic management of fever or pain.
Fever is a natural response to infection and requires medical treatment only when it is causing discomfort or distress. Otherwise, self-care measures to remain hydrated and neither too hot or too cold, wearing appropriate clothing and ventilating rooms as necessary, are all that is needed. Warning signs, such as any red flag symptoms in adults or those indicated by the NICE green, amber and red warning system for children, will help to determine when patients should be referred for medical attention.
Acute pain caused by headache, toothache or backache, for example, can be controlled in the short term with analgesics while the cause of the problem is detected and addressed. Pharmacists are well placed to advise on choice of analgesic, dosing, when to avoid medication and when to seek medical attention.
Pain management CPD – planned learning
What are you planning to learn?
I would like to improve my knowledge of the advice and treatment I can offer patients with acute pain or fever. I am aware that ibuprofen and paracetamol are frequently recommended for these conditions and I want to ensure I understand when they are most appropriate, who they can be given to and what sort of side effects may be associated with their use.
How are you planning to learn it?
I plan to refresh my knowledge of the appropriate use of analgesics such as ibuprofen for patients with acute pain or fever, who they can safely be recommended for and what sort of side effects may be associated with their use. I will do this by reading the relevant entries in the British National Formulary, looking at Clinical Knowledge Summaries and the National Institute for health and Care Excellence guidance and reading information on websites such as patient.info and details of dosing, etc, in the summary of product characteristics documents on the Electronic Medicines Compendium website.
Additionally, I will test my knowledge by completing the five minute test at www.chemistanddruggist.co.uk/updateplus to confirm what I have learned.
Give an example of how this learning has benefited the people using your services
Mrs Robertson, a regular customer, came into the pharmacy for advice because she was worried about her six-year-old daughter who was off school after developing a fever that started last night – she was otherwise well. Mrs Robertson had given her daughter paracetamol but that did not seem to have helped. She explained that her daughter's temperature was higher than normal, although she did not know exactly how high it was because she did not have a thermometer at home. She had tried sponging her daughter with tepid water, but there had been no improvements. When the child complained of shivers, she wrapped her in a thick blanket.
I was able to explain that a fever is a natural response to an infection and that it may not be necessary to give regular antipyretics unless the child was distressed. However, she could try ibuprofen if the paracetamol did not seem to be effective. I also told Mrs Robertson that sponging with tepid water is not advised and the child should be dressed appropriately for the room she was in and not over-wrapped in blankets, for example.
References
RB-M-34212 | Date of revision: May 2021