Responsible Pharmacist regulations and the new professional body were overshadowed by one issue at last month's RPSGB Branch Representatives meeting. Chris Chapman and James Clegg report.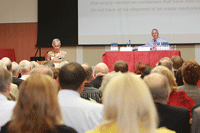 It was no secret which topic was the spectre at the feast at last month's RPSGB branch representatives meeting; the Elizabeth Lee case dominated proceedings, from a mention in the first motion to the closing comments.
Glasgow and West of Scotland's motion urging the Society to act on the criminal prosecution of dispensing errors brought the matter to a head and garnered wide support. Branch member Gordon Dykes reiterated warnings that criminalising dispensing errors would drive mistakes underground. The threat of prosecution was an "unnecessary and disproportionate use of stick rather than carrot", he said.
But the pervasive undercurrent was probably best highlighted by an impromptu move by Penfro branch's David Thomas to congratulate Society registrar Jeremy Holmes on his decision to allow Mrs Lee to leave the register rather than face a statutory committee hearing.
Yet while the criminal prosecution of dispensing errors loomed in the background, other issues rose to the fore. Slough and District proposed an end to the promotion of homeopathy in pharmacies. Dr Angela Alexander slammed the current situation as "ludicrous", stating firmly that "homeopathy has no rational basis".
However, opposition to the motion, from members including Leicestershire and Rutland's Carol Lange, who argued the profession should retain an open mind, saw it fail in the only defeat of the day.
Demand for staffing safeguards
Branches also called for steps to be taken to make sure that pharmacies are properly staffed to ensure patient safety.
Northamptonshire branch requested the Society lobby the government for funding so that a second pharmacist is always present in the absence of the responsible pharmacist. Harrow and Hillingdon branch called on the Society and the new regulatory body to give guidance on the minimum number of staff needed in a pharmacy for safety reasons. Both motions were passed, the second with an amendment.
Francesca Ovendon said of the Northamptonshire branch motion: "We applaud the fact that pharmacists are part of the wider healthcare team but don't feel leaving the pharmacy without a pharmacist is the way to go."
Shilpa Gohil, secretary of Harrow and Hillingdon, said: "It's difficult to believe when stress has been discussed recently that staff levels are never mentioned.
"It would be refreshing to read an article in Which? or the Daily Mail saying pharmacists work hard so let's look at why they cannot deliver the service."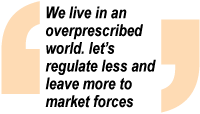 Economic factors were also mentioned in both cases. Shaheen Bhatti, another Harrow and Hillingdon representative, said: "Unemployment is high and pharmacy is no exception, but requests for pharmacy assistants are turned down due to budgetary constraints."
Ms Ovenden, of Northamptonshire, said that funding for fill-in pharmacists could utilise the semi-retired and those with children for short periods, thus making better use of the pharmacy workforce.
Although both motions were passed, the one on staff numbers met some opposition. Gordon Dykes of Glasgow and West of Scotland branch said: "We live in an overprescribed world. Let's regulate less and leave more to market forces."
The leadership body
Society registrar Jeremy Holmes took the meeting as an opportunity to warn that the professional leadership body "must have the great majority" of pharmacists in membership for it to be an effective force. He said: "If not enough join, [the leadership body] won't have the voice for pharmacy and be able to provide services."
His comments were supported by president Steve Churton, who said it was "absolutely essential" that every pharmacist play a role in the professional leadership body.
Mr Churton said: "I cannot be clearer – without your support, and those of your colleagues up and down the country, we will simply not succeed in delivering what we all need."
Mr Churton also told branch representatives that membership take-up of the new professional body could depend on whether multiples continue to reimburse the Society membership fee.
"To a large extent it depends on large employers continuing to reimburse members' fees. As you would expect, we are talking to these people but nothing has been set yet," he added. However, he denied that employers would have undue influence on the new body, saying that it would be "purely for advancing members and their interests".
What the RPSGB branches called for
South CheshireAll generic brands of the same product should be similar in appearance.Carried
Slough and District Registration as a homeopath and a pharmacist are not compatible and premises should not promote homeopathy.Failed
Empty medicine containers that have held liquids should not have to be disposed of as waste medicines.Carried
BPSA
All pharmacists to go through child protection training by 2012.Carried
Financial and logistical support for pharmacists and students to practise across the globe.Carried
Northamptonshire
Government to provide funding for a second pharmacist to cover absences of the responsible pharmacist.
Carried
Reading and District
The Society should improve its CPD website.
Carried
Leeds and District
More funding for local branches to hold meetings with PCTs and other related groups.
Carried
Harrow and Hillingdon
Pharmacists should only pay a nominal charge for day conferences held at the Society.
Carried
Guidance on the minimum number of staff and skill mix required in a pharmacy for safe working conditions.
Carried
Brighton and District
More sympathetic letters from the Society for pharmacists forced to retire due to ill health.
Carried
Dispensation from Responsible Pharmacist legislation for hospital pharmacies.Carried
Glasgow and West of Scotland
The Society should seek a solution to the criminalisation of pharmacists who make dispensing errors.
Carried
Guidance for pharmacists in the provision of physician-assisted suicide if it becomes legal.
Carried