Your pharmacy is your pension and a few simple tips can save you tens of thousands of pounds when you sell. Anne Hutchings explains the difference between share sales and asset sales and how to maximise your tax relief.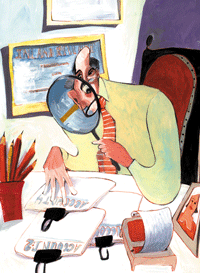 Surprisingly, tax is often forgotten when pharmacists decide to sell their businesses. The main question is "how much can I get for my pharmacy?" rather than "how much will I have left after tax"?
Approximately 60 per cent of the pharmacy sales that we handle relate to pharmacies owned by a limited company. In this situation, a decision has to be made by the company owners about whether to retain the company and just sell the assets such as the goodwill, fixtures and fittings and stock or whether to sell the whole company via a company share sale.
If you don't structure this carefully in the right way, you could end up being taxed twice, as demonstrated in case study 1.
Case study 1
Mr Jonas of Jonas Chemist Ltd agreed to sell the goodwill in his pharmacy for £500,000. The pharmacy was started from scratch many years ago and therefore had no acquisition cost.
The options
Either sell the shares in the company or sell the assets and keep the company. In this case study, to keep it simple, costs etc relating to the sale have been ignored. 
Share sale
Mr Jonas sells the shares and makes a gain of £500,000. He qualifies for Entrepreneurs' Relief, resulting in a tax bill of only 10 per cent amounting to £50,000. This leaves Mr Jonas with £450,000 in his pocket.
Asset sale
The company Jonas Chemist Ltd sells the goodwill for £500,000. The gain of £500,000 will be taxed at corporation tax rates along with the trading profits, which were £50,000 for the period. The gain on the sale of the goodwill would be taxed as follows:
The first £300k is taxed at 21 per cent therefore after deducting the £50k trading profit the gain on the goodwill will be taxed at:
£250,000 at 21 per cent Tax £52,500
£250,000 at 29.75 per cent Tax £74,375
Total Tax £126,875
After deducting this tax from the goodwill value of £500,000, this would leave £373,125 in the company. If Mr Jonas wants to take the money out of the company for his own use he will have additional tax to pay of least 10 per cent amounting to £37,312 (£373,125 x 10 per cent). The amount Mr Jonas would actually be left with is only £335,813.
In this example selling the assets instead of the company shares would cost an extra £114,187 in tax.
Could you sell the assets rather than the company shares?
There are instances where it may be better, for example:
• If you have a very high base cost in the company for the goodwill so it won't make much difference to you from a tax point of view. You may also be able to negotiate a slightly higher price from your buyer if it's an asset sale.
• If you want to roll the gain into another business. There are many qualifying conditions, so check in advance that your proposed new business will qualify.
• If you have a company with a number of pharmacies and/or other assets and you are just selling one pharmacy it may be cheaper and easier just to sell the asset rather than trying to restructure the business.
• Where you have assets in your company other than the pharmacy, such as property or investments, you should review this well before you put the business on the market so that you have the opportunity to extract assets or restructure the company in a tax effective way.
A typical example is where the company owns the freehold premises as well as the pharmacy but the vendor wants to retain the premises in his/her name and create a lease for the new owner. Depending on the value of the premises and the original cost, it may not be very expensive to extract the property from the company.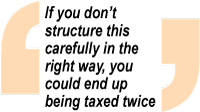 The pharmacy can then be sold via a company share sale.
If you are transferring a property from your company to your own name, it is important to obtain an independent professional valuation of the property in case of a dispute with the Revenue. Tax will be payable on any gain. Also allow for stamp duty at rates of between 1 and 4 per cent depending on the value of the property.
Many people who are selling their company have accumulated surplus cash. This creates a tax planning opportunity as illustrated in case study 2 below.
Case study 2
Jonas Chemist Ltd has surplus cash of £80,000 in the bank after taking into account the company's liabilities. Mr Jonas could take this as a dividend on which tax will be paid at 25 per cent, assuming that Mr Jonas is a higher rate tax payer. Or if the buyer of his company agrees, the £80,000 can be added on to the sale price and Mr Jonas will only pay capital gains tax on it. In Mr Jonas case he is entitled to Entrepreneurs' Relief so his capital gains tax rate is only 10 per cent. Therefore:
Cash as dividend £80,000 x 25 per cent = Tax £20,000
Cash as part of the share sale £80,000 x 10 per cent = Tax £8,000
Tax saving £12,000
Entrepreneurs' Relief and business restructuring
The main allowance for business owners is Entrepreneurs' Relief, which allows gains of up to £1 million to be taxed at an effective rate of 10 per cent. Most pharmacists should qualify for this providing they have been trading for at least one year. If you own more than one business, this can be claimed on more than one occasion but the overriding lifetime limit is £1m.
It may be worth re-arranging your affairs if the gain on your pharmacy sale is over £1m to take advantage of the tax savings. For example, a sole trader could consider making their spouse a partner (in England and Wales all partners must be pharmacists, but in Scotland a non-pharmacist can be in partnership with a pharmacist). Alternatively a sole trader could consider transferring their business into a company as there is not a restriction on non-pharmacists being shareholders.
If you do restructure your business in this way, remember to allow plenty of time before selling your business to ensure that the 12-month ownership criteria is met. The new business owner should have some involvement in the business, although this could be fairly minimal. With a potential tax saving of £80,000 on a gain of £2m, this is worth serious consideration.
There are many opportunities for saving tax on a pharmacy sale. This article was only able to cover a few ideas and before taking any action resulting from this article you should take expert advice from a tax specialist.
Anne Hutchings
Hutchings Consultants Pharmacy Brokers
Tel: 01494 722224