In this CPD module you will learn about:
The causes of temporary sleep disturbance
The impact of poor sleep on mental wellbeing
How to confidently start customer conversations about sleep health
Advice and information to offer people to help them deal with temporary sleep disturbance
Download a printable PDF of this module – including the five-minute test – here.
Perrigo has paid for this piece and has been involved in its creation and editing.
Sleep problems affect many people from time to time, often as a result of the everyday stresses and strains of life. However, for some the problem can continue for more than a few days and may begin to impact on their ability to function and even have implications for their mental health.(1) 
This CPD module looks at the issues around temporary sleep disturbance, its relationship to mental health and what can be done to manage the problem. At the end there is a quiz to test what you have learned, along with suggestions for your CPD planned learning entry.
Sleep and mental health – is there a link?
Sleep is essential for people to function effectively.(2) Although the amount of sleep needed varies from person to person, in general terms, adults who do not achieve seven to nine hours of quality sleep – around six to seven hours for older people with naps during the day(2,3) – are likely to notice an impact on their outlook on life, energy level, motivation and emotions.(3) Indeed, people who do not sleep well over a long period of time can start to exhibit characteristic symptoms of fatigue, sleepiness, poor concentration, lapses in memory and irritability.(2)
It is estimated that as many as one in three people may have insomnia(1) and that people with insomnia have greater levels of depression and anxiety than those who are getting enough sleep. In fact, they are 10 times as likely to have clinical depression and 17 times as likely to have clinical anxiety.(3)
Sleep disruption
Continued lack of sleep affects the parts of the brain that control language, memory, planning and sense of time. People who are sleep deprived can have delayed responses and lose the ability to make rational judgments.(4)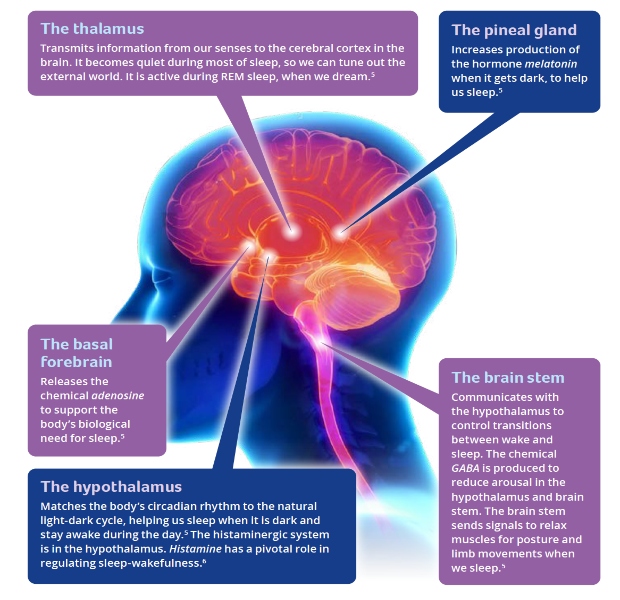 When the natural processes that help us sleep (as described above) are disrupted, such as during periods of stress or uncertainty, it negatively affects our mood, ability to concentrate and attention span. We can become irritable and forgetful.(7)
Starting a conversation about sleep
People who may be tired through lack of sleep and could therefore benefit from advice may exhibit characteristic signs and symptoms (see box 1) that the pharmacy team can recognise.
To encourage a conversation about sleep, customers who may benefit from sleep health advice can be asked the following questions:
Do you struggle to fall asleep at night?
Do you wake at night and can't get back to sleep?
Is lack of sleep making it difficult to concentrate?
The advice you offer can be guided by whether people answer "yes" or "no" to the three questions: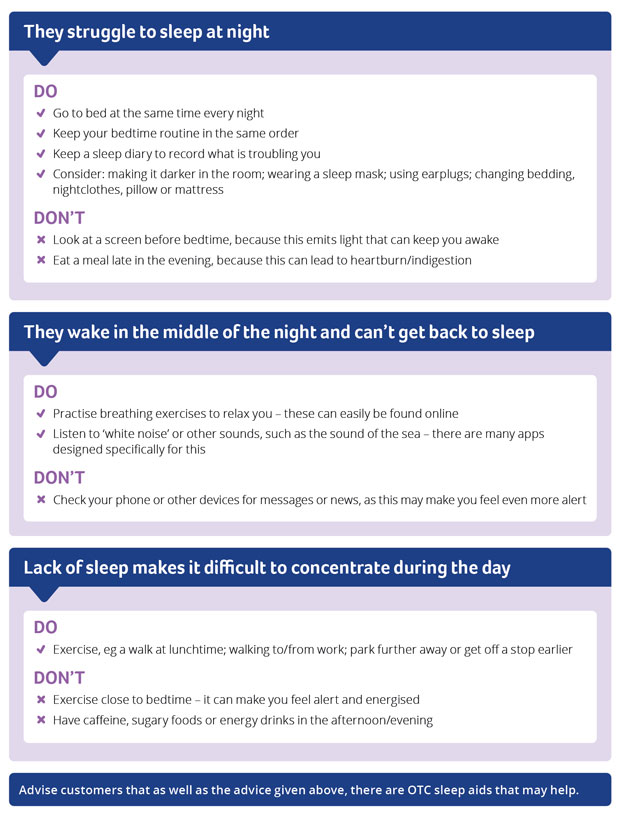 Possible causes
Lack of sleep can be caused by a wide range of factors, including:
other sleep disorders, such as sleep apnoea and circadian rhythm disorders, including shift work, jet lag, advanced sleep phase syndrome and delayed sleep phase syndrome
stress
psychiatric comorbidities, eg depression, bipolar disorder, anxiety, paranoia and schizophrenia
medical comorbidities, including cardiovascular, respiratory, neurological, endocrine, rheumatological, gastrointestinal, genito-urinary and chronic pain
drug and substance misuse
medications, including antidepressants, antiepileptics, antihypertensives, hormones, non-steroidal anti-inflammatory drugs, stimulants and sympathomimetics.
Where such causes have been ruled out or are being treated and the person has been having problems sleeping for less than four weeks, sleep hygiene is widely viewed as an appropriate first step to a good night's sleep.(5)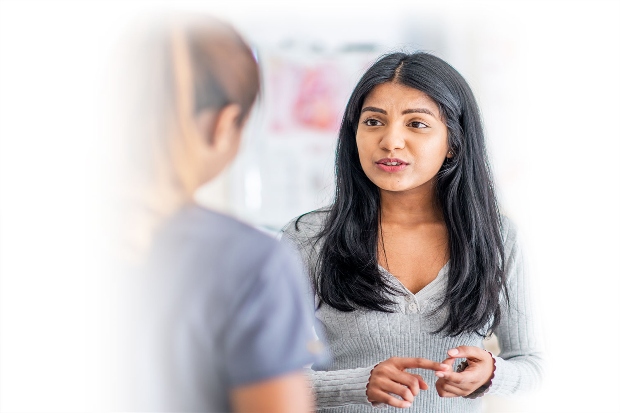 Sleep Hygiene
Have a good night's sleep: dos and don'ts(9,10)
Dos
The bedroom should be comfortable and not too cold, hot, noisy or bright
Go to bed and get up at the same time each day, whether or not you feel tired
The mattress should give proper support and should not be too firm or too soft – generally the recommendation is to replace a mattress every 10 years
Exercise regularly – activities such as swimming or walking, ideally late afternoon/early evening (four hours or more before bedtime)
Relax before bedtime
Write down worries before going to bed and deal with them the next day
When you can't get to sleep, get up and/or read until you feel sleepy enough to go back to bed
Only use the bedroom for sleep and sexual activity.
Don'ts
Go without sleep for a long time
Nap during the day
Eat or drink caffeine, nicotine or alcohol within six hours of going to bed (milky or herbal caffeine-free drinks are best before bedtime)
Drink too much alcohol. It may help you fall asleep, but can disrupt sleep later in the night
Eat or drink large amounts late at night
Have a long lie-in after a bad night's sleep – it will be harder to get to sleep the next night
Take slimming pills or stimulant drugs, because these will increase alertness
Watch or check the clock throughout the night
Watch TV or look at a phone, other devices or a computer screen for an hour or two before bedtime. Blue light (from electronic device screens, fluorescent bulbs and LED lights) has a short wavelength that delays the release of melatonin, which can result in increased alertness and reset the circadian rhythm.(11)
Seeing more people in pharmacy with sleep problems recently?
Pharmacy can help take the pressure off the NHS by assisting customers with short-term sleep problems. If these can be dealt with using OTC sleep aids, customers may not need to consult their GP. All OTC sleep aids are designed for short-term use. You should advise customers that they should consult their GP if symptoms persist. There is a wide choice of OTC sleep aid options. Here's what to know when recommending one: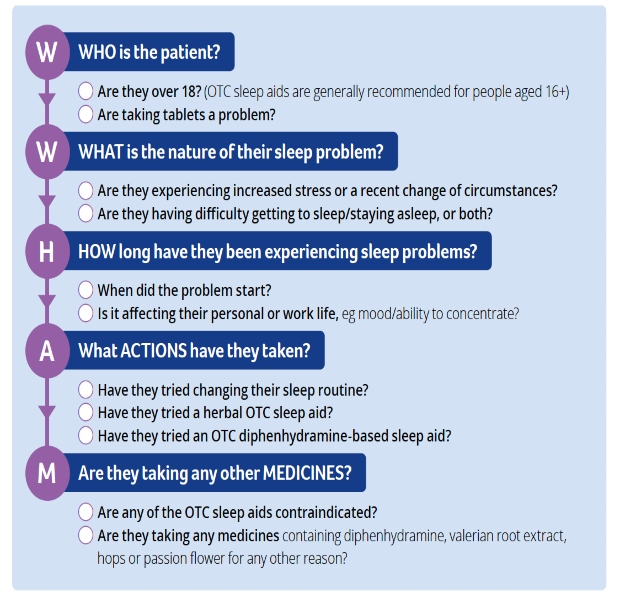 Customers to look out for
Customers who have begun experiencing sleep problems – due to stress or changing circumstances, for example – may not be familiar with the range of OTC sleep aids and can benefit from your knowledge and advice
Night shift workers, who generally know the type of OTC sleep aid they require – the number of people who work night shifts increased by 151,000 (5%) between 2013 and 2018 to reach more than 3 million (3,138,000).(12)
OTC sleep products
Over-the-counter (OTC) sleep products can be useful when taken for short periods of time to help people for whom sleep hygiene alone does not solve their problem of temporary sleep disturbance.
When recommending OTC sleeping aids, always remind customers to read the patient information leaflet before taking the products (see below).
Counselling points and additional information for OTC sleeping aids
Active ingredient
Counselling point

Diphenhydramine(8,9)

Take around 20 minutes before bed
Avoid alcohol, because the medicine may enhance its effects
May cause dizziness and cognitive impairment – do not drive or operate machinery if affected
Do not use other antihistamine-containing preparations, including topical antihistamines and cough and cold medicines, at the same time
Do not use continuously for more than two weeks without medical advice.

Promethazine(10)

Take around 20 minutes before bed
May cause drowsiness – do not drive or operate machinery if affected
Take only for a short period of time, unless your doctor advises otherwise.

Valerian, passion flower, hops(11)

Take approximately one hour before bed
Take continuously for two to four weeks, because the effects may not occur immediately; seek medical advice if symptoms become worse or continue for more than four weeks
May affect ability to drive and use machines. If affected, do not drive or operate machinery.
In some cases, eg elderly people and those who have difficulty swallowing, liquid formulations of sleeping aids may be more appropriate.(12)
When recommending OTC sleeping aids, always remind customers to read the patient information leaflet before taking the product.
Referral
Who to refer:(1,18)
People whose symptoms last longer than one month
Those taking other antihistamines or central nervous system (CNS) depressants
Patients with glaucoma
Anyone who may be abusing sleep aids
Pregnant or breastfeeding women
Children
Patients for whom OTC sleeping aids have not worked
Anyone complaining of early morning waking or long-term insomnia
Sleep conversation CPD – planned learning
What are you planning to learn?
I plan to learn more about temporary sleep problems and how they might affect people's health, particularly their mental health. I also want to learn about what advice and OTC products I can offer patients with temporary sleep problems.
The learning is relevant because I work in a pharmacy in a town with lots of young working people who commute and have busy social lives. Some of them talk about feeling tired through lack of sleep, pressure of work and some look as though they could do with a better night's sleep. I would like to be able to offer them a positive approach to their sleep issues.
How are you planning to learn it?
I plan to read the C+D sponsored module on temporary sleep problems. I also plan to do some online research to find out more about sleep and the advice I can offer customers.
Give an example of how this learning has benefited the people using your services
A regular customer – a young woman with a demanding job – had been into the pharmacy a couple of times in the morning. I noticed she looked a bit fraught, but she always seemed rushed and I did not want to delay her in case she missed her train to work. The next time that she came into the pharmacy was at the weekend and she asked if I could recommend something as a "pick-me-up" to help her get through the day.
I asked her the three questions suggested in the C+D module. She told me she was having difficulty getting off to sleep and was finding it hard to concentrate during the day. She said her bedroom was quiet and dark and the bed was comfortable. She said she usually went to bed at the same time each night, because she knew she had to be up for work the next day. She likes to make the most of her weekends, so she tends to get up reasonably early on those days too.
I suggested she tried taking a brisk walk at lunchtime each day, because exercise can help with sleep. I also advised that she avoid drinks or foods with caffeine after lunchtime.
A couple of weeks later the customer dropped in to say she had been sleeping much better and was finding her concentration had improved a lot.
References
Product information