This article was correct at time of writing (March 12) - to keep up with the latest information please visit our Coronavirus hub
The COVID-19 infection has been declared a public health emergency of international concern by the World Health Organisation. At the time of writing (March 10) the UK's chief medical officer had raised the risk of coronavirus (COVID-19) to the public in the UK from low to moderate.
What advice should you give patients?
Pharmacy teams are well placed to give worried patients advice on the COVID-19 outbreak.
They should give the following advice on preventing the spread of COVID-19:
Regularly wash hands with soap and water for at least 20 seconds – NHS UK has advice on correct hand washing technique.
Use hand sanitiser that contains at least 60% alcohol if soap and water are not available.
Wash your hands when you get home or into work, especially after using public transport.
Put tissues straight into the bin after use and wash hands afterwards.
Try to avoid close contact with people who are unwell.
If you feel unwell, stay at home – do not go to work or school.
Clean and disinfect frequently touched objects and surfaces in the home and work environment.
If you are worried about your symptoms, please call NHS 111. Do not go directly to your GP or another healthcare environment.
Advise patients that there is currently no vaccine to prevent COVID-19 and that the best way to prevent the infection is to avoid being exposed to the virus.
There's very little evidence of widespread benefit from their use of facemasks outside of hospital settings. Facemasks must be worn correctly, changed frequently, removed properly and disposed of safely in order to be effective.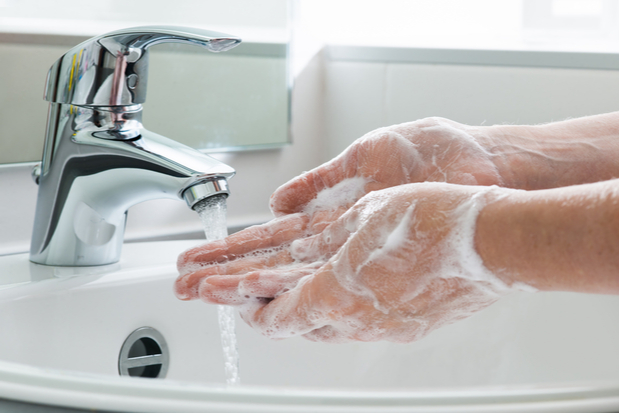 Most patients presenting in community pharmacy should be reassured that they are unlikely to have COVID-19. Patients who present with a cough, cold or flu-like symptoms with no relevant (COVID-19) travel or contact history with someone with confirmed COVID-19 infection should be managed as standard in line with best practice.
Those who have returned from specified countries and areas should be advised to look for the following symptoms up to 14 days after they return:
cough
difficulty in breathing
fever (a temperature of 38 degrees Celsius or higher).
Patients should be advised to call NHS 111 specifying which country they have returned from in the last 14 days.
Those with relevant clinical symptoms and a travel history or contact with a confirmed case of coronavirus should be managed according to current guidance.
Current evidence has shown that most cases of coronavirus appear to be mild. However, more severe symptoms can occur in people with weakened immune systems, older people, and those with long term conditions like diabetes, cancer and chronic lung disease.
What does it mean to self-isolate?
On advice from the NHS 111 coronavirus service or a medical professional, patients may need to self-isolate if infection with COVID-19 is suspected. This advice should be followed for 14 days, even if they do not have any symptoms.
For self-isolation, patients should be advised to take the following measures to help reduce the possible spread of infection:
Stay at home
Do not go to school, work or public places
Do not use public transport or taxis
Ask friends, family or delivery services to do errands
Avoid visitors in your home
Only allow those who live with you to stay
Separate yourself from other people – ie don't spend time in the same room
Clean toilets and bathrooms regularly
Use a separate towel from others in the household
Wash utensils and crockery thoroughly with soap and water.
Further advice on self-isolation can be found on the Public Health England website and on the NHS UK website.
Useful resources
Pharmacy teams can find more information using the following resources:
For more information see C+D's article on 'What do pharmacists need to know about the 2019 novel coronavirus?'
References