You are working Saturday night in a community pharmacy on the high street. You are the only pharmacist on duty, along with one assistant.
All of a sudden a middle-aged man comes rushing into the pharmacy with his arm around his wife, supporting her. He is panicked and shouts that she is having trouble breathing.
"Help! Help! Can you please help her? We were just having dinner next door at the Thai restaurant and now she can't breathe.
"She has a severe allergy to peanuts. We checked before ordering, but there must have been some in the food. We usually carry adrenaline auto-injectors in a bag, but we've left it at home!"
His wife appears to be having trouble breathing, is wheezing, and looks very flushed.(1)
What are the symptoms of anaphylaxis?
Anaphylaxis is a severe, life-threatening, generalised or systemic hypersensitivity reaction.(2)
The diagnosis of anaphylaxis can be difficult, due to the varied presentation and inconsistent clinical manifestations.(2) An anaphylactic reaction is more likely if symptoms develop suddenly, usually within minutes of exposure to a trigger, or allergen.(2) The reaction has rapidly progressing skin changes (flushing, urticaria, angioedema) and life-threatening airway problems. There may also be breathing and/or circulation problems.(2)
Signs of a severe reaction include:(3)
swelling in the throat
change in voice
difficulty swallowing or breathing
wheezing
dizziness
feeling faint
sudden tiredness.
How quickly should you respond?
Treatment of anaphylaxis requires immediate administration of adrenaline; delays in administration are shown to result in more severe reactions and fatal anaphylaxis.(4) Adrenaline should be given to all patients with life-threatening features and at the first signs of a severe allergic reaction.(1,2) Patients should be placed in a comfortable position – if they have airway or breathing problems they may sit up, as this can make breathing easier. If they have circulation problems or feel faint, lie the patient down with or without leg elevation.(2)
An ambulance should be called immediately after use of an adrenaline auto-injector, even if symptoms start to improve after administration. It is important to tell the emergency services that the person is having an anaphylactic reaction.(1)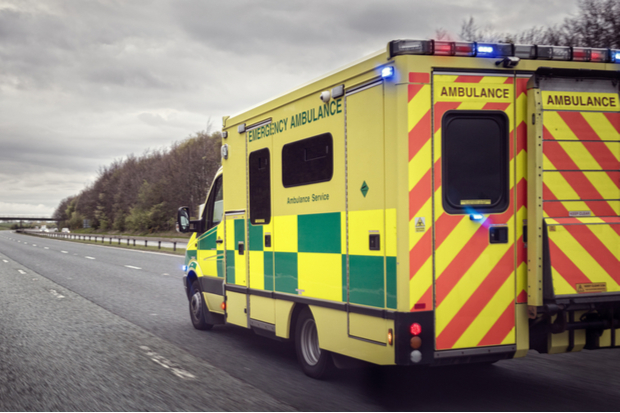 Can an adrenaline injection be supplied in the pharmacy without a prescription?
While there are a number of restrictions that control the supply and administration of medicines, these restrictions do not apply to the intramuscular administration of up to 1mg of adrenaline injection 1 in 1,000 (1mg/mL) for the emergency treatment of anaphylaxis.(5)
The General Pharmaceutical Council standards for pharmacy professionals (May 2017) specify that pharmacists should use their professional judgement to deliver safe and effective person-centred care, making the care of patients their first concern and to act in their best interests. Pharmacists should also recognise the limits of their competence.
How should an adrenaline injection be administered?
An intramuscular adrenaline injection should be administered to the outer thigh and can be given through clothing.(1,6) The anterolateral aspect of the middle-third of the thigh is the ideal site. The patient should be monitored as soon as possible after administration, as this will help to monitor the response.(2) There are no absolute contraindications to the administration of an adrenaline auto-injector during an allergic emergency.(6,7,8)
The dose may be repeated after 5-15 minutes if there is no improvement in the patient's condition.(3)
The subcutaneous or inhaled routes for adrenaline are not recommended for the treatment of an anaphylactic reaction, because they are less effective.(2)
Currently in the UK there are three brands of adrenaline autoinjector available – Emerade, EpiPen and Jext. Injection technique varies between brands:(3)
Emerade 150 micrograms, 300 micrograms, and 500 micrograms solution for injection in pre-filled pen(6)
Remove the needle shield.
Place and press Emerade against the outer side of the thigh. A click can be heard when the injection goes into the muscle.
Hold Emerade against the thigh for about five seconds. Lightly massage the injection site afterwards.
The needle is protected before, during and after the injection. When the injection is completed, the plunger is visible in the inspection window by lifting the label.
EpiPen 0.3mg adrenaline and EpiPen Jr. 0.15 mg adrenaline (epinephrine) auto-injector(7)
Grasp EpiPen auto-injector in dominant hand, with thumb closest to blue safety cap.
With the other hand, pull off blue safety cap.
Hold the auto-injector at a distance of approximately 10cm away from the outer thigh. The orange tip should point towards the outer thigh.
Jab firmly into the outer thigh, so that the auto-injector is at a 90 degree angle to the outer thigh.
Hold firmly in place for three seconds. The injection is now complete and the window of the auto-injector is obscured. The EpiPen auto-injector should be removed (the orange needle cover will extend to cover the needle) and safely discarded.
Jext 150 micrograms and Jext 300 micrograms solution for injection in pre-filled pen(8)
Grasp the Jext injector in your dominant hand, with your thumb closest to the yellow cap.
Pull off the yellow cap with your other hand.
Place the black injector tip against the outer thigh, holding the injector at a 90 degree angle to the thigh.
Push the black tip firmly into the outer thigh until you hear a 'click' confirming the injection has started, then keep it pushed in. Hold the injector firmly in place against the thigh for 10 seconds, then remove. The black tip will extend automatically and hide the needle.
Massage the injection area for 10 seconds.
Trainer devices are available online from the manufacturers.(3)
Ensuring you always have auto-injectors in stock in the pharmacy can be potentially life-saving in an emergency situation. You should check their expiry dates and obtain replacements before they expire – expired injectors will be less effective.
In the video below, Sophie McCracken, paramedic clinical advisor at training provider ECG, demonstrates adrenaline injection technique using an Emerade auto-injector:
Does the dose differ for adults and children?
Resuscitation Council UK guidelines recommend a dose of 500 micrograms administered intramuscularly (IM) in adults.
For children, the following doses are recommended:
Over 12 years of age – 500 micrograms IM, or 300 micrograms IM if the child is small or prepubertal
6-12 years – 300 micrograms IM
Six month to six years – 150 micrograms IM
Under six months of age – 150 micrograms IM.
The dose of adrenaline administered intramuscularly may differ between adults and children and can be dependent upon weight. Brands of auto-injectors differ in their licences and recommendations – for further information consult the specific summary of product characteristics.
Where can I find further advice?
Anaphylaxis Campaign is a UK-based charity supporting people at risk of anaphylaxis. It offers free online courses specifically designed for pharmacists and pharmacy technicians.(9)
The Medicines and Healthcare products Regulatory Agency has also produced an updated advice sheet, which can be given to patients and their carers when auto-injectors are dispensed.
References: