The first cohort submitting CPD entries for the General Pharmaceutical Council's (GPhC) revalidation process coincides with the registration renewal deadline of October 31. To help make the process as smooth as possible, C+D has created a guide to answer all your submission queries.
Where do I submit my learning?
You need to visit the myGPhC online platform to both renew your registration and submit your CPD entries. The GPhC sent out letters in early 2018 to all registrants, with details of how you can log into your personal profile, including your registration number, personal renewal number and password.
If you are having problems accessing the platform, you can call the GPhC for assistance on 020 3713 8000.
What is required for my first revalidation submission?
As part of your first annual renewal, you are required to submit four CPD records. Under the revamped revalidation process, at least two of these records must be 'planned learning' activities. This leaves you the option to complete the other two records as either 'planned' or 'unplanned' learning.
'Planned learning' is education that you have planned to undertake to develop your knowledge or skills. This could be completing a CPD module (see What is Update Plus? below), undertaking a practical training session or attending a training conference, for example.
In contrast, 'unplanned learning' occurs when an activity leads to learning without your prior intent. Examples include reading a journal article or case study, or having a discussion with another healthcare professional or colleague.
The GPhC says their research has found that patients and the public prefer to see planned learning activities, as this provides them "with assurance that learning and development is taking place". However, feedback from pharmacy professionals shows they find both planned and unplanned learning approaches useful, the GPhC says.
Do I need to submit a peer review?
In your first year of the revalidation process, you will not be required to submit a peer review or a reflective account (for more information on these new revalidation requirements, look here). To avoid confusion, the myGPhC portal will not allow you to create entries for either of these CPD options in your first submission.
How long should each revalidation entry be?
According to the GPhC, CPD entries rated as 'good' are "consistently 200-400 words" in length. However, when you are making your CPD entries you should "focus on meeting our review criteria rather than the number of words", the regulator stresses.
When you create a revalidation entry on the myGPhC website, you are provided with information to help you complete your logsheet. For example, the 'Planned CPD' entry form includes the information icon 'i' – clicking on this gives the criteria you should follow when completing your submission.

Can I enter more than four pieces of CPD?
In your first year of revalidation, you are required to submit four CPD entries, at least two of which must be around planned activities. However, you can create more than four CPD entries and choose the best ones for your revalidation submission.
In addition, you can remove an entry from the 'current submission' section and it will be placed into an 'excluded' section. According to the website, entries listed here are not included in your current submission, but you can choose to: add them to your current submission; keep them for your own personal records; save them for a submission the following year; or delete them.

What does the term "people using your services" mean?
For all types of revalidation, you are required to provide examples of how your learning has benefitted "people using your services". As a pharmacy professional, you can work in a wide range of roles, meaning the services you provide can be delivered to various groups.
For example, the service user for a community pharmacist is likely to be a patient visiting the pharmacy. Whereas a pharmacist working as a teacher practitioner at a university may have pharmacy students as their primary service user. It is imperative that when you complete your revalidation entries, you include specific examples of how people using your particular services benefit from your learning.
When doing this, you must be careful not to provide any confidential information that could reveal the identity of the service user. The GPhC is a third party and as such is not privy to confidential information obtained while performing your duty as a pharmacy professional.
When do I need to submit my revalidation records?
The GPhC sent out letters to all registered pharmacy professionals, providing them with a date for completing their registration renewal and submitting their CPD for revalidation.
You can visit the GPhC's website to check when you need to renew your registration. To view your timeline, you will need to know either your renewal or registration expiry date.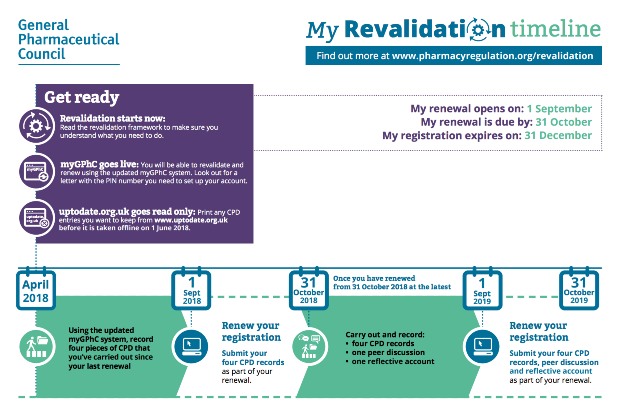 Where can I find examples for revalidation?
The GPhC has created a range of example records for pharmacy professionals working across various roles. These are highlighted in a previous C+D article Pharmacy revalidation: everything you need to know. Further GPhC resources to help you complete you revalidation entries are available here.
In addition, C+D's Update Plus learning package includes an example CPD revalidation entry at the end of each 'planned learning' module, for pharmacists to use as a prompt when submitting their own entry.
What is Update Plus?
Update Plus is C+D's learning package, which provides CPD for pharmacists and pharmacy technicians. It contains an archive of more than 500 clinical articles – written by pharmacy professionals and added to on a weekly basis – including 'planned learning' modules, practical case studies, interactive quizzes, podcasts, videos and revalidation-ready CPD entries.
How can I use Update Plus to submit a 'planned learning' CPD entry?
There are three stages to completing an Update Plus module:
Pick a module – pick from over 200 modules that can be read either online or downloaded as a print-friendly PDF that allows you to work away from the computer
Test your knowledge – after you have read through the module, complete a short 10 question quiz to test your knowledge. If you are successful, you will receive a certificate as proof of your learning.
Revalidation-ready logsheets – C+D has created a logsheet for each 'planned learning' module. Logsheets created from October 2018 onwards mirror the GPhC's online CPD entry portal, and are intended to act as the basis of your 'planned learning' entry. You must modify each record to ensure it reflects your specific learning needs and outcomes. Following this, you can copy and paste the contents you have created into the CPD entry portal on the GPhC website.
Where are C+D's revalidation logsheets stored?
C+D stores all your new revalidation logsheets online. They can be accessed in your personal 'learning record', located through the 'learning' tab on the C+D homepage.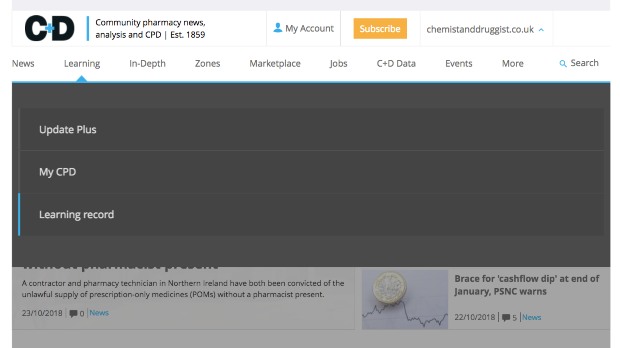 On your 'learning record' page, you are able to see your recent CPD activity, including the modules and logsheets you have completed.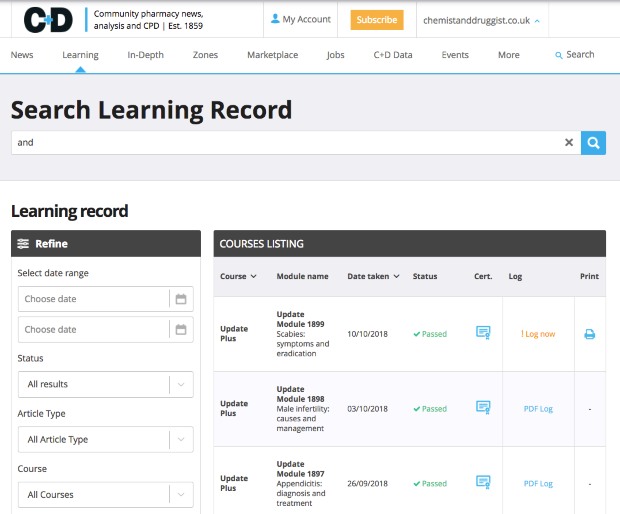 Clicking the 'Log now' icon will take you to the logsheet for that module. Please see the video below for a guide to editing and completing your logsheet.
Can the logsheets be uploaded directly to the MyGPhC site?
C+D's digital logsheet is not linked to myGPhC.org. It is your responsibility to add specific information relevant to your own practice and learning needs, and then copy and paste the contents into the revalidation entry portal on the GPhC website.
How can I access Update Plus?
You can purchase Update Plus here. A 12-month subscription to the entire Update Plus archive, including new modules added each week, costs £52+VAT.