With many pharmacy-led COVID vaccinations hubs now active across the UK, here's a reminder of correct intramuscular injection technique. Please note this video was filmed prior to COVID-19 and personal protective equipment should be worn during administration of COVID-19 vaccines. Find more information on COVID-19 vaccines and intramuscular administration technique in the Green Book. Visit our COVID-19 hub for further clinical updates.
Some community pharmacies offer a range of services that require pharmacists to have an effective injection technique. To deliver these services, you are required to undergo training to ensure you can confidently and competently deliver a vaccine. However, it is important to regularly reflect on your injection technique, especially if you have not delivered a intramuscular vaccine recently or do not feel confident in your ability.
In the video below, Sophie McCracken, paramedic clinical advisor at training provider ECG, demonstrates intramuscular injection technique.
Tips for intramuscular injections
Preparing the injection site
You must ensure that the patient's limb – in most cases their arm – is fully exposed and they are not wearing tight clothing. You can ask them to wear loose-fitting clothing above the intramuscular injection site; for example, a loose t-shirt or vest top. If the patient has arrived with a long-sleeved shirt, ask them to remove the shirt rather than rolling up their sleeve, as it could result in vaccine delivery to the wrong site, or cause pressure at the site, leading to bleeding.
Patient position
Ideally the patient will be in the sitting position, with their arm either hanging by their side or resting on their lap.
Finding the injection site
You should pinpoint exactly where you want to inject. For an intramuscular injection of the arm, this will be the deltoid muscle. This is considered a safe muscle to use, as it has few large blood vessels or nerves and is generally easily accessible.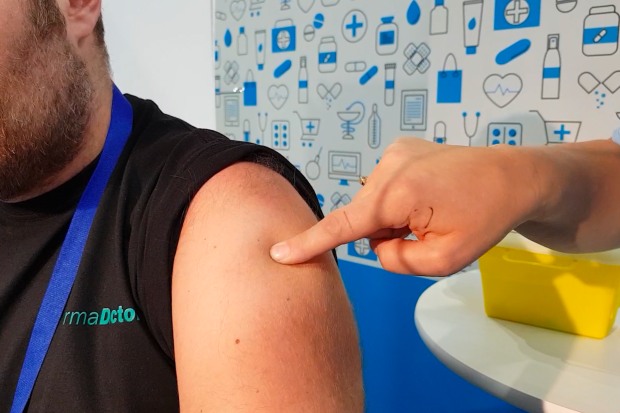 You should first find the acromion (the section at the very end of the shoulder). Once this is located you should move your finger down 2.5cm along the mid-point of the arm – this is your deltoid injection site. Using your thumb and forefinger, you should stretch the skin for injection, which helps expose and desensitise the muscle.
Holding the needle
You should hold the syringe like a pen, as it gives you the most control. Only remove the needle sheath immediately before injection.  
Injecting
Hold the skin firmly at the injection site (spread with forefinger and thumb) and introduce the needle at a right angle (90o) to the arm. Once the needle is suitably deep in the muscle, you should depress the plunger (over five seconds if it is a 0.5mL injection, but other quantities of vaccine will require different injection rates) to inject the vaccine, before quickly removing the needle and placing it in the sharps bin.
Gentle pressure can be applied to the injection site with either cotton wool or a gauze swab if bleeding occurs.
Preparing for an injection
Each pharmacy should have their own standard operating procedures for delivering vaccines and you should follow these. However, you should always ensure that:
the patient is a suitable candidate for an injection
you have discussed side effects of treatment and allowed the patient to ask any questions
consent is obtained
another member of staff is aware that you are in a vaccination session
all your equipment is ready and has been checked (eg adrenalin pens are prepped and you have a sharps bin)
adequate seating, ventilation, lighting and washing-up facilities are present
advice sheets are available for the patient.
Managing patient vaccination anxiety  
Injections in any setting can cause significant discomfort or fear and you should be prepared to answer any patient's concerns. It is important that you initially acknowledge the patient's anxiety and recognise their concern as valid.
The following simple measures may help improve the patient's experience:
allowing adequate time, so the patient does not feel rushed
pre-booking vaccination slots to allow patients to have their vaccine on their own terms
allow patients to bring someone along for support – if they think it would help
speak to them about different topics to distract them from the procedure itself
encourage them to take slow, deep breaths.
Further resources:
Visit the e-learning for healthcare website for health education resources provided by NHS England
Guy's and St Thomas' NHS Foundation Trust has created a guide to help patients overcome their fear of needles
If you do not have flu vaccination training, or your training has lapsed, you can contact ECG for further information and live training. In addition, the pharmacy you work in may provide training through their preferred provider.
Additional reporting by Naimah Callachand.
This article was updated on April 28, 2021, to reflect pharmacy's new role in the COVID-19 vaccination programme.